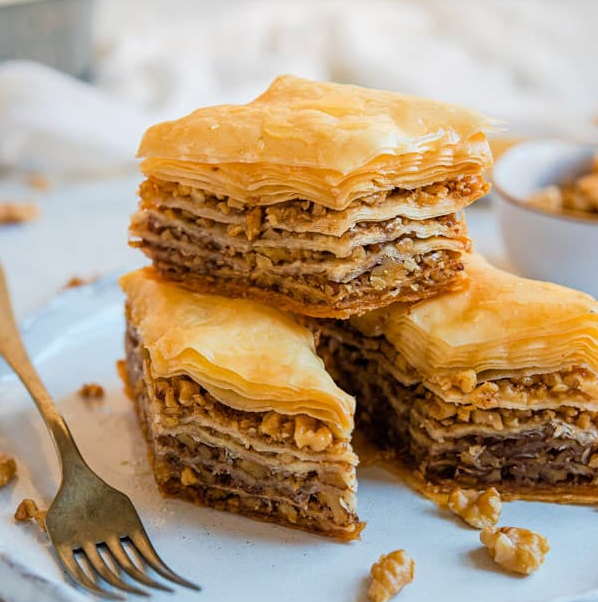 This Baklava recipe is a showstopper dessert and loved by all at gatherings. Layers of buttery phyllo dough stacked between a cinnamon walnut filling, then finished with a honey glaze. Baked, crispy, amazing!
Prep Time : 30 MINUTES
Cook Time : 1 HOUR 15 MINUTES
Rest : 6 HOURS
Total Time : 7 HOURS 45 MINUTES
Ingredients
For the Syrup
1 cup granulated sugar
3/4 cup water
1/2 cup honey
2 tablespoons lemon juice
1 strip orange peel
For the Baklava Pastry and Filling
16 ounce package phyllo (fillo) dough (40 sheets), thawed according to package instructions
1 pound walnuts , finely chopped (about 4 cups)
1 teaspoon ground cinnamon
1/8 teaspoon ground cardamom
1 1/4 cups unsalted butter , melted
Instructions
For the Pastry
Thaw phyllo dough completely by placing it in the refrigerator overnight, then letting the package of phyllo sit, unopened, on the counter for 1 hour prior to making your baklava so it can come all the way to room temperature.
For the Syrup mixture
Combine the sugar, water, honey, lemon juice, and orange peel in a medium saucepan and bring to a boil over medium-high heat, stirring until the sugar dissolves.  
Reduce heat to medium-low and continue to boil for 4 minutes more without stirring. Remove from heat, and set aside to cool completely. Discard orange peel.
For the Nut mixture
Place the walnuts, cinnamon, and cardamom in a food processor and pulse 10-12 times until nuts are coarsely ground, but not into a powder.
Assemble the Baklava
Unroll the phyllo dough and lay the sheets flat on your work surface. Trim the sheets to the size of a 9×13-inch baking dish. (Immediately cover them with a damp towel and keep them covered while assembling the Baklava. As you take a phyllo sheet from the stack, immediately cover the stack. This is critical to keep them from drying out.)
Heat oven to 325 degrees F. 
Baste the bottom and sides of your baking dish wth some of the melted butter.
Lay one sheet of phyllo in your baking dish. Brush with butter. Repeat this process with 10 sheets, brushing every single sheet with butter.
Sprinkle approximately 1/5 of the chopped walnuts (about 3/4 cup) evenly on top.
Cover with 5 sheets of phyllo, brushing every sheet with butter. Top with 3/4 cup walnuts. Repeat 3 more times.
Finish with the final 10 sheets of phyllo, brushed with butter between the layers.  Brush the top sheet of phyllo dough with butter, as well.
Using a sharp knife, carefully slice the baklava into 4 long even strips lengthwise, then slice diagonally to create diamond-shaped baklava.
Bake in the preheated oven for 1 hour and 15 minutes, until the baklava is golden brown.
Remove from oven and immediately drizzle all of the cooled honey syrup over the baklava, making sure everything gets coated.
Using a sharp knife, gently run it through the cut baklava again, to ensure each piece can easily be removed later.
Let the baklava cool completely at room temperature for at least 6 hours (ideally overnight) without being covered (to prevent sogginess) so the baked pastry can soak up all of the syrup.