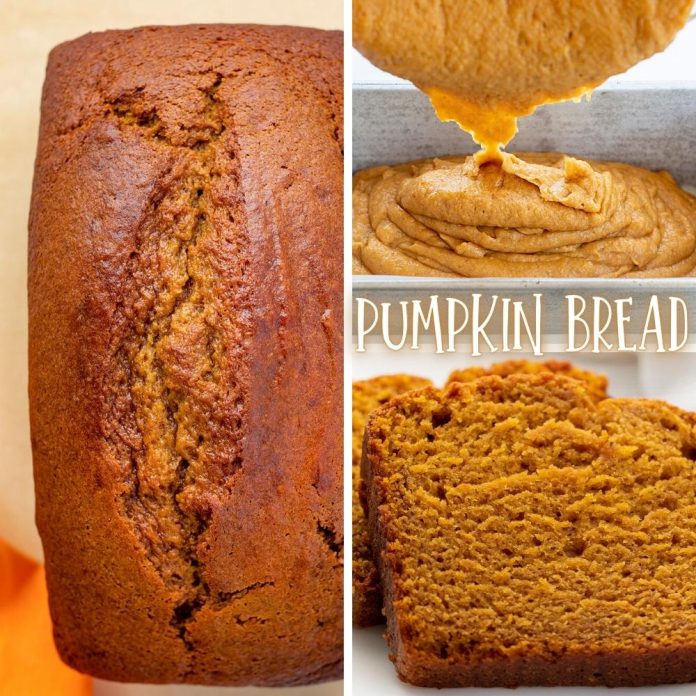 The Best Ever Pumpkin Bread is a moist and flavorful bread, full of pumpkin flavor, as easy to make as it is delicious!
PREP TIME : 15 MINS
COOK TIME : 1 HR 20 MINS
TOTAL TIME : 1 HR 35 MINS
Ingredients
▢1 ¾ cups (219 g) all-purpose flour
▢¼ teaspoon baking powder
▢1 teaspoon baking soda
▢½ teaspoon kosher salt
▢½ teaspoon cinnamon
▢½ teaspoon nutmeg
▢¼ teaspoon ginger
▢¼ teaspoon ground cloves
▢1 ½ cups (300 g) granulated sugar
▢½ cup (109 g) vegetable oil
▢2 large eggs, room temperature
▢1 teaspoon vanilla extract
▢1 tablespoon molasses
▢1 can (15 ounces) pumpkin puree, (pure pumpkin)
▢⅓ cup orange juice
Instructions
Preheat oven to 350°F. Spray a 9×5-inch loaf pan with cooking spray or line with parchment paper.
In a medium bowl, add flour, baking powder, baking soda, salt, cinnamon, nutmeg, ginger, and cloves. Combine with a whisk and set aside.
In a large bowl, combine the sugar, oil, eggs, vanilla, molasses, pumpkin puree, and orange juice with a hand mixer on medium-low.
Add the dry ingredients to the wet ingredient. Mix on low to medium-low just until the ingredients are combined.
Pour batter into the loaf pan and bake for 80 minutes, or until a toothpick comes out with crumbs, but no wet batter. Cool and serve.
Nutrition
Course: Breakfast, Dessert, Snack
Keyword: Best Ever Pumpkin Bread
Servings: 12
Calories: 275