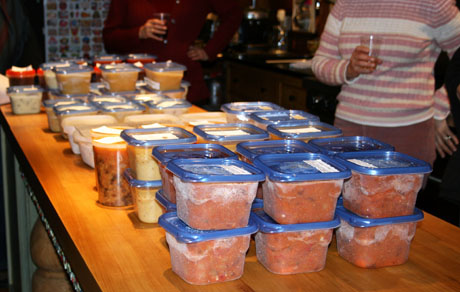 I trust that your freezer is full of recipes and ingredients, but what about soups, broth and beans? You may be wondering If there was a tip to freeze and store them without taking much space, correct? You're in the right place partner!
To start with, get your kitchen notebook and pencils out! You will feel the need to jot things down! Believe me!
First of all, let your soup cool for 2 hours (or use an ice bath to make things quick), get your plastic freezer bags out and follow these instructions carefully. Ready? I'm sure you are!!
Is it safe to freeze soups, broth and beans?
Indeed, freezing almost all kinds of soups is a clever thing, who would like to repeat all the mess to prepare a soup all over again day after day? No one! That's why double your soup ingredients and store what's left in the freezer for later use! They don't lose flavors, neither their ingredient's strength.
As for broth and beans, they're absolutely the same story! Freeze your leftover broth and beans, you'll need them sooner or later.
And also, plastic containers are totally safe to use; make sure to buy good ones (those who doesn't contain polyvinyl chloride, polycarbonates or polystyrene, those can lead to bad news!). If you don't trust random plastic containers, use BPA free plastic ones.
Freezing tips
As I mentioned, make sure to use good quality freezer bags (you'll find the word "freezer" on the label), or just stick to your favorite trusted brand.
Here, we will freeze things flat! That's why don't over fill the bags (use only three to four cups and leave some space); make sure to leave only an inch of space between the soup and the lid to avoid freezer burn!
Write everything on the bags, the date, the number of cups and what kind of soups or broth, use a black marker!
Spread baking sheets under the bags.
How long do soups, broth and beans last in the freezer?
You can feel eased! Soups, broth and beans can last up to 3 months in the freezer; but this doesn't mean to consume them during all this time, remember that the longer they were in the freezer the less tasty they'll get!
Try the best that you can to consume them in a month or a month and a half!
Speaking about safety, I have to mention that not all soups are good to be kept frozen, giving example:
Potato soup creates a strange taste after freezing, that's why I advise you to keep it far away from your freezer.
In addition, beans can be frozen and kept for up to 6 months, but broth is a high level of patience! It keeps for up to a year in the freezer!
Keeping soup, broth and beans in your fridge! What to do?
CLICK NEXT PAGE BELOW TO CONTINUE READING …