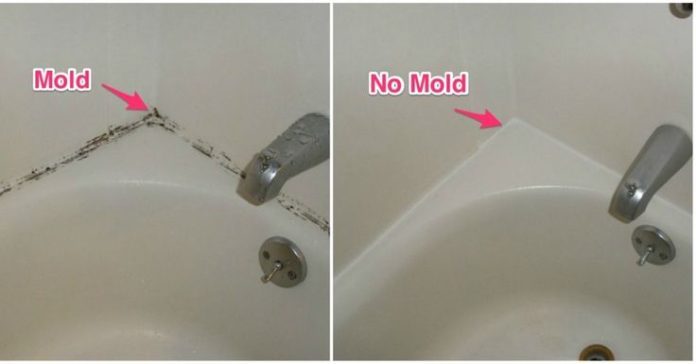 Your bathroom can be a true haven in your home. There's nothing more pleasing than gazing at sparkling countertops, sweet-smelling candles and rows of your favorite products while you take a long bath or apply makeup.
…But the truth? The bathroom can't always look like this. On a normal day, our counters are covered in hair and don't let us start with caulking our tubs. Ugh.
Shower caulking is one of the most common places for stains and mold in the bathroom. Not only is it dangerous to let mold grow, but it's also unsightly, especially in an area you're trying to clean yourself.
Fear not, there is a simple way to get rid of those nasty stains for good. This tip was given to us by a reader who saw our tip on the spray that completely kills mold and asked if there was a better way to get rid of mold in shower caulking.
To get rid of stains or mold in the caulking, all you need is a cotton spool. You can find them at your local drugstore or even on Amazon. It's like cotton balls, but in spool form!
Here's what to do from there:
1. In a bowl or pan soak the cotton coil in bleach.
2. After the cotton coil is saturated with bleach take it out of the bowl/pan and place it along the caulking with stains or mold.
3. Use a Q-Tip to push the coil into the caulking.
4. Let it sit overnight and in the morning you can take an old toothbrush to scrub away any remaining stains.
5. Finally take a pitcher of water to thoroughly rinse out the area where cotton coil was applied.
Keep up on this simple technique and you'll less nasty mold or stains on your caulking! And you'll be one step closer to that atmospheric bathroom of our dreams.
Do you have a trick for eliminating bathroom mold?