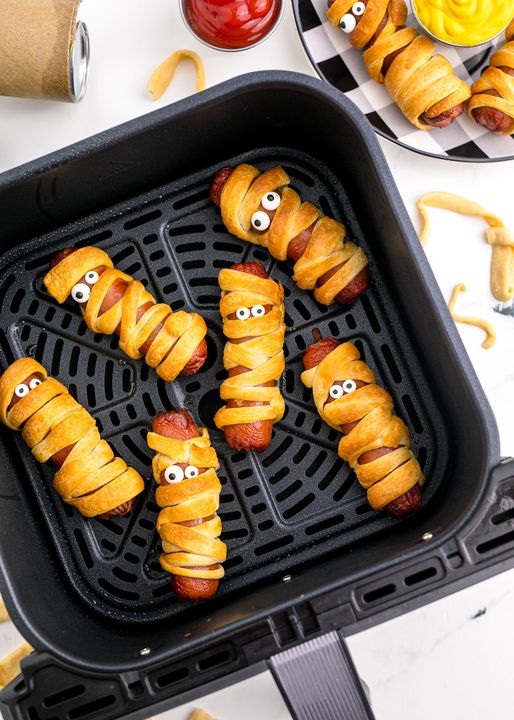 Everyone will love eating these mummy hot dogs! They are scary and so quick and easy to make!
PREP TIME : 10 mins
COOK TIME : 8 mins
TOTAL TIME : 18 mins
SERVINGS : 8
CALORIES : 52 kcal
INGREDIENTS  
8 hot dogs
1 package crescent roll dough, 8 ounces
1 package candy eyes
1 tbsp mustard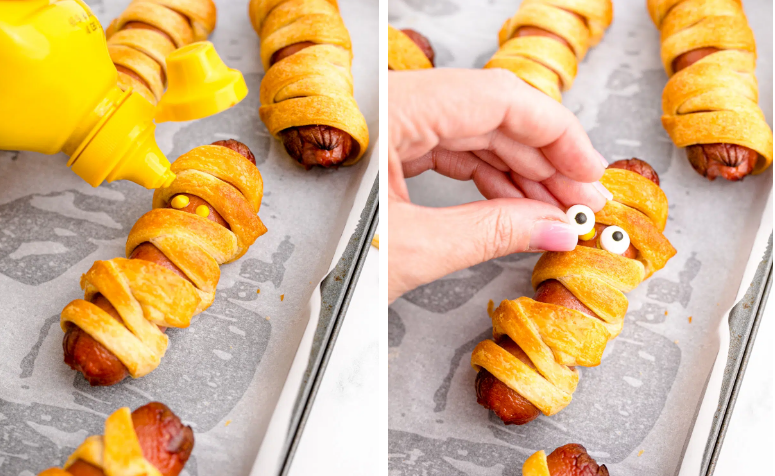 INSTRUCTIONS
Remove all moisture from the hot dogs with paper towels. Set these aside.
Roll out the crescent dough. Use a pizza cutter or knife to slice the dough into ½ inch strips. The length of the strips is not important.
Take the strips of dough and wrap them around the weiners. Try to criss-cross a little, but do not overlap too many layers or they will not bake properly. Make sure you leave a little space uncovered to add the eyes later.
Spray the basket with plain oil.
Place some of the mummies into the air fryer basket. Make sure they are not too crowded. You will have to bake them in batches. Bake the mummies at 350 for 5 minutes. Loosen them from the basket and bake for another 3 minutes.
If you prefer to make these in the oven, just place all of the mummies onto a baking sheet lined with parchment paper. Make sure they are not too crowded. Bake them for 8-10 minutes at 350 degrees or until golden.
Use a small amount of mustard (or ketchup) to attach the candy eyes.