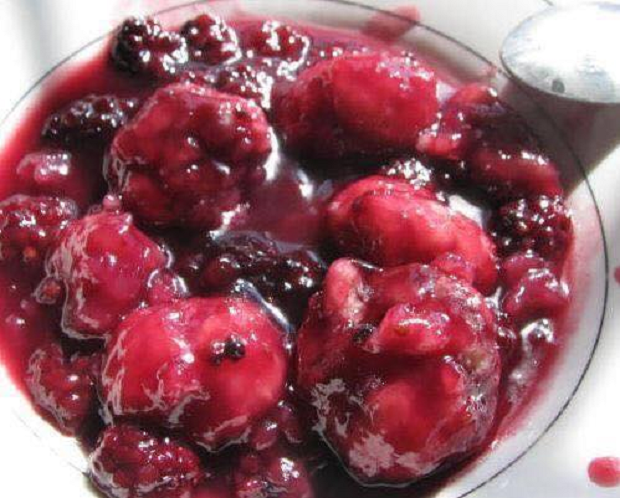 "A man cannot have a pure mind who refuses apple dumplings." — Charles Lamb
Honestly! No one can resist a good piece of blackberry dumplings, can you? I doubt that!
This recipe calls for a hot sunny day and ice cream, make your blackberry dumplings and top them with your favorite fruits (cut them into slices) and flavors. Your kids would love to try such delicious extras on a long summer day!
Follow my instructions carefully to get the best results folks, don't forget to add some love while whisking the ingredients!
"And her dumplings were so light they would float in the air and you'd have to catch 'em to eat 'em."
― Fannie Flagg
How to section
Wear your apron Partner! Things are about to become sweet and messy.
Note:
Blackberry goes well with apple, almond, black pepper, blueberry, citrus, cinnamon, clove, ginger, hazelnut, lemon, mango, mint, peach, orange, plum, raspberry and much more.
Simple Steps:
Start with getting your slow cooker ready; pour sugar, water, blackberries and lemon juice.
Cover and cook on low heat for 4 hours.
In a mixing bowl, combine 2 tablespoons of sugar with baking powder and flour then stir in milk!
Drop by tablespoonfuls into 6 mounds in blackberry mixture. Cover and simmer for 10 minutes.
Serve with whipped cream.
Ingredients
2 cups of all-purpose flour
1 teaspoon of cinnamon
1 teaspoon of salt
¼ cup of shortening
1 egg yolk
5 tablespoons of milk
2 cups of water
1 quart of fresh blackberries
2 cups of white sugar
Whipped cream or just cream
BLACKBERRY DUMPLIN'S
Prep time: 10 minutes
Baking time: 3 hours 30 minutes
Total time: 3 hour 40 minutes
Servings: 6 slices
Felt the magical taste this recipe brings? I'm pretty sure this would become your favorite "To-Cook" recipe.
Important notes:
Let's admit that it's all about details, these notes will make you agree.
If you were looking for fluffy light dumplings, keep an eye on your slow cooker (make sure to add the dough after the mixture is boiling).
If your freezer has some blackberries, don't hesitate to use them in this recipe!
Instead of whipped cream, try topping with ice cream (choose a flavor), you'll be amazed of the taste.
Serving Ideas
To enjoy your blackberry dumpling's, serve your dish along with some extras like:
Peanut butter
Vanilla ice cream
Top with cereal
Also, meat goes perfectly with blackberries. You can use this recipe as a side dish along with meat.
HOW TO MAKE IT :  
CLICK NEXT PAGE BELOW TO CONTINUE READING …