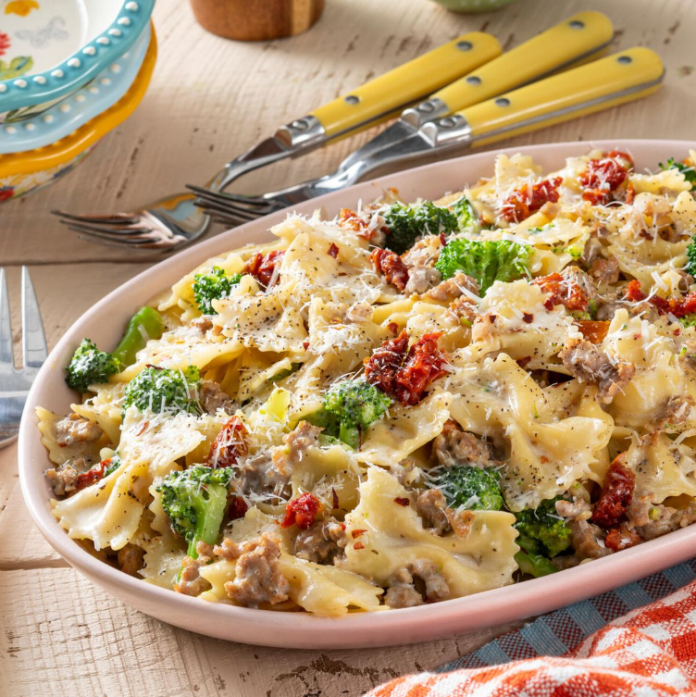 YIELDS: 4 – 6 serving(s)
PREP TIME: 10 mins
TOTAL TIME: 30 mins
Ingredients
2 tbsp. olive oil
1 lb. mild Italian pork sausage, casing removed
3 cloves garlic, chopped
1 lb. bowtie pasta
3 c. chicken broth
1 tsp. dried oregano
1 tsp. salt
1/2 tsp. ground black pepper
4 c. small broccoli florets (from 1 8-oz. piece of broccoli)
1/2 c. julienned sun-dried tomatoes, drained of oil
1/3 c. heavy cream
1/2 c. grated parmesan cheese, plus more for serving
2 tbsp. fresh lemon juice (from 1 lemon)
Red chili flakes, for serving (optional)
Directions
1Heat a large pot over medium-high heat. Add the olive oil, then the sausage. Cook, breaking the sausage into small pieces with a wooden spoon, until it is golden brown and no longer pink, about 6 minutes. With a slotted spoon, remove the sausage to a plate and set aside.
2Reduce the heat to medium and add the garlic cloves. Cook for 1 minute.
3Add the pasta, broth, 2 cups of water, oregano, salt, and pepper to the pot and bring to a simmer. Reduce heat to medium or medium low to keep it simmering for 5 minutes, stirring occasionally to prevent sticking.
4Stir in the broccoli. Cover the pot and let cook until the pasta and broccoli are just tender, about 5 minutes, stirring half-way through.
5Uncover the pot. Add the sun-dried tomatoes, heavy cream, and reserved sausage. Cook until heated through, about 1 minute.
6Remove from the heat and stir in the parmesan cheese and lemon juice. Serve topped with more parmesan cheese and red chili flakes, if you like. 
How do you cook farfalle pasta?
Farfalle pasta can be simply boiled and sauced, like in spaghetti and meatballs, or can even be cooked and then baked into baked ziti! For this recipe, bowtie pasta is cooked using the one-pot method. Start by browning sausage in a large pot. Once browned, remove it from the pot and reserve it on a plate. Add garlic and cook briefly to season the remaining cooking oil. Then, add the pasta, chicken broth, water, salt, pepper and oregano all at once, to make a flavorful cooking liquid. Stir the pasta occasionally while it simmers in this liquid. The moisture and steam will cook the pasta, while the starch that release from the bowties will thicken the sauce. No need to boil noodles in a separate pot!