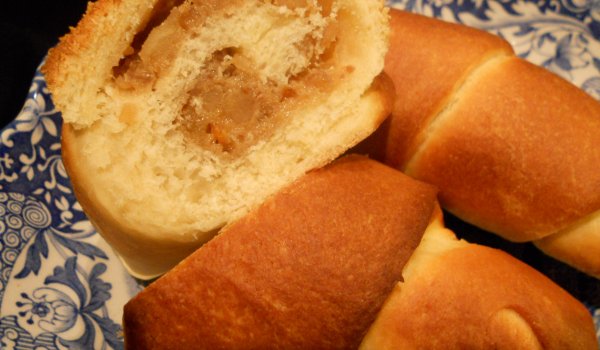 "Who would not want the smell of Bratislava rolls with walnut filling in their kitchen"
Preparation : 35 min.
Cooking : 25 min.
Тotal : 60 min.
Serving : s25
INGREDIENTS
warm milk – 8.5 fl oz (250 ml)
crystal sugar – 4 tbsp.
fresh yeast – 0.7 oz (20 g)
semola flour – 9 oz (250 g)
white flour – 7 oz (200 g)
powdered sugar – 3.5 oz (100 g)
salt – 1/2 tsp.
yolks – 2 pcs.
melted butter – 3.5 oz (100 g)
butter – about 2.5 oz (70 g) for spreading (room temperature)
FILLING
milk – 3.4 fl oz (100 ml)
honey – 3 tbsp.
coarsely ground walnuts – 7 oz (200 g)
rum – 2 tbsp (30 ml)
ground biscuits – 1.8 oz (50 g) or lady fingers
orange peel – from 1 pc.
candied peels – 2 tsp. (orange and lemon)
HOW TO COOK
Oven – 360°F (180°C).
Flat baking pans – 2 pcs. lined with baking paper.
Pour both types of flour into the bowl of the mixer, add salt and mix. Dissolve the yeast with the granulated sugar in the warm milk, leave it to activate and pour it over the flour, add the yolks and melted butter.
Mix on low speed of a mixer for about 3-5 minutes to mix the ingredients, then mix on medium speed for about 10 minutes, until a ball of soft and non-stick dough forms. Remove the dough from the bowl and place it in a lightly greased bowl to rise for about 1 hour.
FILLING
Pour the milk along with the honey into the pot. Leave it on a low heat, until the honey dissolves. Stir constantly, so that it doesn't evaporate. Add the ground walnuts, grated citrus peel, candied peels, rum and stir. Finally, add the ground biscuits or lady fingers. Stir on low heat, until the mixture becomes dry. Remove it from the heat and cool it completely.