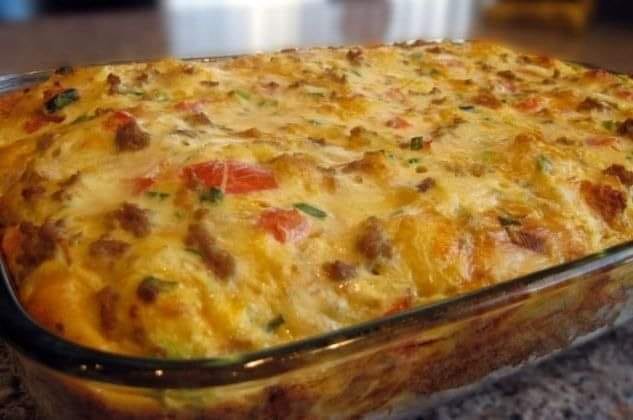 Looking to add a twist to your morning meal without the hassle? Look no further! This delightful breakfast sausage surprise is a breeze to whip up and brings a unique touch to your morning routine. Perfect for those times when you have guests staying over and want to treat them to a special breakfast without breaking a sweat. Plus, you can get a head start by prepping the sausage in advance, making your morning even more relaxed.
Ingredients:
1 lb ground turkey sausage
1 tsp smoked paprika
½ tsp sea salt
4 large eggs, whisked
2 cups almond milk
6 slices whole-grain bread, toasted and diced
1 cup feta cheese, crumbled
1 cup cherry tomatoes, halved
How to Create this Morning Delight:
Begin by crumbly browning the turkey sausage in a medium-sized skillet. Cook until it's perfectly browned, and then drain off any excess grease.
In a mixing bowl, blend together the smoked paprika, sea salt, eggs, and almond milk until you achieve a smooth mixture.
Now, combine the cooked sausage, diced toast, crumbled feta cheese, and cherry tomato halves into the bowl. Give it a good stir until all the ingredients are evenly coated with the egg mixture.
Pour this delicious concoction into a greased 9×13 inch baking dish.
Cover it up and let it chill in the fridge for about 8 hours or, better yet, overnight. This allows all the flavors to meld together for an even tastier breakfast treat.
When you're ready to enjoy, preheat your oven to 350 degrees.
Pop the baking dish into the oven, still covered, and bake for around 45 to 60 minutes. The aroma will start filling your kitchen, making your taste buds tingle with anticipation.
Uncover the dish, and reduce the oven temperature to 325 degrees. Continue baking for an additional 30 minutes or until the dish is perfectly set and has a lovely golden hue.
Finally, remove it from the oven, let it cool for a moment, then cut into slices and serve. Each bite is a delightful blend of savory sausage, creamy feta, and the refreshing burst of cherry tomatoes.
Give your mornings a new flavor with this original breakfast creation – it's a unique twist that's sure to become a household favorite!
picture source: allwecook.com