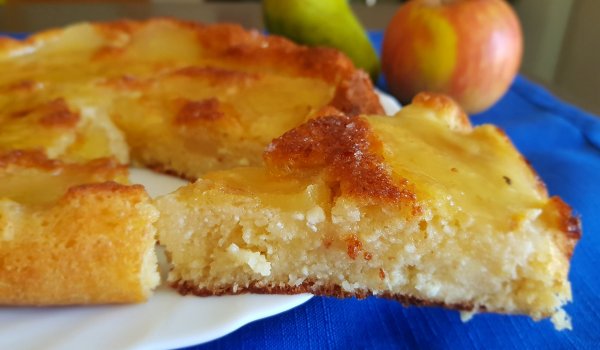 Preparation : 25 min.
Cooking : 50 min.
Тotal : 75 min.
Servings : 6
"I bet you havent tried a tastier cake than this one"
INGREDIENTS
flour – 3 oz (85 g)
soft butter – 5.3 oz (150 g)
ricotta – 7 oz (200 g)
eggs – 3 pcs.
sugar – 3.5 oz (100 g) + 3 tbsp. to sprinkle the pears
vanilla – 2 powders (4 g)
baking powder – 1 pc.
lemons – 1 pc.
pears – 2 pcs.
pear jam – for spreading (or from peaches or apricots)
salt – 1 pinch
HOW TO COOK
Cut the pears into thin slices. Squeeze the juice from half a lemon on them and sprinkle with three spoons of sugar. Leave it aside while you prepare the mixture for the cake.
Beat the soft butter and sugar with a mixer, until a cream is obtained. Put the ricotta, the juice of the remaining lemon and the yolks and separate the egg whites in a separate bowl (it should be dry, without a single drop of water).
Add the flour, by sifting it, along with the baking powder and vanilla. Stir by hand, until a smooth mixture is obtained.
Beat the egg whites, which you set aside with a pinch of salt into a thick mixture. Use dry and clean mixer attachments, because if they are wet, it would be difficult to get the desired effect.