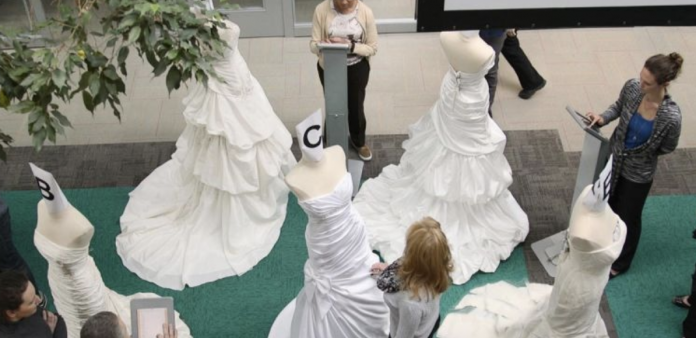 Almost every girl wishes to wear a beautiful wedding dress during her wedding ceremony and there are plenty of options out there and surely plenty of pictures of beautiful wedding dresses but have you ever seen a beautiful dress made out of toilet paper? Well, a mother from North Richland Hills, Texas, did just that. She boiled toilet paper to make a beautiful dress.
The woman that did this is Amber Mills, a mother that I think is the first and only person in the world that made a wedding dress made from toilet paper.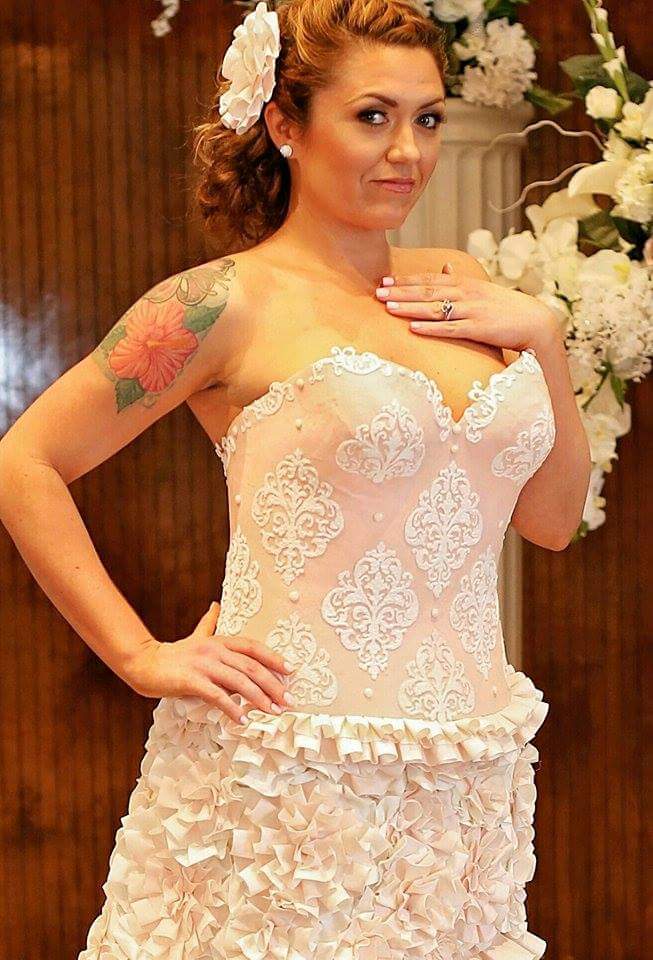 She used the pink Charmin toilet paper brand from the seventies alongside some new white toilet papers. However, the material used is not that solid and definitely not sturdy to make a wedding dress out of it, but this woman figured out a brilliant way. She makes a fabric-like material by rolling toilet paper into strips then mixing it with tape and glue. She then uses a needle and a pink thread to sew everything together normally like all types of clothes
Unlike what most people think, Miller created this dress because she wanted to find a purpose and reason, not just for fun and amusement. She actually stated this to USA Today:
"I couldn't work anymore and I started to get, you know, really depressed."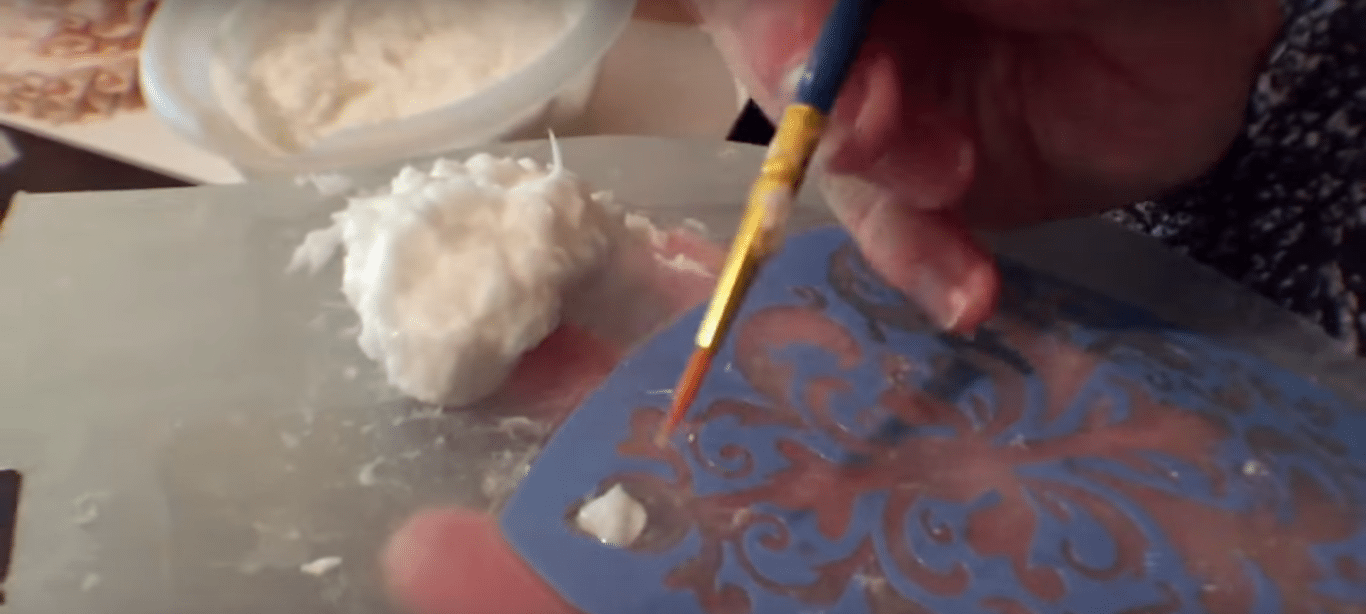 The primary reason was a contest she saw on the internet. One day she was surfing the net like always, then she stumbled across a contest that wanted to see who can create a beautiful dress with toilet paper. This was like a turning point because she felt motivated and inspired to change the way she looks.  Here's why she entered the contest:
"With the multiple sclerosis and all of the health issues I have, I had become, you know, emotionally defeated in life and just had a lot of issues."
The thing that hurt Mils, that wanted to join the Marines, the most became her biggest life changer. She decided to overcome everything and win the contest because of a method she discovered. She did not want to leave the toilet paper in the stripe form, she found out a way that made her boil it down to something that can be used on the bodice. She starts by taking out the cardboard roll of the toilet paper, then putting the rest of the roll in boiling water until it boils, then she starts straining the toilet paper then she uses a handheld mixer to mix it with a large quantity of glue. She said the following:
"Just like it's mashed potatoes."
But there is nothing more tiring and time-consuming like placing boiled toilet paper into a mold to create lace. Working on a little piece took her around six hours to fully complete.
Fortunately, all of her work paid off, in the end, resulting in a beautiful dress as you can see in the picture below.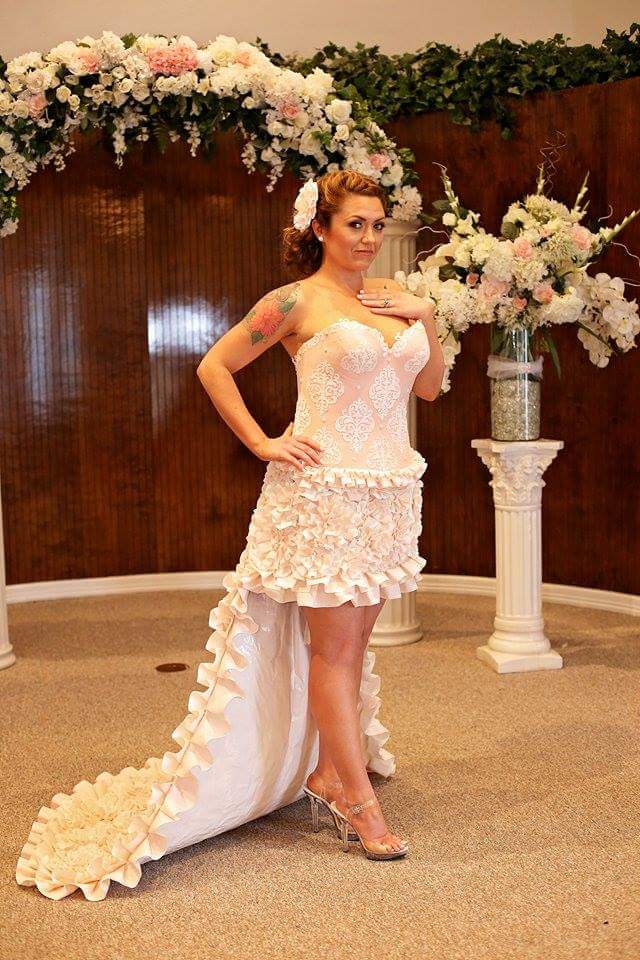 All of the detailed laces are fully visible because of her unique way of boiling toilet paper. The carefully sewed ruffles are complemented by all of the details. This wedding dress is truly a masterpiece. If you come across this picture, I bet you will not think that it is made out of toilet paper. What amazes me the most are the detailed ruffles that Mils sewed by hand.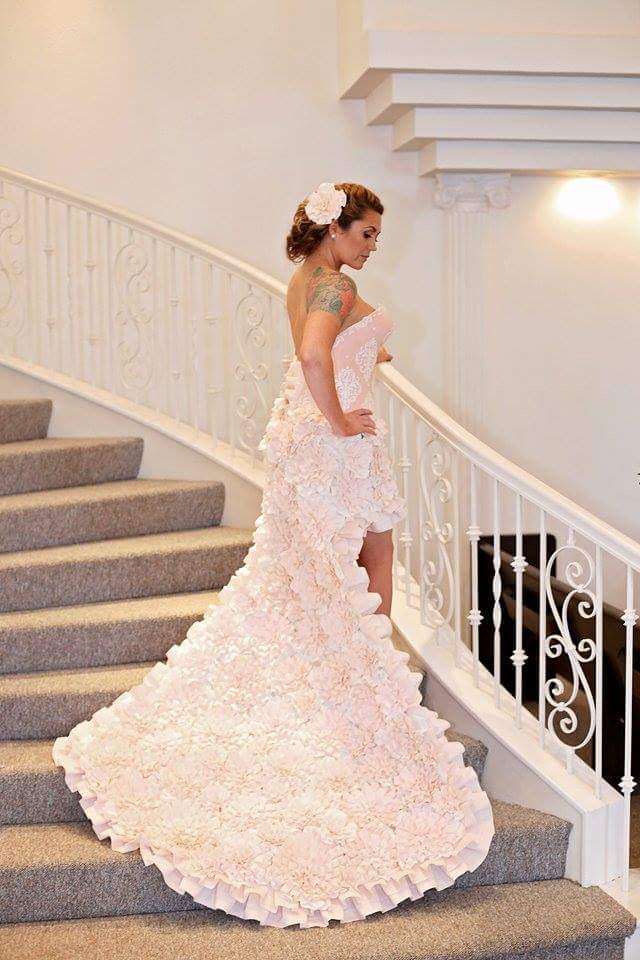 Unfortunately, this dress wasn't enough to win the competition, Mils did not win, but she had an honorable rank, she earned third place, but she won something much more important than the contest, she won new abilities that she probably never thought she had and most of all she found purpose again.