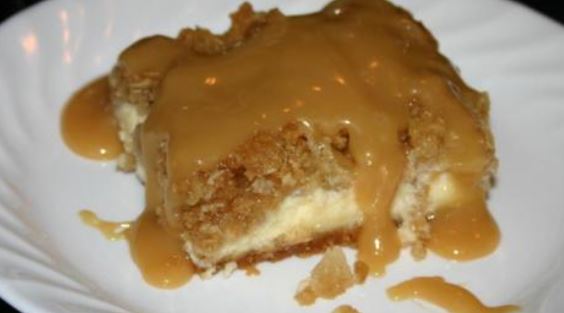 Let's Celebrate Apple Pie Day! Here is a recipe I have done and everytime and it's a taste bud pleaser! So yummy! Instead of making caramel sauce, I buy it and drizzle it on top when I cut them into bars. Soooo good!
SERVES 8-12
PREP TIME 30 Min
COOK TIME 45 Min
Ingredients
CRUST
1 call purpose flour
1/2 cfirmly packed brown sugar
1/2 tspground cinnamon
1 1/2 stickbutter into square pats
CHEESECAKE LAYER
2 pkg(8-ounce) cream cheese, softened
1/2 csugar
2eggs
1 tsppure vanilla extract
APPLE LAYER
4granny smith apples, peeled, cored and finely chopped
1/2 tspground cinnamon
1/4 tspground nutmeg
2 Tbspsugar
STREUSEL TOPPING
1 cfirmly packed brown sugar
1 call purpose flour
1/2 cquick cooking oats
1 stickbutter, softened
TOP WITH CARAMEL SAUCE (OPTIONAL)
How To Make
1-Preheat oven to 350 degrees F.In a medium bowl, combine flour, cinnamon and brown sugar. Cut in butter with a pastry blender until mixture is crumbly. Press evenly into a 13 by 9 by 2-inch baking pan lined with heavy-duty aluminum foil. Bake 15 minutes or until lightly browned.
2-In a large bowl, beat cream cheese with 1/2 cup sugar in an electric mixer at medium speed until smooth. Then add eggs, 1 at a time, and vanilla. Stir to combine. Pour over warm crust.
3-In a small bowl, stir together chopped apples, remaining 2 tablespoons sugar, cinnamon, and nutmeg. Spoon evenly over cream cheese mixture.
4-Sprinkle evenly with Streusel topping. Bake 30-45 minutes, or until filling is set.
5-When cooled cut into bars and drizzle with caramel topping.