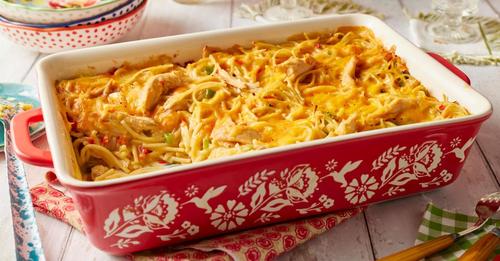 There is a lot of "stuff" in this dish, but the way I make sure it is widely accepted and enjoyed by those I serve it to is to keep all the ingredients finely chopped and seasoned properly. That's what I'm going to show you. So let's start with the chicken spaghetti. Water is fine.
YIELDS: 8 serving(s)
PREP TIME: 30 mins
COOK TIME: 45 mins
TOTAL TIME: 1 hr 15 mins
Ingredients :
2 c. cooked chicken
3 c. spaghetti, uncooked and broken into two-inch pieces
2 cans cream of mushroom soup
2 c. grated sharp cheddar cheese
1/4 c. finely diced green pepper
1/4 c. finely diced onion
1 jar (4-ounce) diced pimentos, drained
2 c. reserved chicken broth from pot
1 tsp. Lawry's Seasoned Salt
1/8 tsp. (to 1/4 teaspoon) cayenne pepper
Salt and pepper, to taste
1 c. additional grated sharp cheddar cheese
See Nutritional Information
Directions :
1Cook 1 cut up fryer chicken and pick out the meat to make two cups. 
2Cook spaghetti in same chicken broth until al dente. Do not overcook. When spaghetti is cooked, combine with remaining ingredients except additional 1 cup sharp cheddar.
3Place mixture in casserole pan and top with remaining sharp cheddar. Cover and freeze up to six months, cover and refrigerate up to two days, or bake immediately: 350 degrees for 45 minutes until bubbly. (If the cheese on top starts to get too cooked, cover with foil).