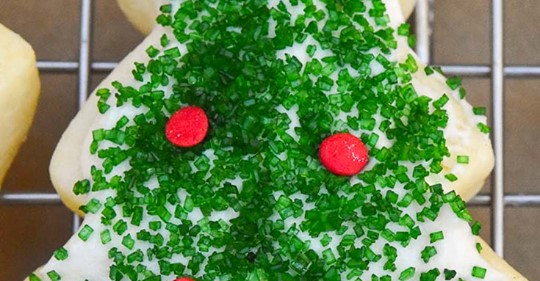 Ingredient Notes
The icing: This is the best sugar cookie recipe for royal icing, or as I use here more of a glace icing. The key to sugar cookies icing is to add your liquid in small increments. You don't want to get it so runny that you can't control the flow.
The sugar: Sugar cookie frosting without powdered sugar turns out very grainy and unappealing. I suggest you sift your powdered sugar before mixing to avoid lumps!
Storing Tips
I find these cookies store best in a tightly sealed container in a cool place. They don't like to get warm and are a little bit fragile, so I prefer a rigid container over a ziplock bag.
Can You Freeze This?
Sugar cookies freeze perfectly. I like to freeze the cookies unfrosted and decorate them when I need them. You can freeze them icing and all, but sometimes the icing loses a bit of its texture when it thaws. For maximum freshness, wrap the cookies individually in cling wrap before tucking into their freezer container.
You can also freeze the dough. It's best to cut the dough into the desired shape and then freeze it on a cookie sheet lined with parchment paper. Transfer the frozen cookies to a freezer container. You can cook them straight from the freezer. The dough can also be frozen in a simple log shape, cut into circles when semi-thawed, and baked.
Make Ahead Tips
This dough likes to be chilled and will hold well in the fridge for a couple of days. As far as the icing goes, it's not only one of the best tasting sugar cookie icing, but it keeps well in the fridge for a day or two. You can even store it in your piping bag ready for use!
How Long Can You Keep This?
Food handling guidelines indicate that cookie dough is best if it is used within 2 days of being made. In the freezer, the dough will hold for up to 3 months, and baked cookies are good for closer to 6 months.
RECIPE VARIATIONS
Made around the globe, there are endless variations on this Christmas sugar cookies recipe!
What Other Sugar Cookies Can I Bake?
These cookies are perfect for any celebration. Your little ghosts and goblins will love decorating Halloween sugar cookies, and Funfetti cookies are colorful inside and out! Of course, you don't always have to decorate sugar cookies. Cinnamon Sugar Cookies are perfect with their sweet, spiced flavor and simple presentation!
Can I Add Chocolate?
Adding chocolate to this Christmas sugar cookies recipe would be a great idea. Much like making chocolate shortbread cookies, chocolate sugar cookies by adding cocoa powder will require an adjustment on the amount of flour.
You could also consider dipping in these cookies in chocolate. Dark chocolate would be delicious! I think my double chocolate snowballs would also be a great option if you want a moist, chocolaty cookie!
Can I Add Almonds?
I wouldn't add almonds to the dough of this Christmas sugar cookies recipe. I love the light and smooth texture, and chopped almonds would detract from that. However, you could put sliced almonds on the top or use almond extract instead of vanilla if you want almond flavor.
Almond crescent cookies and almond shortbread cookies are great recipes that showcase almond flavor with a buttery, sugar cookie base.
Can I Turn These Into German Christmas Cookies?
German Christmas cookies come in a variety of flavors, but many are a butter and sugar base like this Christmas Sugar Cookie recipe. Springerle is elegant butter cookies with an embossed top. They're stunning and delicious!
Of course, spice cookies are also popular during the holidays, and one of the most popular German versions is the glazed gingerbread-like cookie, Lebkuchen.
What Other Christmas Cookies Can I Bake?
Sugar cookies, like Christmas butter cookies, are an excellent foundation for any cookie tray. I've got plenty of great recipes to fill out the rest of the tray. Two of my favorites are polar bear paws candy with their caramel and peanut centers and Reindeer noses, which are just as cute as they are yummy.
INGREDIENTS
Cookies:
5

 

cups

 

all-purpose flour

2

 

teaspoons

 

baking powder

1

 

teaspoon 

salt

1 1/2

 

cups

 

unsalted butter,

 

softened

2 

cups

 

granulated sugar

4

 

large

 

eggs

1

 

teaspoon

 

vanilla extract
Icing:
CLICK NEXT PAGE BELOW TO CONTINUE READING …