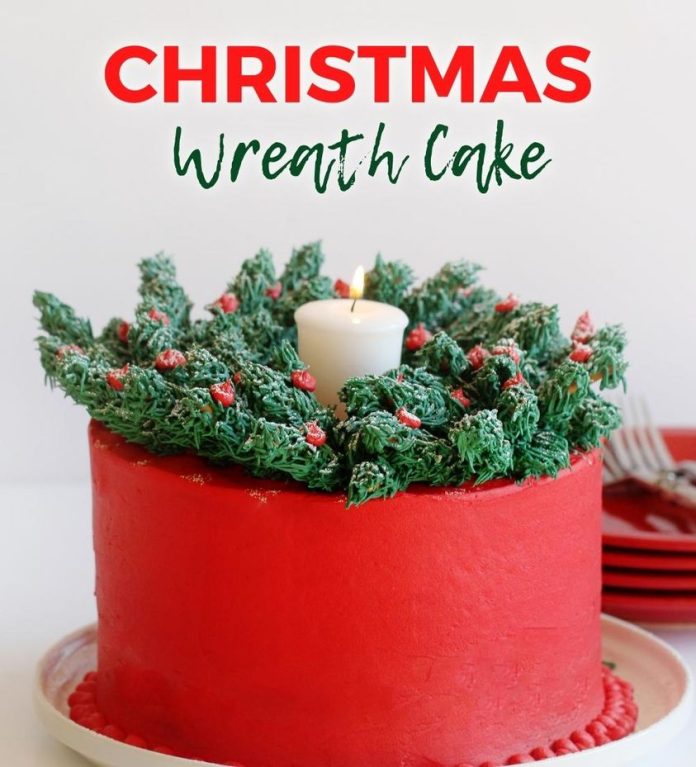 Creating a unique and fun design for a Christmas cake doesn't have to be difficult! Check out this simple Christmas wreath design that leaves quite an impact! If you're in the mood for more stunning Christmas cookies or the best sugar cookie recipe to cut out, check them out! <3
To make this cake you will need:
1 cake recipe (this is chocolate cake)
2 buttercream recipes (one tinted red and one tinted green)
stick pretzels
powdered sugar
strainer
small open round tip (any small size works, like #3, #5, #7, #10 are fine)
plastic disposable pastry bags
candle (size is your choice)
small offset spatula
bench scraper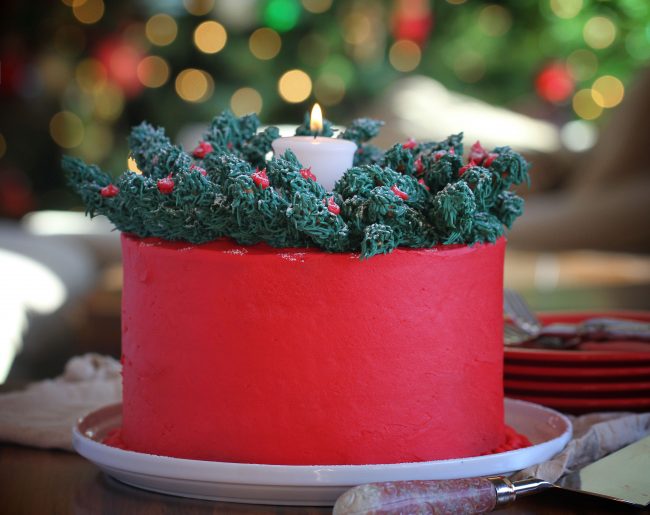 How to Prepare a Christmas Wreath Cake
Begin by baking your cakes in 8-inch round cake pans and cooling to room temperature. You will want the cakes to be level and cooled (refrigerated) before stacking and frosting.
Prepare your buttercream. One recipe listed yields about 4 cups. The red portion of the cake takes 3 cups and the green uses about 2 cups, that is why I recommend making 2 batches. You can make your frosting stretch by skipping the crumb coat, but then the outside might not be as smooth and pretty.
Tint one recipe red. I used McCormick red food color and used a 1-ounce bottle. You can use as much as you need to achieve the color you desire. Tint the other recipe green. I used a 1-ounce bottle of McCormick green and then added a few drops of black to get a deeper tone. More "evergreen". Place all green frosting in pastry bags and set aside until ready to use.
Place 1 layer of cake on cake stand. Cover in about 1 cup of red frosting. (can use as little as 1/2 cup). Smooth out flat with small offset spatula. Place the other layer of cake on top. Cover cake with crumb coat of red frosting. You want the frosting to be smooth and to seal in all the crumbs. Chill for 15 minutes. Now that frosting is set cover cake with more red frosting. I use my small offset spatula to cover the cake, then use the bench scraper to smooth out the frosting.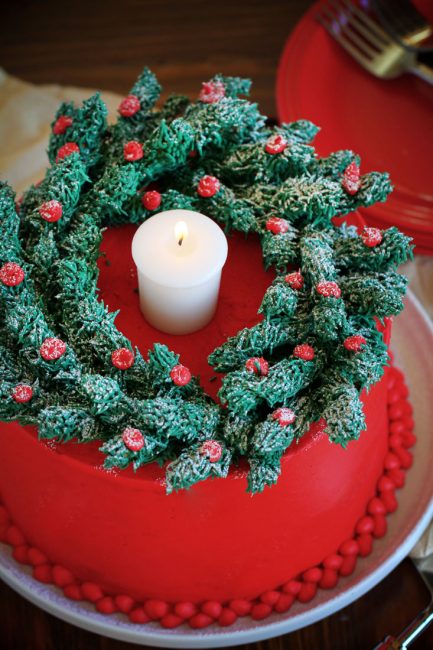 Chill your cake until you are ready to pipe out the pretzel "trees". When you are ready, start by holding on to your pretzel begin piping green across it. Cover all sides of the pretzel leaving some at the top and bottom without frosting.
Once the pretzel is covered on frosting, place at an angle to the surface of the cake. It can stick up or out to either side. You will be building it up with more pretzel sticks. Just imagine the organic flow of how a wreath looks and keep that in mind when placing the pretzel sticks.
After the stick is in the cake, go back with your grass tip and pipe the end of the stick. You don't have the worry about getting all the way underneath, it will be covered by piping the sides and top.
You will repeat this with approximately 100 more sticks. ? Some will go in at an angle, some will stick up higher, some will stick out more. This is all ok! Once you have gone around the cake and filled it in with the frosting covered pretzel sticks, stand back and see if there are any spots that need to be filled in more. I will either break a pretzel stick in half, pipe on it and tuck it in or I will just pipe directly on the cake with my piping bag.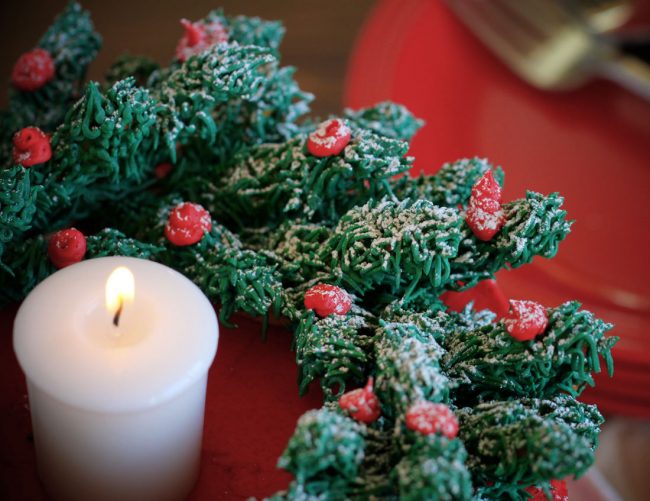 Another option for this cake is to make the pretzel sticks ahead of time and freeze them. I found that I could set a stick that was frosting covered in the center on the edge of a cookie sheet. You can fit quite a few around the edge. Freeze until ready to assemble the cake.
Fit a piping bag with a small open round tip and then pipe some red buttercream dots around the cake. These are meant to be the berries. You can do as many or as few as you would like.
Now take that same red frosting and small open round tip and pipe a design around the bottom of the cake. (This is just to clean up the cake and make it look more professional. You can skip if you would like.)
Sprinkle some powdered sugar for the snowy look if you'd like. I recommend doing that the day you are serving it, or even right before serving it. (If your frosting is fresh it can absorb the powdered sugar.)
When I was done piping and sifting the powdered sugar I added a candle to the center of the cake. Light it right before you serve!