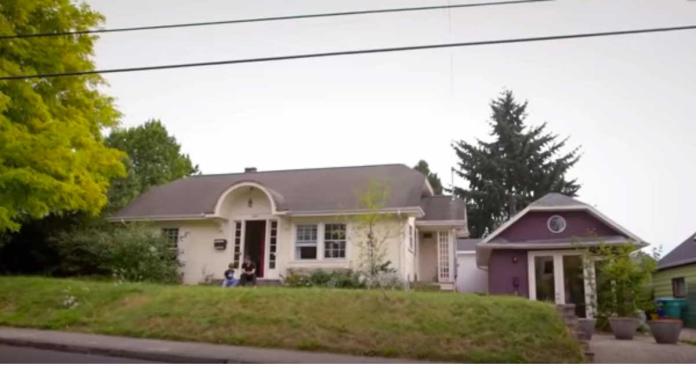 Tiny houses have become all the rage in the last five years or so. In many cases, tiny living makes a lot of sense. For a fraction of the price of a traditional home, you can simplify your life and have your own space. Tiny houses have been built using a variety of structures and materials, but this is the first time I've seen a tiny house built from an old garage.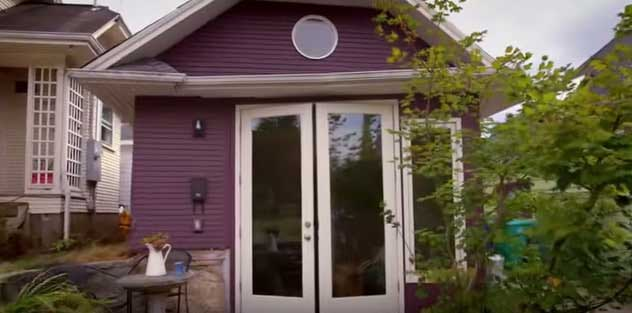 Martin Brown and his wife in Portland, Oregon, had just welcomed a son and needed to meet Martin's mother-in-law. The grandmother wanted to be close to her new grandson, so Martin decided to convert the old garage into an in-law suite.
Although this former garage was quite small, it had everything Martin's mother-in-law needed to make her life comfortable. Large glass doors lead into the living room, where there is a pull-out couch for guests to sleep on. The adjacent kitchen has a two-burner stove, open bookshelves and a tall, thin refrigerator.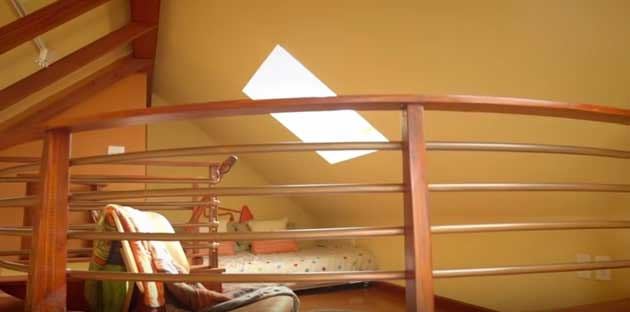 Upstairs there is a small loft with a bedroom, a closet and a small seating area. The exterior walls are painted in a striking plum color and there are some trees and plants in the front that provide privacy from the street. The suite has its own access and a bistro setup for morning coffee or evening wine. Kudos to Martin and his family for coming up with such a creative and efficient living space for Grandma.
Advantages of Garage Conversions
More affordable and larger space. Garage conversions are probably the least expensive, i.e., when estimated on a cost per square foot basis, addition to a home. However, it is a much smaller investment than the other options. This is because when you convert a garage into living space, you are using a space that already has a foundation. It will still be a major renovation, but in most cases, the basic parts are already in place, such as walls, roof, electrical, and concrete floor. Then, after changing the garage door, you may need to add walls (or windows), but it will still be smaller than building from scratch. This allows us to use the space as needed for a home office, additional bedrooms and bathrooms, an expanded kitchen, family room, playroom, home gym, etc., or to economically renovate an existing, exposed-frame structure.
Consider time-saving aspects. In addition to the above benefits, you can save the time needed to complete the project. With a detached garage, you have the advantage of being able to live in your home during the renovation, with little impact on your lifestyle. This is especially true if you have pets.
Increase the value of your residence. A garage remodel can increase the value of your home, especially if converted into an extra bedroom.
Save outdoor space. Using what you already have eliminates the need to build an entirely new structure. In particular, you don't need anything that takes up outdoor space that is difficult to secure. Here, you get both.
Easier to Complete. Remodeling a garage requires a lot of money, time, effort, and hard work, but it's also easier than opting for an entirely new structure. Garages are usually easier to access, have a simpler frame, and are unfinished, making the project go more smoothly.
If a basement conversion is not feasible, a garage conversion can make good use of natural light and breezes. A detached garage can also provide sound separation and privacy. With a detached garage, you have the option of putting it near your loved ones, which is especially useful for older family members.
There are many things you can add to make the space more personal. For example, you can add skylights, open up the ceilings, and maximize the wonderful views from your particular new windows.
Conversions can have their own private entrances. This is ideal if you want to create a more private, secluded area.