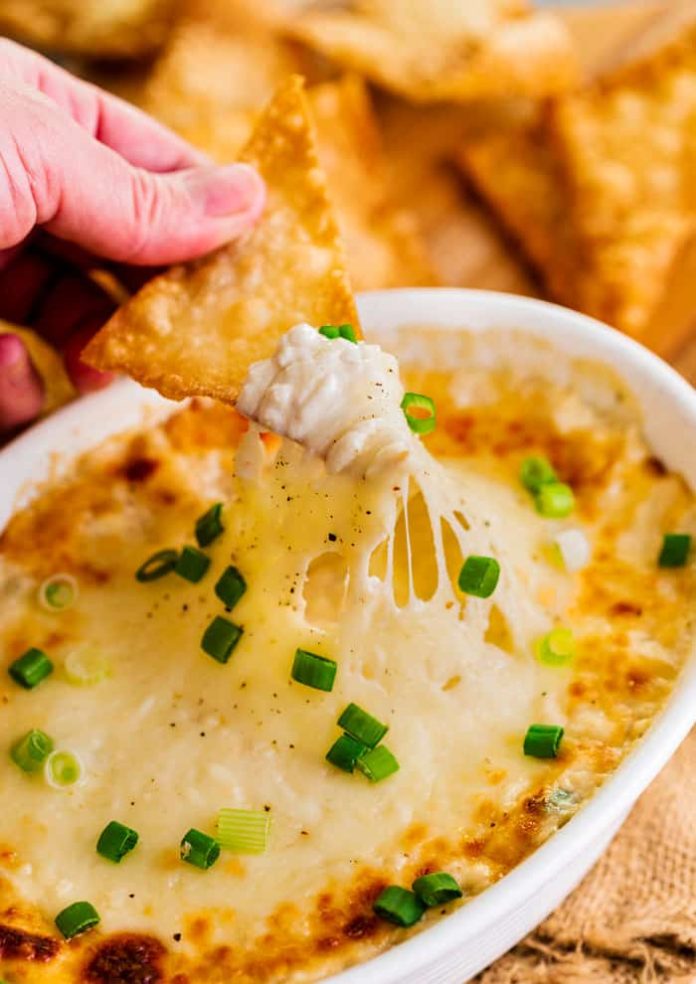 Are you ready to elevate your appetizer game with a dip that's set to steal the show at any gathering? Introducing Savory Sea Breeze Dip, a tantalizing blend of creamy, cheesy goodness with the rich flavors of crab. This dip is a guaranteed crowd-pleaser, whether you're serving it with crispy fried wonton chips, hearty tortilla chips, or your favorite crackers.
If there's one thing you can count on when I attend a party, it's that I'll arrive with a hearty appetite, fully prepared to savor every bite throughout the evening. And when dining out, spotting Crab Rangoon on the menu is a surefire way to ensure it lands at my table. With its crispy exterior and a luscious, cheesy crab filling, it's a culinary delight that's hard to resist.
For our Savory Sea Breeze Dip, we've made a few tweaks to perfect the recipe. Instead of fragile wonton chips, we opt for egg roll wrappers for sturdier dippers that won't crumble under pressure. But if you prefer convenience, reach for trusty tortilla chips and achieve that authentic wonton taste by sprinkling some crushed Wonton Strips on top just before serving.
Ingredients:
2 cups of succulent crab meat
16 oz. (2 blocks) of creamy cream cheese
1/2 cup of tangy sour cream
4 green onions, finely chopped
1 1/2 tsp. of Worcestershire sauce for a hint of complexity
2 Tbsp of powdered sugar for the perfect balance of sweetness
1/2 tsp of aromatic garlic powder
1/2 tsp of zesty lemon juice
Directions:
Begin by gently softening the cream cheese in the microwave for approximately one minute, ensuring it's easily blendable.
Finely chop the green onions and add them to the bowl with the two cups of luxurious crab meat.
Incorporate the sour cream, Worcestershire sauce for depth, powdered sugar for a touch of sweetness, garlic powder for aromatic allure, and a hint of lemon juice for a delightful zest.
Thoroughly mix all these delectable ingredients until they harmonize into a creamy, dreamy blend.
Transfer your tantalizing mixture into an oven-safe dish and bake at 350 degrees for 30 minutes or until the top develops a delightful golden hue.
Serve piping hot alongside your choice of chips, whether it's the robust crunch of fried wontons, the dependable appeal of tortilla chips, or any dipping vehicle of your choice. Sprinkle crushed Wonton Strips for that authentic final touch.
Get ready to dip, savor, and delight in the oceanic flavors of Savory Sea Breeze Dip. Your taste buds and party guests will thank you for this unforgettable culinary experience!
picture source : hecozycook.com