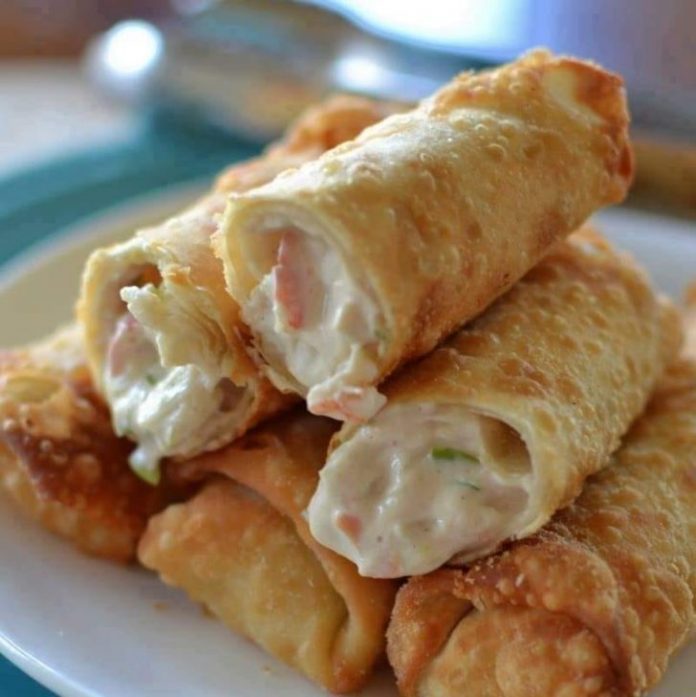 Crab Rangoon Egg Rolls are filled with fresh crab meat, cream cheese and a perfect blend of spices.  They are fried to golden perfection and are the ultimate party appetizer.
I love appetizer type foods.  I think they are my absolute favorite food group.  Egg rolls are so versatile and easy to stuff and fry or bake up.  Thanks to ready made egg roll skins making all kinds of great fried treats is a cinch.  Once you get the hang of rolling these beauties there is no limit to what you can do with them.
HOW TO MAKE CRAB RANGOON EGG ROLLS.
Mix together cream cheese, Worcestershire sauce, garlic powder, onion powder, green onions and crab meat. Lay one egg roll wrapper out with a corner pointing towards you. Place about three rounded tablespoons in the center of each wrapper making a short horizontal lump . Bring the corner that is closest to you up and over and gently tuck it in working on any excess air bubbles. Fold in the sides and roll the wrapper tightly. Use a small amount of water to secure the tip of the wrapper.
HELPFUL TIPS FOR MAKING CRAB RANGOON EGG ROLLS
If at all possible use fresh crab. I used King crab which I find to be the best for these.  You can also use Snow Crab, Dungeness Crab, Blue Crab and Stone Crab.
In a pinch substitute canned or imitation crab meat.  If using imitation be sure to chop it up fine.
Egg roll wrappers can be found in most grocery stores in the refrigerator cases next to the fresh produce.
Soften the cream cheese to room temperature.
Like your crab rangoon a little sweet?  Add 1/2 tablespoon of sugar or 1/2 tablespoon of mirin.
Use oil with a high smoking point like vegetable, canola or peanut.
A candy thermometer attached to the side of the dutch oven will help you keep your oil at a consistent 375 degrees. When you add the egg rolls the temperature will drop so turn it up a little bit. When you remove the egg rolls from the oil the temperature will rise so turn it down a bit.
I love these crispy cream filled pieces of heaven.  I hope you do to!  We just love to entertain year round! Are you doing any entertaining in the next few months?
INGREDIENTS
2 (8 ounce) boxes cream cheese softened
1 –2 tablespoons Worcestershire sauce (see notes)
1 teaspoon garlic powder
1/2 teaspoon onion powder
3 green onions chopped
1/2 lb fresh white cooked crabmeat flaked or diced
8–10 egg roll wrappers
Vegetable oil for frying
INSTRUCTIONS :
CLICK NEXT PAGE BELOW TO CONTINUE READING …