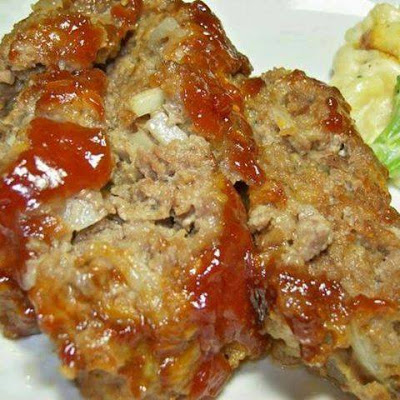 Prepare to savor the mouthwatering essence of a homemade classic – Cracker Barrel-Style Meatloaf with a delectable sweet brown sugar glaze. This recipe takes the traditional meatloaf to new heights, infusing it with the richness of Worcestershire sauce, the warmth of French onions, and a sweet glaze that makes it the star of your dinner table. Discover why this version of meatloaf is hailed by readers as the ultimate comfort food.
Ingredients:
2 large eggs
2/3 cup of milk
32 crushed Ritz crackers
1/2 cup of finely diced onion
4 ounces of sharp cheddar cheese, shredded
1 teaspoon of salt
1/4 teaspoon of pepper
1 1/2 pounds of ground beef
1/2 cup of ketchup
1/2 cup of brown sugar
1 teaspoon of mustard
Instructions:
Begin by preheating your oven to 350°F (175°C).
In a mixing bowl, beat the eggs, and then add the milk and the crushed Ritz crackers. Stir in the finely chopped onion and the shredded sharp cheddar cheese.
Season the mixture with salt and pepper, and then gently fold in the ground beef, ensuring that all the ingredients are well combined. Shape this mixture into a loaf.
Place the meatloaf in the preheated oven and bake for 45 minutes.
While the meatloaf is baking, prepare the delicious glaze by combining the ketchup, brown sugar, and mustard.
After the meatloaf has baked for 30 minutes, spoon half of the glaze evenly over the top. Return the loaf to the oven for an additional 10 minutes of baking.
Finally, spoon the remaining glaze over the meatloaf and bake for an additional 5-10 minutes or until the meatloaf is cooked through and the glaze is beautifully caramelized.
Indulge in this irresistible Cracker Barrel-Style Meatloaf, and you'll understand why it's a reader favorite. It's a delightful blend of flavors and textures that's sure to satisfy your cravings for a homey, delicious meal.
Conclusion:
The Cracker Barrel-Style Meatloaf with its sweet brown sugar glaze is bound to become a household favorite. Its exceptional tenderness and flavor make it a go-to comfort food recipe.
Don't hesitate to share, like, and comment if you've enjoyed this revamped classic. Your taste buds and family will thank you!
SOURCE OF THE PICTURE :  howtoinstructions