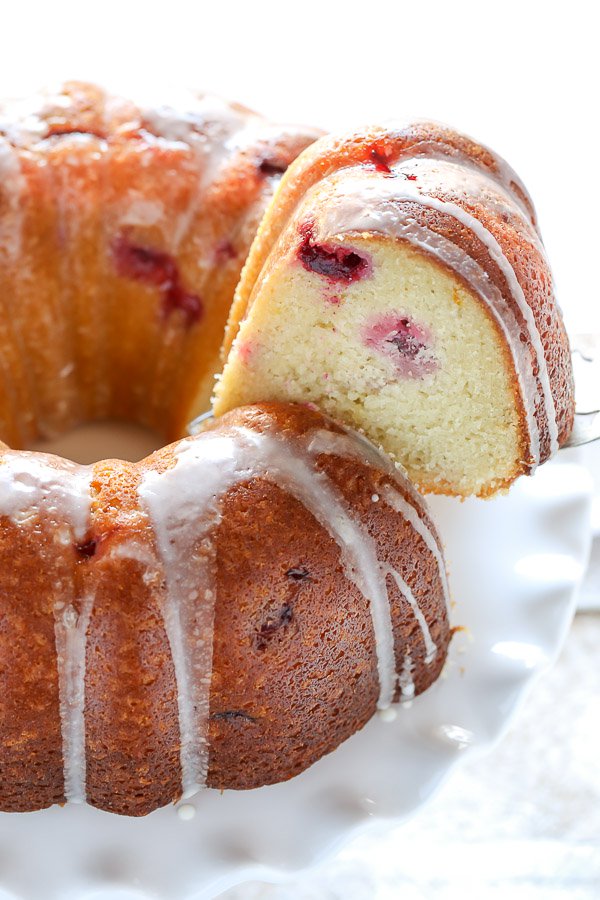 This Cranberry Orange Bundt cake features a soft and delicious cake with hints of orange and juicy cranberries in every bite!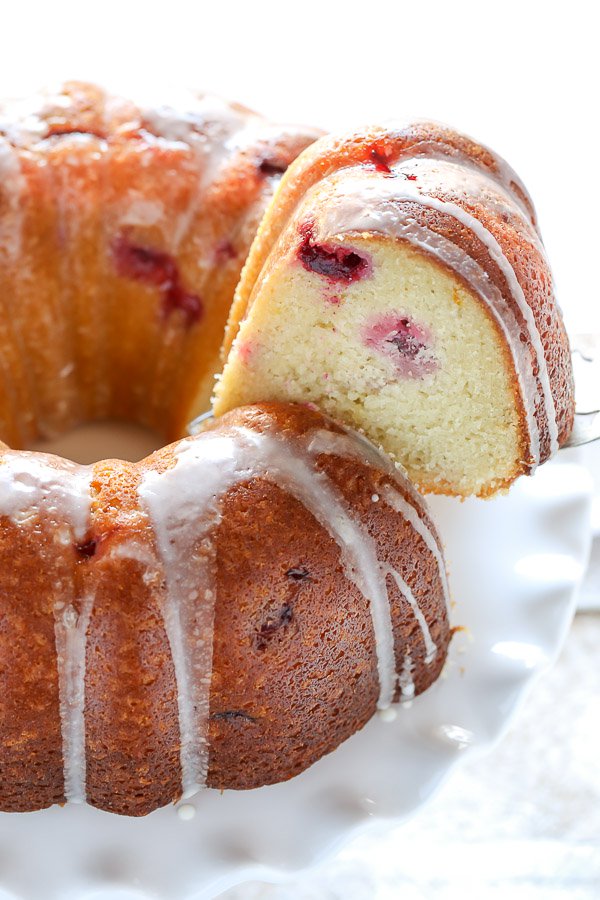 For today's recipe, I wanted to share something with beautiful, fresh cranberries.  When I think of cranberries, I immediately think of how well they pair with oranges too.  Orange and cranberry go together like peanut butter and jelly.  So, I decided to combine the two into this easy and delicious Cranberry Orange Bundt Cake.
Bundt cakes are one dessert that I love to bake because they're easy and always turn out beautifully.  This Cranberry Orange Bundt Cake is no exception.  All you have to do is mix up the batter, bake it, then top it with an easy glaze.  Plus, this cake is a perfect recipe that you can make ahead of time for the holidays too.
When it comes to making bundt cakes, some recipes call for using all butter.  I prefer to use mostly butter and just a little bit of oil.  There is only 1/4 cup oil in this recipe, but it helps to add a little moisture to the cake and keep it from drying out.  This cake is so incredibly soft, rich, buttery, and moist that it's almost impossible to stop at just one piece.
Ingredients
For the cranberry orange bundt cake
2 and 3/4 cups all-purpose flour
1 teaspoon baking powder
1/2 teaspoon baking soda
1 teaspoon salt
3/4 cup unsalted butter, softened
2 cups granulated sugar
4 large eggs
2 teaspoons vanilla extract
1/3 cup fresh orange juice
1 tablespoon orange zest
1/4 cup oil
1 cup sour cream
2 cups fresh cranberries
For the orange glaze
1 cup powdered sugar
2-3 tablespoons fresh orange juice (or milk)
Directions
To make the cake:

Preheat oven to 350°F. In a large mixing bowl, whisk together the flour, baking powder, baking soda, and salt. Set aside.

In the bowl of a stand mixer fitted with the paddle attachment, or a large mixing bowl using a hand-held mixer, beat the butter and sugar until light and fluffy.  Mix in the eggs one a time, then mix in the vanilla until well combined. Slowly mix in the orange juice, orange zest, and oil until well combined. With the mixer on low speed, slowly mix in the dry ingredients in three additions, alternating with the sour cream (starting with the dry ingredients and ending with the dry ingredients).  Mix everything until just combined, making sure not to over mix the batter.  Add in the cranberries and gently fold them into the batter.

Spray a 10-inch bundt pan well with non stick cooking spray, or grease with butter and flour. Pour the batter into the prepared bundt pan and evenly spread it around.  Bake at 350°F for 45-55 minutes or until a toothpick inserted into the cake comes out clean. Cover loosely with foil if needed for the last 5-10 minutes of baking to prevent excess browning.

Remove from the oven and cool in the pan on a wire rack for 30 minutes, then invert the cake onto a wire rack to finish cooling.

To make the orange glaze:

Once the cake has cooled, place a piece of foil under the wire rack (to catch any glaze that falls off). Pour the orange glaze evenly over the cake and allow to harden for about 10-15 minutes.  Slice and enjoy!