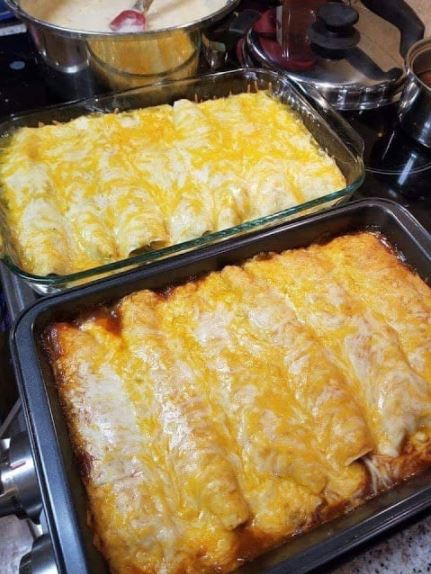 Ingredients :
8-10 flour tortillas
1 package (8 ounce) cream cheese, room temperature, divided [1/2 and 1/2]
1-2 (4 ounce) cans of green peppers
3 cups cooked grated chicken
2 cups Mexican cheese, grated, divided [1 cup; 1 cup)
2 cups low-sodium chicken broth
3 tablespoons of unsalted butter
3 tablespoons all-purpose flour
1 tablespoon lemon juice
1 teaspoon cumin
1/2 teaspoon chili powder
Kosher salt and freshly ground pepper to taste
Fresh coriander, garnish, optional
How To Make Cream Cheese Chicken Enchiladas
Preheat oven 350 degrees F and grease a 9 x 13 inch baking dish with a little nonstick spray.
In a mixing bowl, mix half cream cheese, chicken, cup of cheese, lemon juice, cumin and chili powder, and season with salt and pepper if desired.
Take 1 tortilla and fill it with 2-3 tablespoons of the chicken mixture, then place the seam side on the baking dish. Repeat with the rest of the tortilla and the filling.
CLICK NEXT PAGE BELOW TO CONTINUE READING …