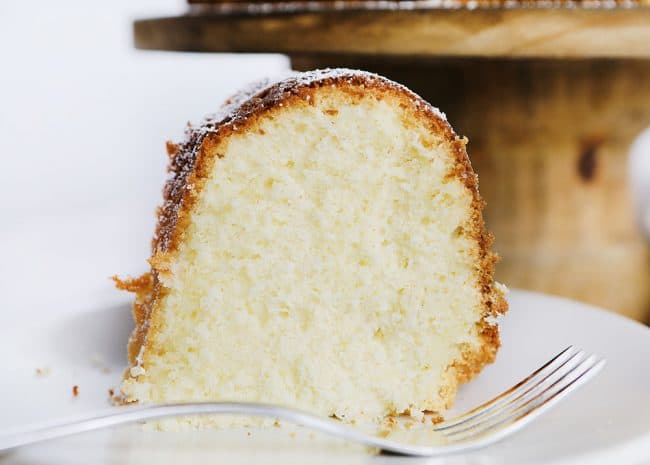 By far the best Cream Cheese Pound Cake I have ever eaten or shared! This pound cake recipe will surely become a classic in your home.
PREP TIME : 10 MINS
COOK TIME : 1 HR 20 MINS
TOTAL TIME : 1 HR 30 MINS
COURSE: DESSERT
CUISINE: AMERICAN
KEYWORD: CREAM CHEESE POUND CAKE
SERVINGS: 12
CALORIES: 694 KCAL
INGREDIENTS :
1 package (8-ounce) cream cheese, room temperature
1¼ cups (2½ sticks or 284g) salted butter, room temperature
3 cups (600g) granulated sugar
6 large eggs, room temperature
2 teaspoons vanilla extract
3 cups (375g) cake flour
¼ cup (60g) buttermilk, room temperature
confectioners' sugar, for dusting
INSTRUCTIONS
Preheat oven to 325°F. Prepare a large bundt pan with butter and flour or by spraying with non-stick spray. (My 10-inch bundt pan is 3 inches deep. There should be at least 1½ inches between the height of the batter and the top edge of the pan.)
In the bowl of a stand mixer fitted with the paddle attachment, combine cream cheese and butter until smooth (about 3 minutes).
Gradually add the sugar and mix until light and fluffy.
Add the eggs, one at a time, mixing well after each addition, followed by the vanilla.
CLICK NEXT PAGE BELOW TO CONTINUE READING …