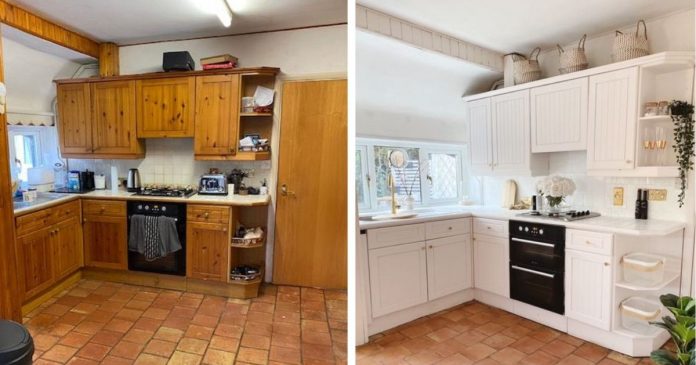 Embarking on a kitchen renovation can be a financial challenge, but Becky Lane's journey from London to Surrey, UK, showcases the transformative power of ingenuity on a budget. For a mere £100 (approximately $140 USD), Becky undertook the task of breathing new life into her dark and dated kitchen. The surprising outcome, achieved through modest yet impactful changes, challenges the notion that a stunning kitchen overhaul demands a substantial investment.
When interviewed by House Beautiful UK, Becky shared her cost-effective approach, emphasizing the pivotal role of paint and minor fixes. In this article, we delve into the details of Becky's inspiring kitchen makeover, demonstrating that a touch of creativity can go a long way in making a space truly your own, without breaking the bank.
Becky's strategic use of funds primarily revolved around paint, with four pots of Wilkinson chalk furniture paint at £10 each, chosen for its desired matte finish rather than the conventional satin or gloss. The transformation extended to the tiles, which received a fresh coat of Ronseal tile paint (£10), topped with a £9 varnish. Even the tile floor underwent a thorough cleaning, contributing to the overall rejuvenation.
The counters and backsplash, originally dark and dated, underwent a remarkable metamorphosis with three rounds of paint and varnish, resulting in a clean and refreshing ambiance. To add a touch of sophistication, gold hardware for the cabinets and subtle decorative elements were incorporated into the design. Astonishingly, this budget-friendly transformation unfolded over just one weekend and a few weeknights, highlighting the efficiency of Becky's creative and diligent approach.
Conclusion:
Becky Lane's kitchen remodel stands as a testament to the transformative potential hidden within budget constraints. Her keen eye for cost-effective solutions and the willingness to invest time and effort resulted in a kitchen that feels entirely new. This story serves as an inspiration for those looking to revitalize their living spaces without draining their wallets, showcasing that a creative touch can turn a seemingly mundane kitchen into a personalized haven. Kudos to Becky for demonstrating that style and substance can coexist, even on a modest budget
Source of the pictures : country living