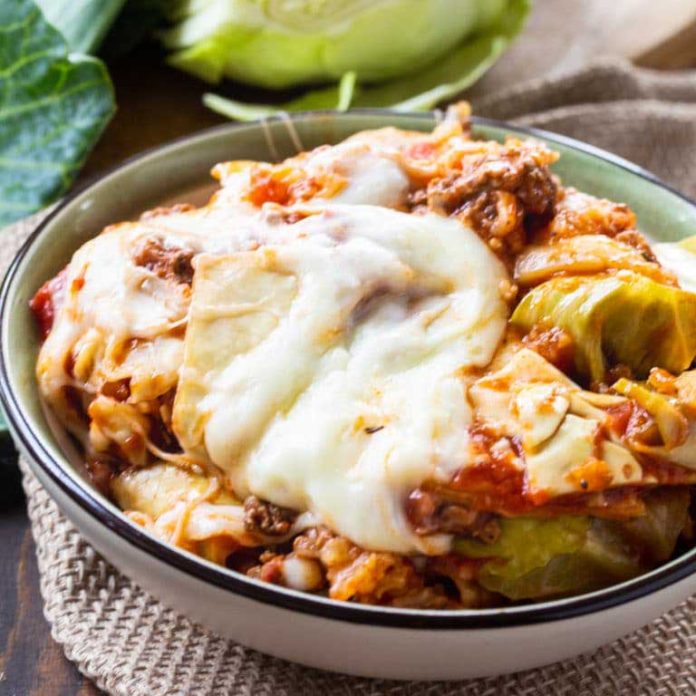 Slow Cooker Stuffed Cabbage Casserole is a hearty, filling casserole filled with ground beef, rice, tomato sauce and melted mozzarella cheese on top. It has all the flavor of stuffed cabbage, but is much easier to prepare.
PREP: 15 mins
COOK: 5 hrs 10 mins
Equipment
Ingredients
▢1 1/2 pounds lean ground beef
▢1 cup diced onion
▢1/2 cup diced green bell pepper
▢2 garlic cloves, minced
▢2 (14-ounce) cans fire-roasted diced tomatoes, undrained
▢1 (15-ounce) can tomato sauce
▢1 can condensed tomato soup
▢2 teaspoons Worcestershire sauce
▢1/2 teaspoon salt
▢1/2 teaspoon pepper
▢1/2 teaspoon dried thyme
▢1 beef bouillon cube, crumbled
▢3/4 cup long grain white rice, uncooked
▢1 medium head cabbage, coarsely chopped
▢1/2 cup water
▢1 1/2 cups shredded mozzarella cheese
Instructions
Place a large nonstick pan over medium-high heat. Add ground beef, onion, and bell pepper. Crumble the beef. When there is almost no pink left, add garlic and cook for 1 minute.
Add diced tomatoes, half the tomato sauce, half the tomato soup, and all of the Worcestershire sauce, salt, pepper, thyme, and bouillon cube. Stir to mix.
Mix in the rice and remove from heat.
Transfer half of the meat mixture to a 6-quart slow cooker. Layer half the cabbage on top. Repeat layers.
Mix the remaining tomato sauce and tomato soup together with the water. Pour over cabbage.
Place lid on crock pot and set to cook on LOW for 5 hours.
Remove lid and sprinkle cheese on top. Place lid back on for 10 minutes to melt the cheese.
Nutrition
Calories: 544kcal