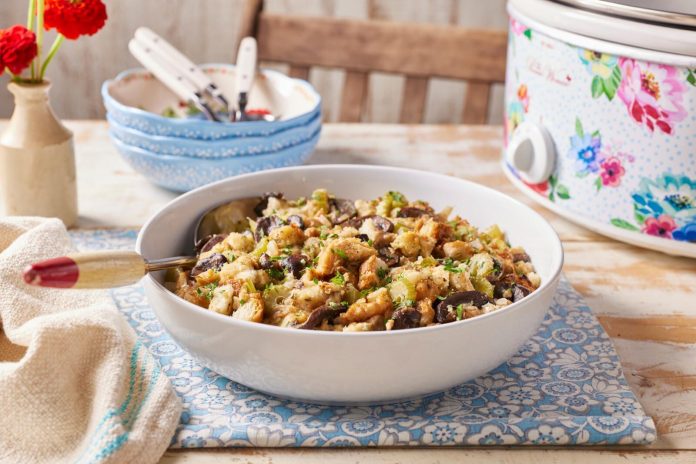 As the holiday season approaches, streamline your Thanksgiving feast with this delectable Slow-Cooked Herb-Infused Harvest Stuffing. By utilizing a slow cooker, you'll not only save precious oven space but also achieve a set-and-forget side dish that boasts rich flavors and moist perfection. This recipe combines aromatic sautéed vegetables, a medley of fresh herbs, and a couple of surprise ingredients to elevate your stuffing game. Whether you prefer to call it stuffing or dressing, this dish guarantees a savory and satisfying addition to your festive table.
Yields: 8 – 10 serving(s)
Prep Time: 20 mins
Total Time: 2 hrs 50 mins
Ingredients:
1/4 cup unsalted butter
3 stalks celery, finely chopped
1 medium yellow onion, diced
1/2 teaspoon kosher salt
1/4 teaspoon freshly ground black pepper
1 package (8 ounces) sliced mushrooms
2 cloves garlic, minced
1 can (10.75 ounces) cream of mushroom soup
1 can (14.5 ounces) low-sodium chicken broth
1 large egg
1 tablespoon fresh parsley, finely chopped, plus extra for garnish
1 tablespoon fresh rosemary, finely chopped
1 tablespoon fresh sage, finely chopped
1 bag (12 ounces) dried bread cubes
Instructions:
Begin by melting butter in a pan over medium heat. Add celery, onion, salt, and pepper, sautéing until the vegetables are tender. Incorporate sliced mushrooms and garlic, continuing to cook until the mushrooms release their juices.
In a large mixing bowl, combine the cream of mushroom soup, chicken broth, egg, parsley, rosemary, and sage. Whisk the mixture until well blended.
Place the dried bread cubes in the slow cooker, followed by the sautéed vegetable mix. Pour the liquid mixture evenly over the bread and vegetables, ensuring everything is well coated.
Cover the slow cooker and set it to cook on low for approximately 2.5 hours. This slow-cooking method allows the flavors to meld while keeping the stuffing moist.
Once cooked, serve the stuffing garnished with additional fresh parsley for a burst of color and flavor.
Conclusion:
Elevate your Thanksgiving feast with this Slow-Cooked Herb-Infused Harvest Stuffing. By blending aromatic vegetables, fresh herbs, and a few surprise ingredients, this stuffing becomes a savory masterpiece. Whether you call it stuffing or dressing, the slow cooker ensures a hassle-free, moist, and delicious side dish that will leave your guests asking for seconds. Embrace the convenience and flavors of this unique recipe for a memorable holiday gathering.
image source : the pioneer woman