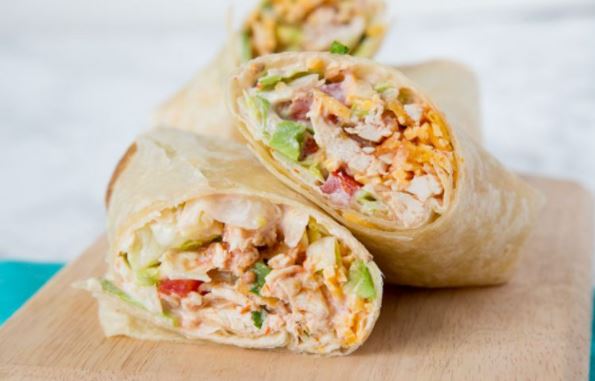 Crunchy Southwestern Chicken Wrap – easy lunch ideas are hard to come by. These chicken wraps come together in minutes, you can make them ahead, and the creamy spicy sauce makes them extra tasty!
PREP TIME15 minutes
TOTAL TIME15 minutes
INGREDIENTS
SAUCE
3/4 cup sour cream
3/4 cup salsa
1 1/2 Tbls taco seasoning
WRAPS
4 large tortillas, (wrap size)
1/3 cup shredded lettuce
1/2 cup tomato, diced
1 whole avocado, diced
1/2 cup cheddar cheese, shredded
2 cup cooked chicken, shredded
1 cup Fritos, crushed
INSTRUCTIONS
In a bowl mix together sour cream, salsa, and taco seasoning until well blended.
Lay a tortilla flat on a cutting board. Spread 1 heaping tablespoon of sauce over the bottom half of the tortilla, leaving a 1 inch border on each side.
CLICK NEXT PAGE BELOW TO CONTINUE READING …