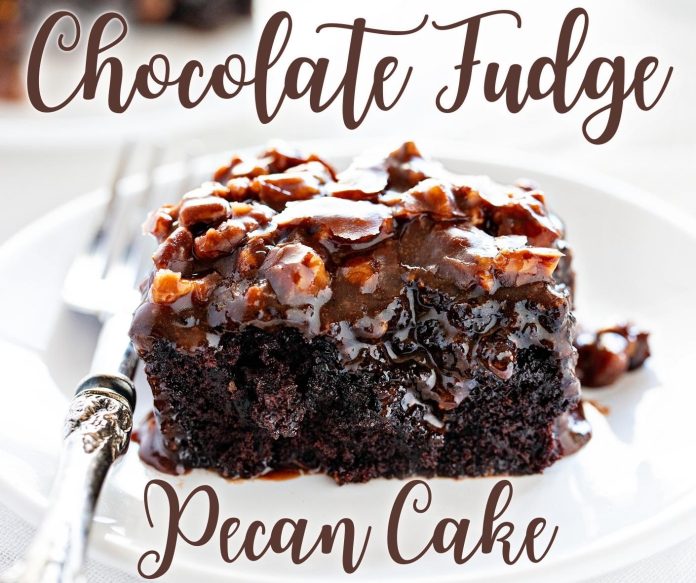 This Dark Chocolate Cake with Buttermilk Pecan Frosting was a wonderful surprise. A friend's mother requested this for her 70th birthday and sent me the recipe. Her recipe is known as "Rumble Cake". I can honestly say that it has become my new favorite. If you like this cake, which I know you will, I hope you enjoy it as much as I do.
Coffee and Dark Chocolate Cake Recipe
I have many chocolate cake recipes on my website, most of which use coffee. Coffee enhances the flavor of the chocolate, but it is not overpowering. If the recipe is good (which this one is), you will taste the richest chocolate cake you have ever had, with no coffee flavor at all.
This recipe makes use of brewed coffee. Some recipes use instant coffee crystals or espresso.
What can be used to replace the coffee in the chocolate cake?
Water (WATER) can be used instead of coffee, but the chocolate flavor will not be as strong.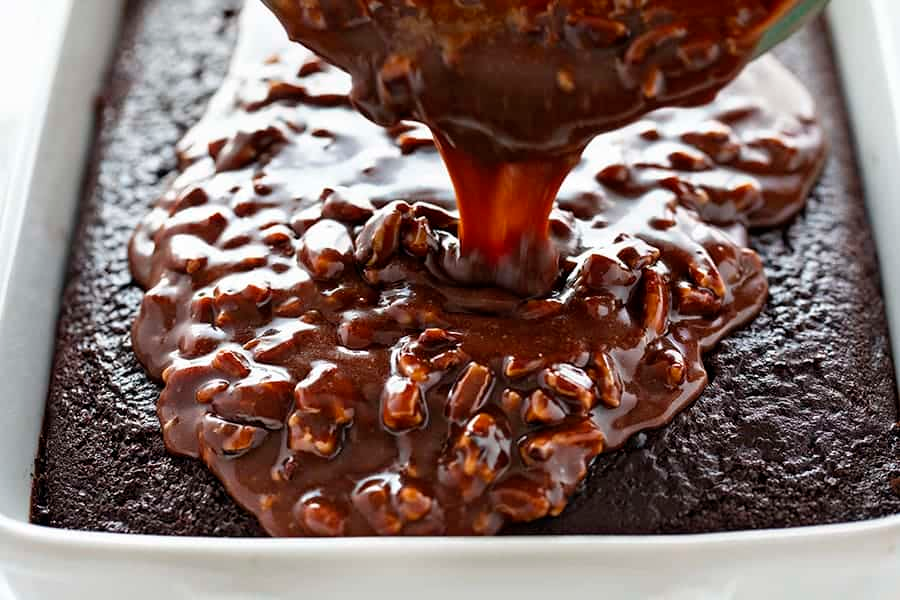 Cocoa powder vs. dark cocoa powder
Basic unsweetened cocoa powder works well in most chocolate cake recipes. In this recipe, I used Hershey's special dark chocolate, but Dutch processed cocoa powder or dark cocoa powder can also be used. Dutch processed cocoa powder and dark cocoa powder give beautiful color and a more complex flavor – a more pure bittersweet chocolate. When we tried this cake without frosting, we noticed that while it had a strong chocolate flavor, it was not as sweet as when using traditional natural cocoa powder.
The dark chocolate gives the cake a dark appearance, which is why it is sometimes referred to as a black cake.
The appeal of this recipe is the combination of the dark chocolate cake and the buttermilk pecan frosting. This frosting is so beautifully sweet and complements the cake.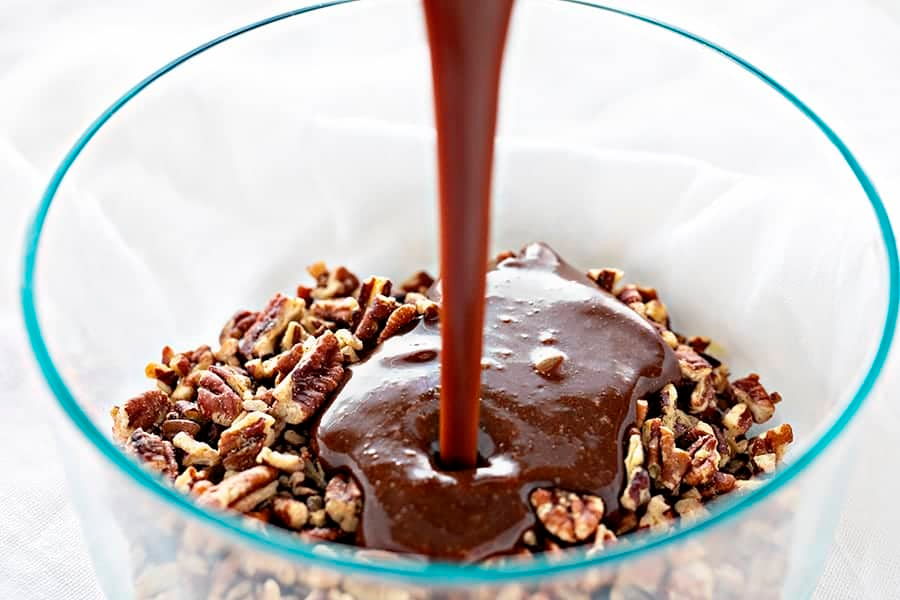 Buttermilk Pecan Frosting
This recipe is so similar to my pecan buttermilk cake glaze recipe that I knew it would turn out very well before I tried it.
I don't recommend making your own buttermilk for this recipe, unless you use sour cream. (Read more about the four common ways to make homemade buttermilk here). When testing this frosting and using the homemade buttermilk with vinegar method, I could taste the vinegar in the final product. That's not good enough. When I tested it with commercial buttermilk, the texture was smooth and the flavor was perfect.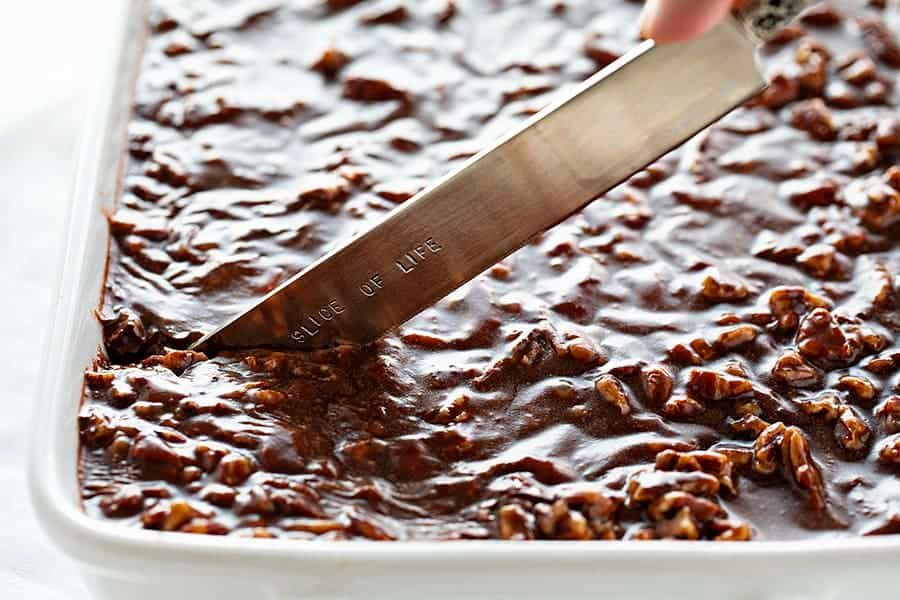 How to Serve Buttermilk Frosted Chocolate Cake
The key is to warm it up. The warmer it is when you eat it, the better it will taste. I was tempted to add vanilla ice cream (I won't judge if I do) but found it unnecessary. This cake is a trifecta of flavor, texture and beauty.
If you make this cake ahead of time, we recommend reheating it slightly before serving – either bake it in a 200°F oven for a few minutes, or microwave a slice at a time.
Or, it can be served chilled. It will look like it just came out of the fridge. It has a different texture and is much firmer. But a cold chocolate cake tastes different than a hot one. Try it and see for yourself.
Whichever way you enjoy it, we're sure you'll love it. If you're baking at high altitude, check out our high altitude baking tips if necessary.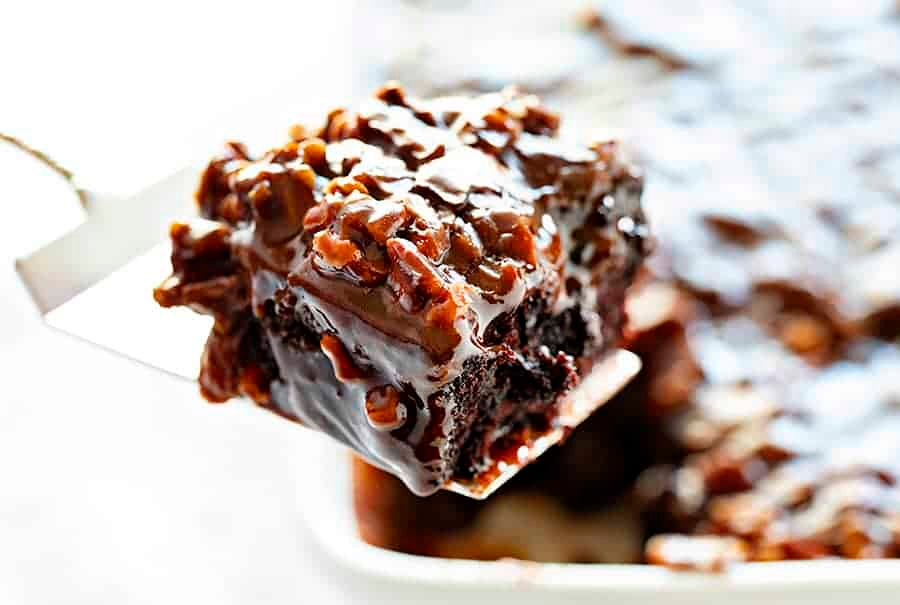 How to Store Chocolate Cake
Since you are using sour cream in the frosting, you will need to store it in the refrigerator. If you keep it in an airtight container or wrap it in plastic wrap, it will keep for 2-3 days.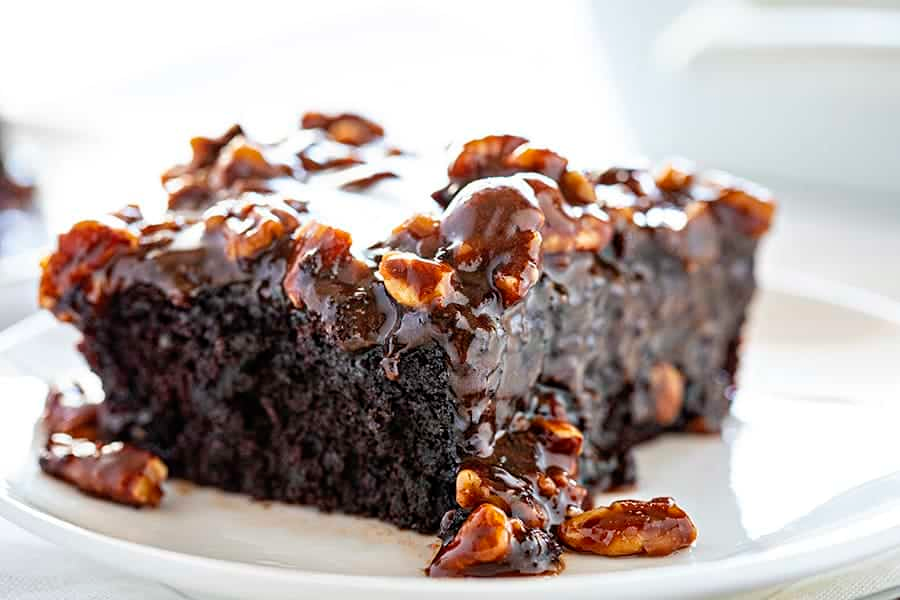 How to freeze chocolate cake
The cake can be frozen, but it is recommended that you add the buttermilk pecan frosting only after it has thawed.
This chocolate cake will freeze well if placed in the refrigerator on the day it is made. Make sure it is completely cooled before placing in the freezer.
Allow the cake to cool completely in the pan.
Place a piece of plastic on top of the cake and place a cutting board or cooling rack on top.
Turn the cake over. Remove the pan.
Roll the vinyl up from the edge of the cake and cover it with another large piece of vinyl, wrapping it as tightly as possible so as not to crush the cake. Make sure the cake is not exposed to the freezer, as it may freeze.
Wrap it in aluminum foil. Label and date the cake. The cake can be frozen for a month, but three months is fine.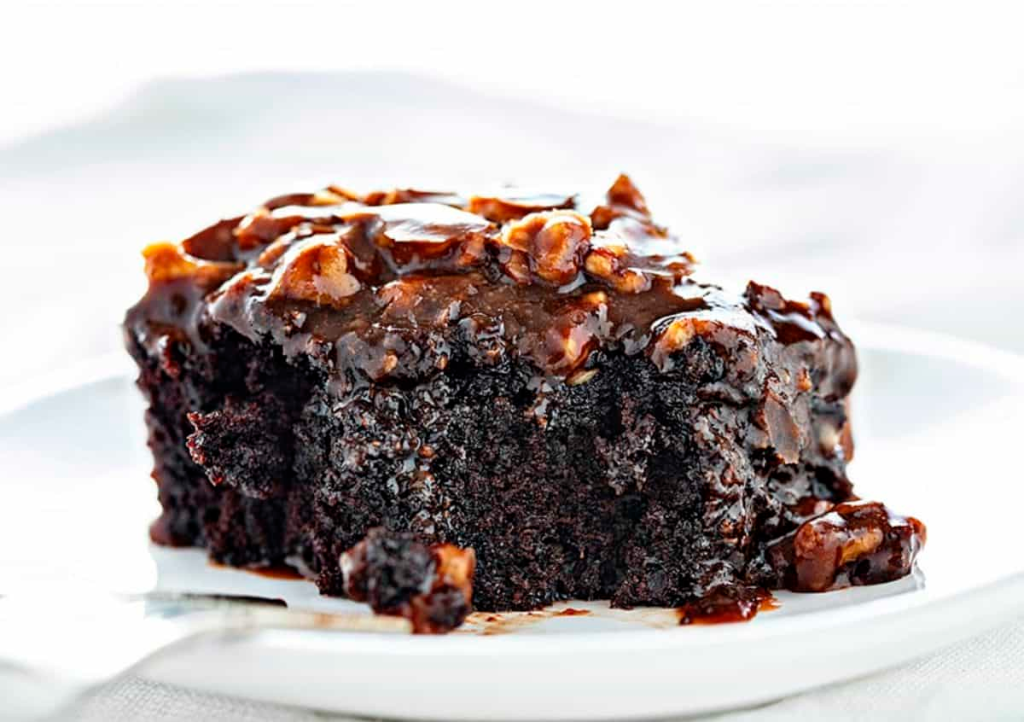 Dark Chocolate Cake with Buttermilk Pecan Frosting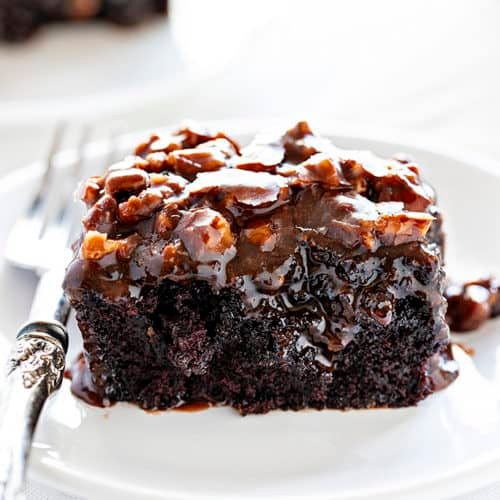 Prep Time 10 mins
Cook Time 50 mins
Cooling Time 1 hr
The dark chocolate cake with buttermilk pecan frosting is the highlight! It is moist, delicious, and has almost no chance of failure!
Ingredients
Chocolate Cake
1 ¾ cup (210 g) all-purpose flour
¾ cup (90 g) dark cocoa powder
2 cups (400 g) granulated sugar
2 teaspoons baking soda
1 teaspoon baking powder
1 teaspoon salt
2 eggs, beaten
1 cup (237 g) coffee
1 cup (240 g) buttermilk
½ cup (112 g) vegetable oil
1 teaspoon vanilla
Buttermilk Pecan Frosting
1 cup butter
½ cup dark cocoa powder
⅓ cup buttermilk
1 teaspoon vanilla extract
3 cups confectioners sugar
1 cup pecans, roughly chopped
Instructions
Chocolate Cake
In a large bowl combine flour, cocoa, sugar, baking soda, baking powder, and salt. Whisk to combine.
Add eggs, coffee, buttermilk, oil, and vanilla to the dry ingredients and stir using a spatula or whisk until ingredients are fully combined. The batter will be dark and very runny.
Pour into a prepared (greased or parchment-lined) 9×13 pan and bake for 40-50 minutes. Start checking at 40 minutes, if the cake jiggles at all or an inserted toothpick is removed with wet batter, the cake is not done. When an inserted toothpick is removed with a few crumbs (not clean!) the cake is done.
Buttermilk Pecan Frosting
In a saucepan, heat the butter, cocoa powder, and buttermilk on medium-low heat until butter is melted. Stir occasionally to incorporate ingredients.
Remove from heat and add the vanilla. Add confectioners sugar 1 cup at a time. Depending on the humidity and your kitchen circumstances, you may be able to use less confectioners sugar. You want the frosting to be like a runny pancake batter.
Add pecans to the frosting or pour frosting over the pecans. Stir.
Assembly
When cake has cooled for at least 15 minutes, pour frosting over the cake. Let sit for about 1 hour before cutting, or refrigerate for 30 minutes.
Nutrition
Course: Dessert
Keyword: buttermilk frosting, buttermilk pecan frosting, chocolate cake
Servings: 12 servings
Calories: 457