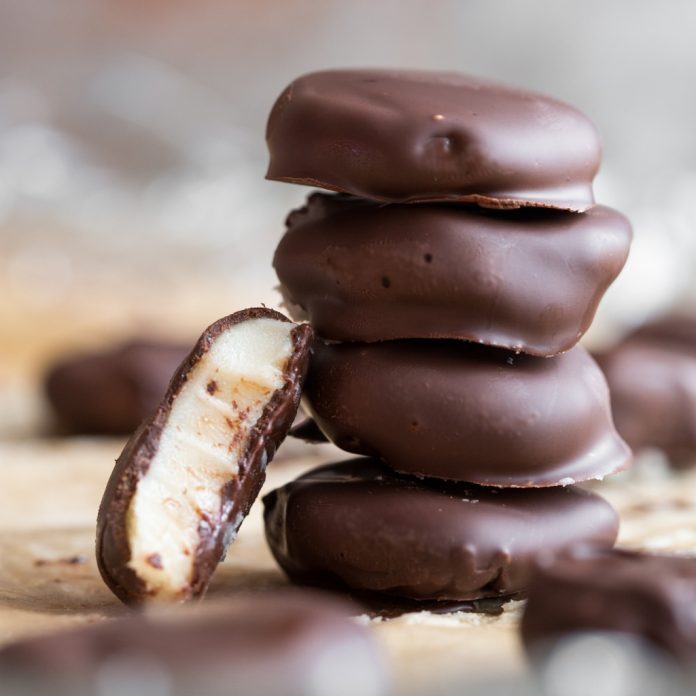 These recipes include chocolate covered candies, Peanut Butter Balls and Coconut Pecan Balls and Peppermint patties. You wouldn't need to cook anything.
I first made this basic recipe in the early 1960s. Then I tried to readjust it to make it more creamy and less sweet.
I made it together with a semi-sweet Chocolate Dipping Recipe coating that the recipe did not include, (including how to temper the chocolate).
Then, I added a light corn syrup, which is a humectant to keep the candies moist.
You may vary the following ingredients using chopped dried fruits such as dates, various nuts or Maraschino cherries for different flavored candies
Basic Candy Recipe
3 lbs. powdered sugar
3/4 cup evaporated milk
2 tablespoons light corn syrup (I use Karo Syrup)
2 teaspoons vanilla extract
1 Dipping Chocolate Recipe
In a large mixing bowl, stir together evaporated milk, corn syrup, and vanilla.
Add 2 1/2 lbs. of the powdered sugar, 1 cup at a time, stirring after each addition until the lumps are dissolved. (The lumps are from the cornstarch in the sugar).
Save 1/2 lb. of the sugar to work in later.
Divide mixture into three equal parts and place each in a smaller mixing bowl. This allows you to make three different flavored candies at a time.
Peanut Butter Balls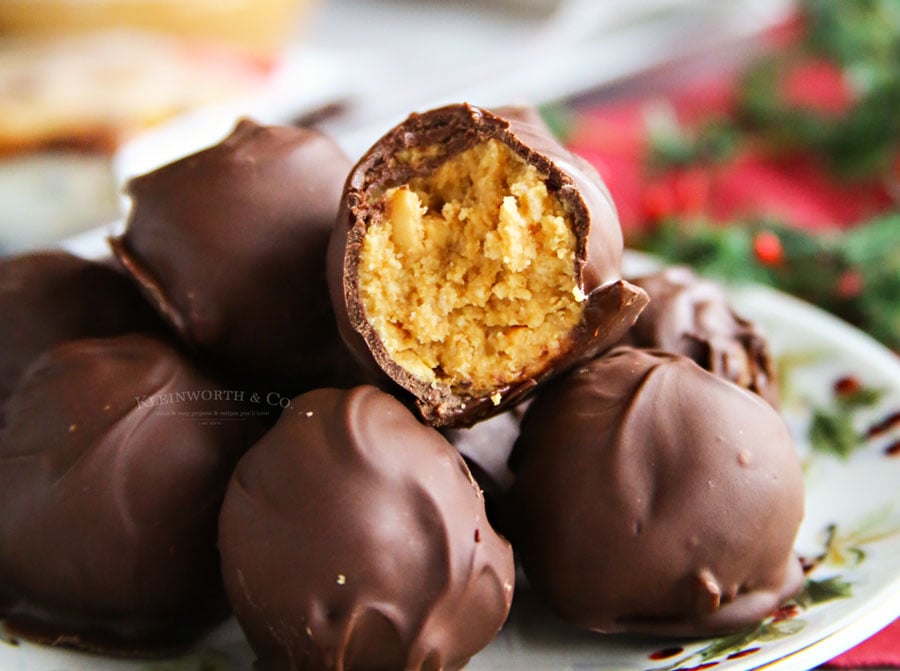 Additional powdered sugar
1/2 cup creamy peanut butter
Using part of the additional sugar, add enough to make the mixture into a dough.
Sprinkle a cutting board or other hard surface with sugar like you do flour when making a pie crust.
Add the peanut butter and some extra sugar.
Mix together.
Then knead like you would yeast bread dough until smooth, adding just enough sugar to prevent stickiness.
When the peanut butter is evenly incorporated and dough is no longer sticky, form into a large ball.
Cover with plastic wrap and let set 20-30 minutes.
Pinch off 24 equal size pieces of dough and roll into candy balls. They will be about 1 inch in diameter.
Place on a flat hard surface lined with freezer paper (glossy side up) or plastic wrap to prevent sticking.
Let dry out a couple of hours before dipping into chocolate coating.
Coconut Pecan Balls
Additional Powdered Sugar
1 cup coconut, coarsely chopped
1/2 cup pecans, chopped
1 teaspoon coconut flavoring
Mix the ingredients including the coconut flavoring as in above recipe.
Shape into 24 equal sized balls and set aside to rest.
Peppermint Patties
Additional powdered sugar
1 teaspoon peppermint extract or 15 drops oil if peppermint
3-5 drops red or green food coloring (optional)
Mix together per the other candies.
Shape into 24 equal balls and flatten with fingers or a glass dipped in the sugar.
Set aside to dry out and firm up.
Dip candies in a Chocolate Coating.
You will need 8 oz. chocolate for each one third candy recipe above.