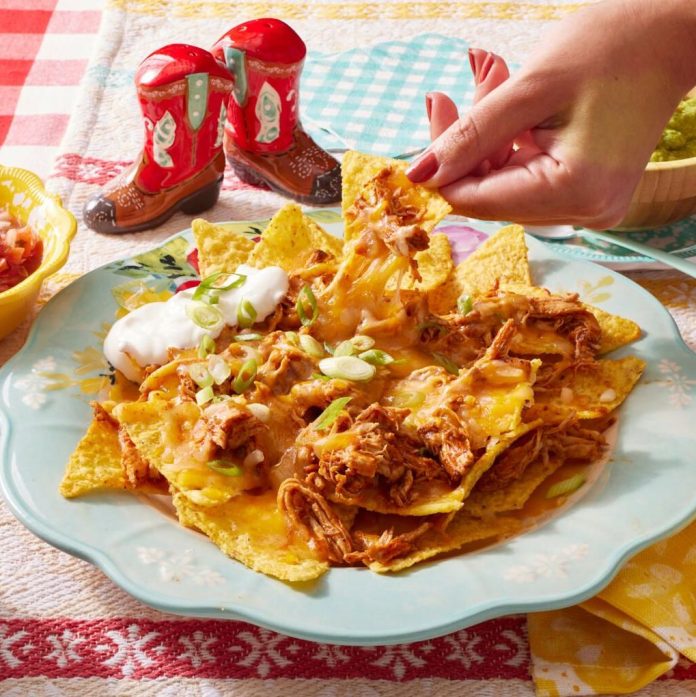 SOURCE : HECTOR M. SANCHEZ
I love soccer with all my heart. I also love all the daily specials that go along with it: chicken wings, fiesta dips, mini sandwiches and perhaps best of all…. the nachos! All I need in life is a big pile of chips with everything.
The star of this recipe is the chicken on top. It's saucy, a little spicy and just as delicious on nachos as it is on quesadillas or tacos.
You can add whatever toppings you want to the nachos, but you may end up eating them before the toppings, which is fine!In
what order should the nacho layers be placed?
The key is to make multiple layers so that all the chips get chicken and cheese.
I start with a layer of chips, then cheese, then chicken, and continue with a few more layers, ending with the chicken on top.
Then sprinkle on any other toppings you like.
What's the best cheese for nachos?
I like cheddar jack, but you can use cheddar, monterey jack or pepper jack….. or a combination of your favorite types of cheese!
What toppings can you put on nachos?
Any toppings you like. Think pico de gallo, sliced black olives, a dollop of sour cream, guacamole, cilantro… anything goes.
YIELDS: 12 serving(s)
PREP TIME: 5 mins
COOK TIME: 20 mins
TOTAL TIME: 25 mins
Ingredients :
4 boneless, skinless chicken breasts
2 tbsp. taco seasoning
2 tbsp. chili powder
1/4 c. olive oil
Kosher salt, to taste
1 8-oz. can tomato sauce
2 c. hot water
Several dashes hot sauce
Good tortilla chips
Cheddar jack cheese, freshly grated
Optional: pico de gallo, sour cream, sliced black olives, sliced green onions, cilantro leaves, guacamole, etc.
Directions :
Sprinkle both sides of the chicken breasts with the taco seasoning and chili powder. Rub in the seasonings as much as you can.
Heat the oil in a heavy skillet over medium heat. Cook the chicken breasts on both sides until deep golden and totally done in the middle, about 4 minutes per side. Remove from the skillet and let rest for a few minutes.
In the same skillet, whisk in the tomato sauce, hot water, and several dashes of hot sauce and bring to a gentle boil. Reduce the heat to low and keep warm. Taste and adjust the seasonings (you may need to add a little salt, depending on the taco seasoning you use).
Shred the chicken using two forks, then transfer the shredded chicken to the sauce. Toss to coat it in the sauce. If the sauce is too thick, add a little more hot water and allow to simmer for a few minutes.
To build the nachos, layer the chips, cheese, and shredded chicken on a heat-proof dish in several layers, ending with a small layer on top. Microwave the dish (or place it in a 350ºF oven if oven-proof) until the cheese is totally melted.
Serve as is or add whatever extras you'd like! Dive into it immediately.