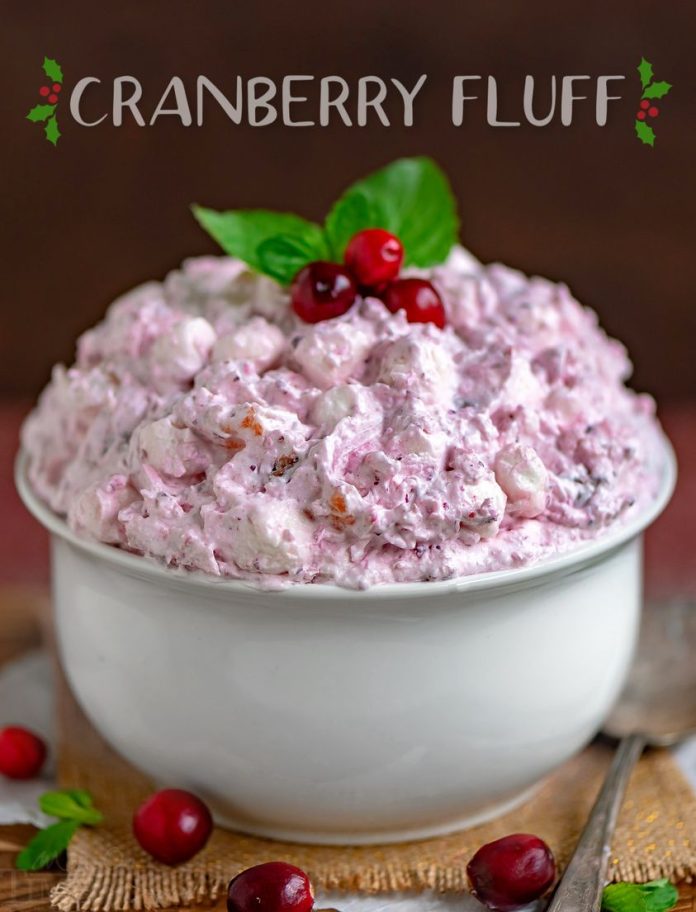 What your party table is missing! Cranberry Fluff is an easy dessert made with cranberries, pineapple, coconut and marshmallows. No one can resist this beautiful and luscious dessert!
Course : Dessert
 Cuisine : American 
Keyword : cranberry fluff 
Prep Time : 5 minutes
 Total Time : 5 minutes 
Servings : 10  servings 
Calories : 262kcal
Ingredients
1 cup fresh cranberries rinsed and drained
8 oz can Dole pineapple chunks
2 cups miniature marshmallows
2 cups shredded coconut
8 oz can Dole pineapple tidibts drained
1 cup chopped pecans
8 oz container Cool Whip
Instructions
Pulse fresh cranberries and pineapple chunks together in food processor or blender. Refrigerate for 2 hours.
Combine cranberry-pineapple mixture with marshmallows, coconut, pineapple tidbits and pecans in a large bowl.
Fold in Cool Whip.
Refrigerate until ready to serve.
Nutrition
Calories: 262kcal | Carbohydrates: 32g | Protein: 2g | Fat: 15g | Saturated Fat: 7g | Cholesterol: 3mg | Sodium: 72mg | Potassium: 194mg | Fiber: 2g | Sugar: 24g | Vitamin A: 75IU | Vitamin C: 5.9mg | Calcium: 42mg | Iron: 0.8mg