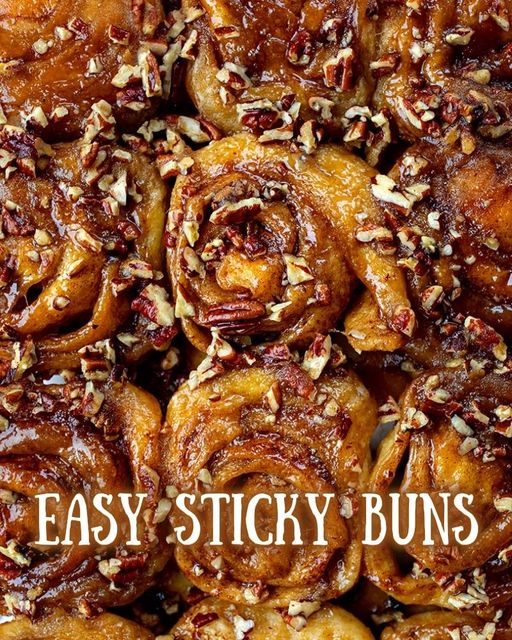 Easy Sticky Buns is a crescent roll dough filled with a mixture of cinnamon and sugar, rolled up and baked in a nutty, sweet and buttery filling.
PREP TIME : 10 MINS
COOK TIME : 30 MINS
TOTAL TIME : 40 MINS
Ingredients
Sticky Bun Topping
▢¾ cup (150 g) brown sugar
▢½ cup (1 stick / 113 g) unsalted butter, melted
▢½ cup (54.5 g) coarsely chopped pecans
Rolls
▢2 tubes (8-count each) crescent rolls
▢½ cup (1 stick / 113 g) unsalted butter, softened
▢½ cup (100 g) light brown sugar, packed
▢1 tablespoon ground cinnamon
Instructions
Preheat the oven to 350°F and spray a 9×13-inch baking dish with nonstick cooking spray.
Sticky Bun Topping
In a bowl, combine the melted butter and brown sugar. Pour it into the prepared baking dish, spreading it out evenly.
Top the butter and brown sugar with the chopped pecans.
Rolls
Working on a clean work surface, roll out both tubes of dough. Position the second sheet of dough directly next to the first sheet, creating a large square of dough. Combine the sheets of dough so that no seams are seen.
Spread the butter evenly over the dough.
In a small bowl, combine the brown sugar and cinnamon. Mix well.
Sprinkle the cinnamon-sugar mixture evenly over the top of the dough.
Working on the long edge, roll the dough into a log. Slice into 12 equal-sized pieces. Nestle each piece into the sticky topping in the pan.
Bake for 25-30 minutes, or until the tops are golden brown.
Flip the baked rolls onto a large cookie sheet or sheet pan.
Serve warm.