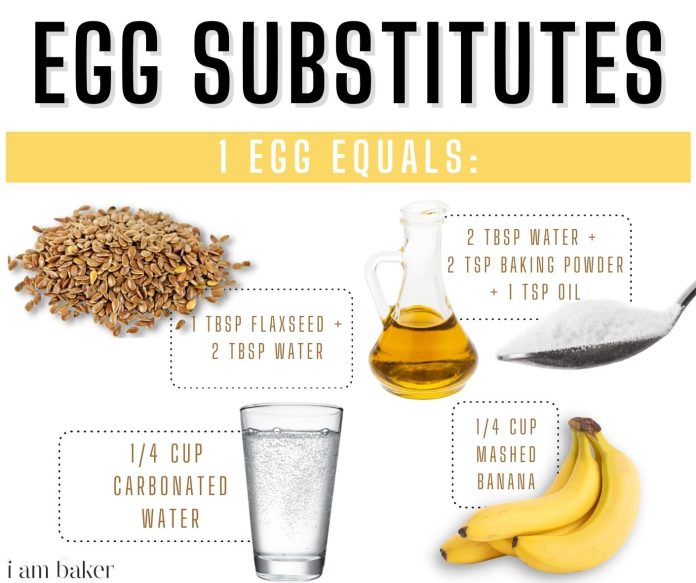 I replaced my favorite sugar cookie recipe with four common egg substitutes to see which one worked best for texture, flavor, ingredient availability, and overall satisfaction. I've made this recipe five times and have found that each one has its pros and cons! Which, not surprisingly, won the overall satisfaction test? What, unsurprisingly, won the overall satisfaction test?
Egg substitutes.
How many times have you tried to make a recipe, only to realize later that you were missing some ingredient? It's certainly frustrating, especially when you start mixing other ingredients! Also, these days it must be hard to run out to the store and buy a dozen eggs. And prices go up and up and up. So I decided to try replacing eggs with ingredients I had on hand.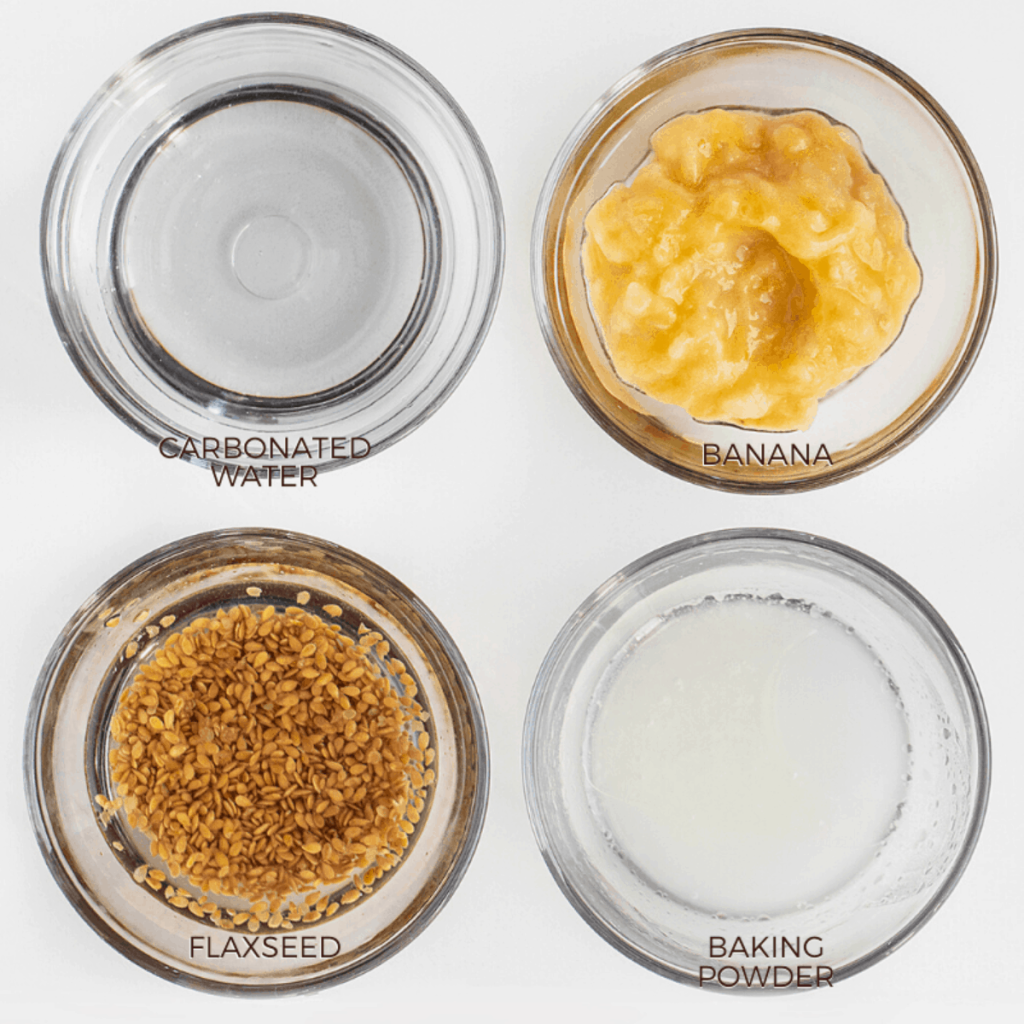 I based it on the Amish sugar cookie recipe that you can find below. The only ingredient I substituted was eggs.
For each substitution, I will let you know the amount of the ingredient I used instead of the egg. I'll also let you know what I think of the end result using our scientific (not really) 5-star (⭐️⭐️⭐️⭐️⭐️) standard.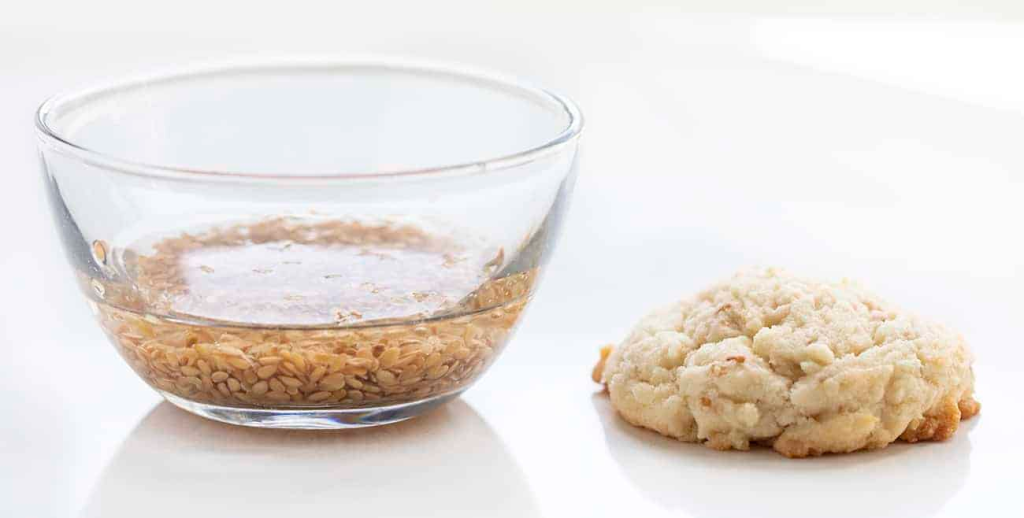 Flaxseed.
Flaxseed contains many nutrients that are good for our bodies. It is rich in antioxidants, lowers cholesterol and is said to help heart health. Remember, flaxseeds should be soaked in water for five minutes before roasting. Then the flaxseed must be ground into a fine powder. A coffee grinder or spice grinder will come in handy. The ground flaxseed is then mixed with water until it becomes a jelly-like mass. This helps to maximize the nutritional value of the flaxseed.
Egg Substitute. 1 large egg = 1 tbsp flaxseed + 2 tbsp water (soak flaxseed for 5 minutes).
Overall Satisfaction: ⭐️⭐️⭐️⭐️.
Texture. The cookies remain light and airy.
Taste: good flavor. The flaxseed is very pronounced when not ground, which gives it a slightly nutty flavor. Ground flaxseed is less pronounced.
Availability of raw materials. Flaxseed and ground flaxseed are much cheaper and have a longer shelf life. They are usually only sold in grocery stores.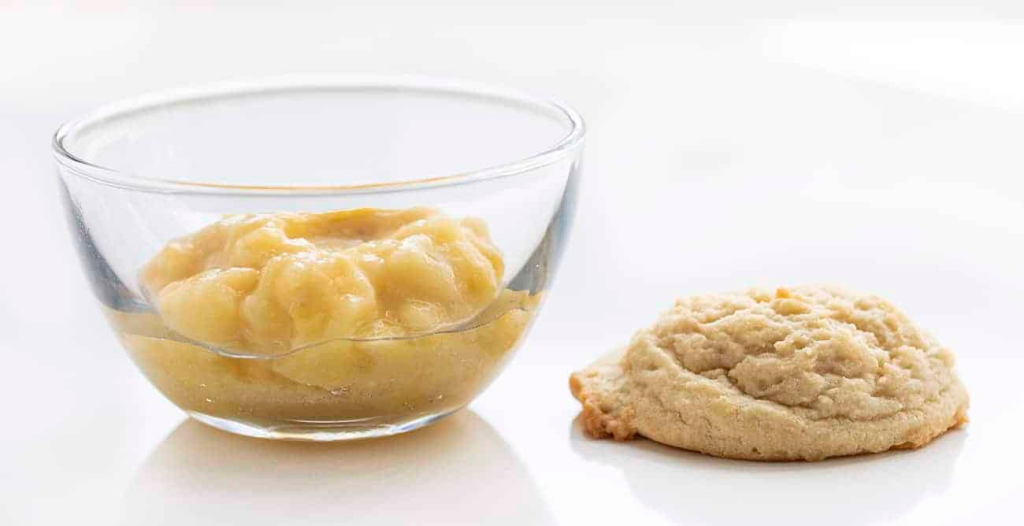 Bananas.
Bananas often become overripe and inedible if left on the counter as they are. But did you know that ripe bananas can be used to make banana bread? In fact, you can even use them as an egg substitute. So make mashed bananas and use them to your advantage.
Egg Substitute. 1 large egg = 1/4 cup banana puree.
Total Satisfaction: ⭐️⭐️⭐️⭐️.
Texture. The consistency is the same as a sugar biscuit, but don't let the appearance bury it. The banana flavor cannot be hidden.
Taste. This cookie has a distinctive banana flavor and is by far the furthest thing from the original (in terms of flavor).
Availability of ingredients. Bananas have a short shelf life, but they can be frozen for later use. They are also readily available at most grocery stores and gas stations.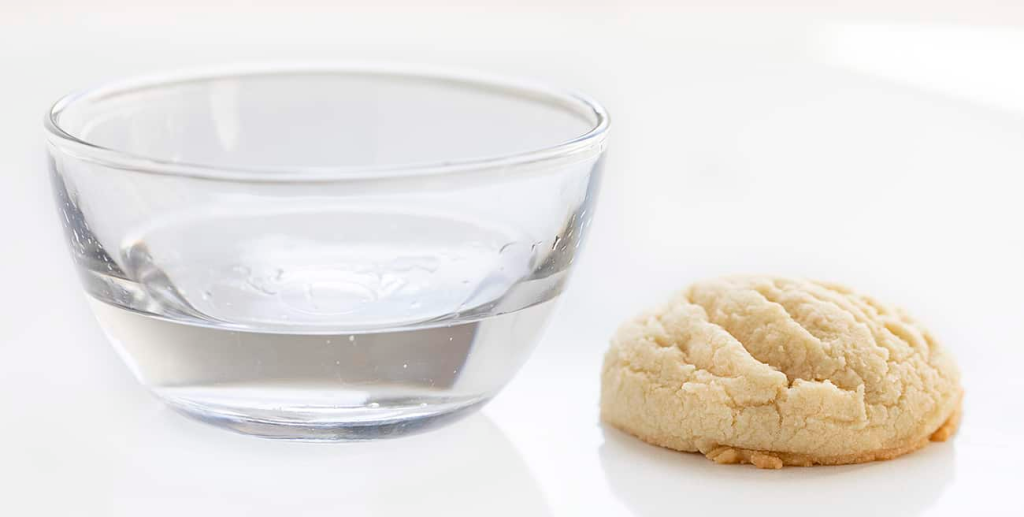 Soda water (sparkling water).
You can substitute sparkling water (soda water, sparkling water, sparkling water, etc.). Just make sure that it is not flavored soda water. We have not tested the taste of this alternative. But you can probably substitute citric soda. But lemon soda can give a slight lemon flavor to sugar cookies. If you try it, please let me know.
Egg Substitute. 1 large egg = 1/4 cup soda water
Overall Satisfaction: ⭐️⭐️⭐️⭐️⭐️⭐️⭐️⭐️⭐️⭐️⭐️⭐️.
Texture. The cookies were light and fluffy and matched the original very well.
Taste: this is a "winner." This is one of the "winners" of the flavor dough. It went very well with the original sugar biscuit recipe.
Ingredient Availability. Soda water is available at gas stations, supermarkets and even in homes if there is a soda machine.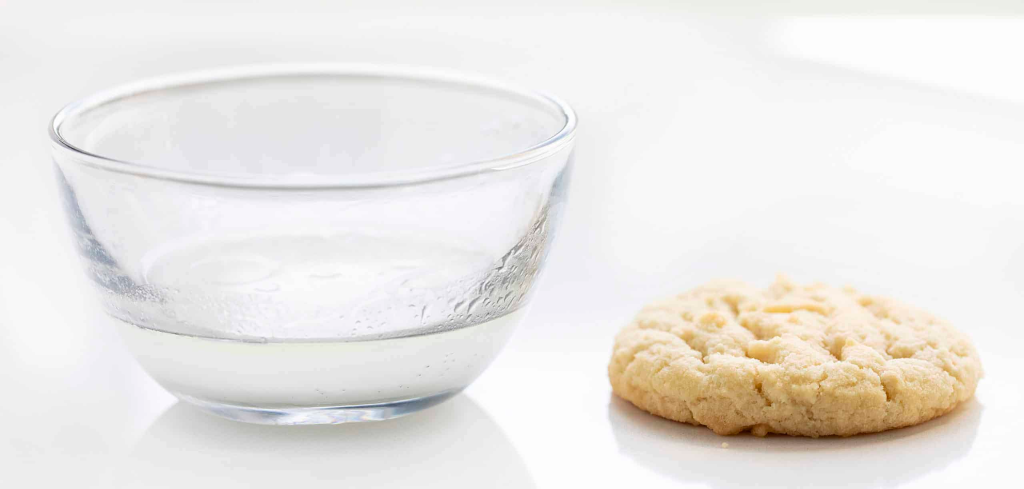 Baking powder, oil, and water.
Baking powder, oil, and water are probably the most readily available egg substitutes because most people always have them on hand.
Egg Substitute. 1 large egg = 2 tbsp. water + 2 tsp. baking powder + 1 tsp. oil
Overall Satisfaction: ⭐️⭐️⭐️⭐️⭐️⭐️⭐️⭐️⭐️⭐️⭐️.
Texture. These cookies were not as fluffy as the original recipe, but still stood the test and became one of the most popular products.
Taste. The flavor was a little more pronounced than the original sugar cookies, but still proved popular in the tasting tests.
Availability of ingredients. Most people always have baking powder in their cupboard. It's also available in most stores and has a long shelf life.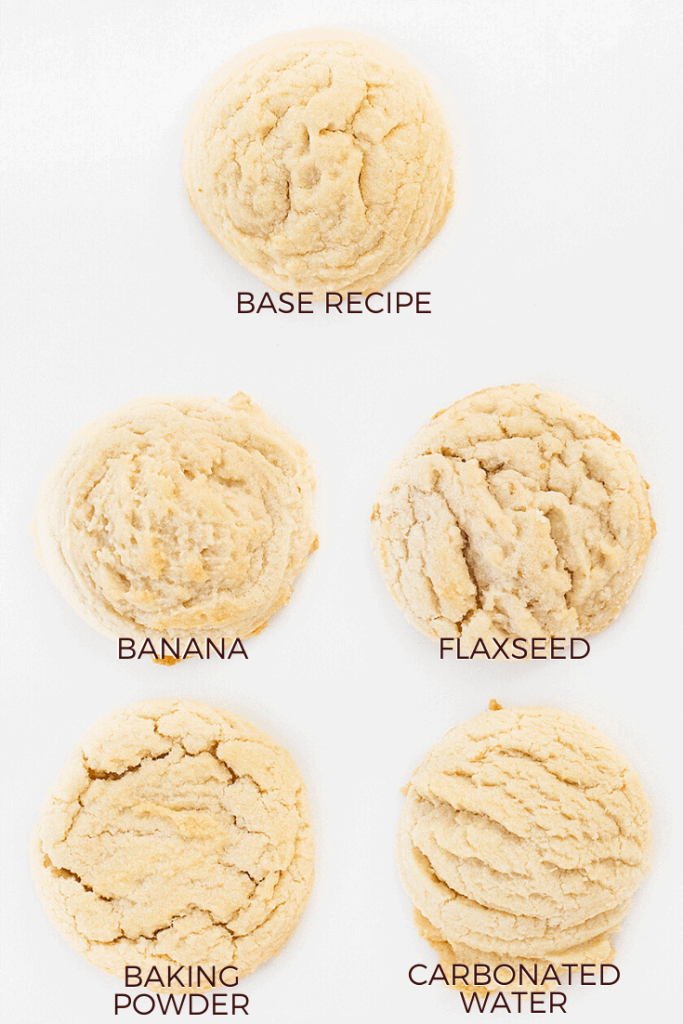 If you've tried one or both (or all) of these egg substitutes, we'd love to hear your thoughts. Which one do you like best? Which do you like best? Did the cookies made with the original recipe (with eggs) "cheat" anyone? What substitutions will you use most often in future baking recipes?
Base Amish Sugar Cookie Recipe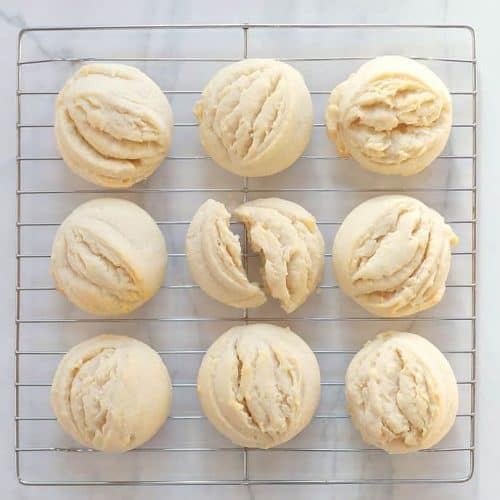 Prep Time : 15 mins Cook Time : 10 mins Total Time : 25 mins
By substituting eggs for the other ingredients listed above, I can make five different sugar cookie recipes that I really like!" .
Ingredients
2 ¼ cups (288g) all-purpose flour
½ teaspoon baking soda
½ teaspoon cream of tartar
½ cup 1 stick or 113g) salted butter, room temperature
½ cup (112g or 4 ounces) vegetable oil
½ cup (100g) granulated sugar
½ cup (63g) confectioners' sugar
1 large egg, room temperature
1 teaspoon McCormick Pure Vanilla Extract
Instructions
Pre-heat oven to 375°F and line a few baking sheets with parchment paper. (I bake them at 350°F in a convection oven)
In a large bowl, whisk together the flour, baking soda, and cream of tartar. Set aside.
In the bowl of a stand mixer fitted with the paddle attachment, cream together the butter, oil, and sugars on medium-high speed until light and fluffy, scraping the sides as necessary.
Reduce speed to medium and add the egg (or your egg substitute), mixing just until combined.
Add the vanilla and mix until combined.
Reduce speed to low and add the flour in three additions, scraping down the sides as necessary.
Using a scoop that holds 2 tablespoons of dough, drop batter onto the baking sheet, spacing at least an inch apart.
Bake for 8 to 10 minutes, just until the edges begin to darken.
Let cool on baking sheet.
Nutrition
Course : Dessert
Keyword : amish sugar cookies, Egg substitutes
Servings : 12
Calories : 221