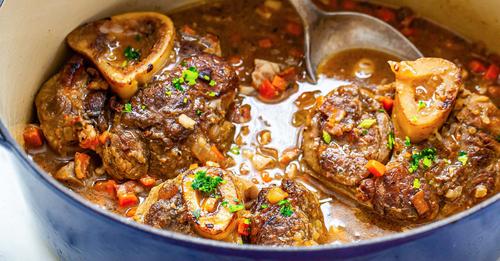 Ever had osso buco? This Italian classic features succulent braised veal shanks topped with a gremolata, a lively accompaniment of parsley, lemon zest, and garlic. Our osso bucco recipe has a secret ingredient: pancetta!
What is Osso Buco?
"Osso Buco" means "hole of bone" because this marrow provides the rich flavor to the sauce. A marrow spoon, one of those long skinny spoons found in old sterling silverware sets, would come in handy with this dish, as the succulent shank marrow can be tricky to extract (I used the skinny end of a teaspoon).https://e1e949ff8340e4d93fa385096e74af18.safeframe.googlesyndication.com/safeframe/1-0-38/html/container.html
I've made osso buco, an Italian dish of braised veal shanks, several times. I've eaten it in fine Italian restaurants but I've never really liked it until now.
FEATURED VIDEOhttps://imasdk.googleapis.com/js/core/bridge3.503.0_en.html#goog_15720019540 seconds of 1 minute, 3 secondsVolume 0%01:00 Easy Cauliflower Rice Recipe
How to Make Italian Osso Buco
This is a great recipe that my father pulled from the web a few years ago, which uses pancetta, instead of olive oil, for the browning of the veal and cooking the vegetables.
Olive oil is the traditional method, so if you want to skip the pancetta, just substitute several tablespoons of olive oil.
But the pancetta adds a lovely flavor dimension, and is probably the secret ingredient that has me liking osso buco for the first time. So use it if you can.
Substitutions for Veal
Veal shanks are the traditional meat for osso buco, and probably what you're familiar with seeing on restaurant menus. But the shank portion of several animals can benefit from this same preparation. You'll want to use shanks for this; otherwise it's not osso bucco.
Beef
Lamb
Pork
Moose (shared from the comments!)
Make Ahead Osso Buco
This braised dish is even better the next day, so it's a convenient dish to make ahead when you're entertaining. When it's done cooking, allow it to cool completely before refrigerating in an airtight container.
Before reheating, remove any solidified fat. To reheat, add the shanks back into the Dutch oven, add a little stock, cover, and gently reheat at 325°F until just heated through, about 30 to 45 minutes. Start checking at 30 minutes. Do not reheat any longer than needed
How to Freeze This Dish
Freeze leftover osso buco in freezer safe airtight containers or zipper bags. Osso buco will keep in the refrigerator for up to 3 months. Defrost in the refrigerator. To reheat, add the shanks in a Dutch oven, add a little stock, cover, and reheat at 325°F until just heated through, about 30 to 45 minutes. Start checking at 30 minutes. Do not reheat any longer than needed.
Favorite Osso Buco
PREP TIME20 minsCOOK TIME2 hrsTOTAL TIME2 hrs 20 mins
SERVINGS4 to 6 servings
Do not substitute bacon for the pancetta in this recipe. Pancetta isn't smoked, but bacon is. Bacon's smoky flavor will overpower this dish.
Ingredients
For the Osso Buco
4 ounces pancetta, diced into 1/4 inch cubes (see recipe note)
2 1/2 to 3 pounds veal shanks (4 to 6 pieces 2 to 3 inches thick)
1/2 cup diced carrot (1/4-inch dice)
1/2 cup diced celery (1/4 inch dice)
1 medium onion (1/4 inch dice)
2 tablespoons chopped garlic (about 4 cloves)
3 to 4 sprigs fresh thyme (or 1 teaspoon dried)
1 cup dry white wine
1 to 2 cups chicken or veal stock
Flour for dusting the meat before browning
Salt and pepper
For the Gremolata
2 tablespoons Italian parsley
1 tablespoon finely grated lemon zest
2 cloves garlic, crushed and minced
Method
Preheat the oven:Preheat the oven to 325°F.
Brown the pancetta:Heat a Dutch oven on the stove top over medium heat for about 5 minutes. Add pancetta to pan, cook, stirring occasionally.When the pancetta is crispy and most of the fat has rendered (about 5 minutes of cooking), remove the pancetta to a plate covered with some paper towel and set aside.If necessary, drain off all but two tablespoons of the fat from the pan.
Dredge the shanks in flour, brown in pan:Place the flour in a shallow bowl or deep plate.Season the veal shank well with salt and pepper. Dredge the veal shanks with some flour, shake off any excess, and add the meat to the hot fat in the pan.Increase the heat to medium high and cook the shanks on each side until well browned (about 5 minutes per side). Remove the shanks to a plate, set aside.
Sauté the onions, carrots, celery:Add the onions, carrots, and celery to the Dutch oven. Cook the onion mixture, stirring frequently, until the onions are translucent (about 5 minutes) and toss in the garlic and thyme.Continue cooking until the vegetables just begin to brown (about 10 minutes).
Return the shanks to pan, add wine and stock:Add the shanks and the pancetta back to the pan. Pour in the wine and then add enough stock to come a little more than halfway up the sides of the shanks.Bring to a simmer. Cover the pan and put it in the oven to cook until the meat is tender, about 1 to 1 1/2 hours.
Make the gremolata:Combine the gremolata ingredients, place in a separate small serving dish.Serve on top of risotto or polenta. Sprinkle with gremolata.
NUTRITION FACTS(PER SERVING)
632
CALORIES
25g
FAT
13g
CARBS
77g
PROTEIN
Show Full Nutrition LabelNutrition information is calculated using an ingredient database and should be considered an estimate. In cases where multiple ingredient alternatives are given, the first listed is calculated for nutrition. Garnishes and optional ingredients are not included.