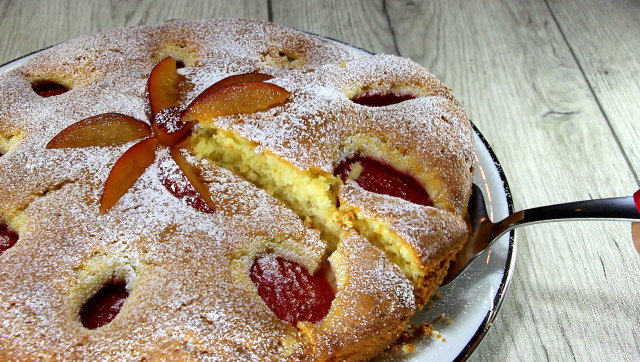 "Excuse me, do you know how many pieces of this fluffy cake is right to eat, because we are already having a fourth piece of it"
Preparation : 25 min.
Cooking : 35 min.
Тotal : 60 min.
Servings : 6
INGREDIENTS
plums – 1.1 lb (500 g) pitted
flour – 7 oz (200 g)
sugar – 4.2 oz (120 g)
butter – 3.5 oz (100 g)
eggs – 2 pcs.
milk – 3 1/3 tbsp (50 ml)
vanilla – 1 powder
cinnamon – 1 pinch
lemon peel
salt – 1 pinch
baking powder – 2 tsp (8 g)
brown sugar – 2 tbsp.
powdered sugar (for sprinkling)
HOW TO COOK
Pit the plums and cut them into quarters. Sprinkle them with two tablespoons of brown sugar and set them aside while you prepare the cupcake mixture.
Put the softened butter in a bowl and sprinkle with 4.2 oz (120 g) of sugar. Beat with a mixer, until a smooth cream is obtained. Add the two eggs one after the other, while still beating with the mixer.
In a bowl sift the flour with the baking powder, a pinch of salt, a pinch of cinnamon and a pinch of vanilla. Add it in portions to the butter cream. Pour the milk and flavor with the grated lemon peel.
Line a 8″ (20 cm) detachable cake tin with baking paper. Pour the cake mixture in it, level it out and arrange the plums on top.
Bake the cake at 360°F (180°C) in a preheated oven with a fan for about 35 minutes.
The finished plum cake is sprinkled with powdered sugar!
Enjoy!