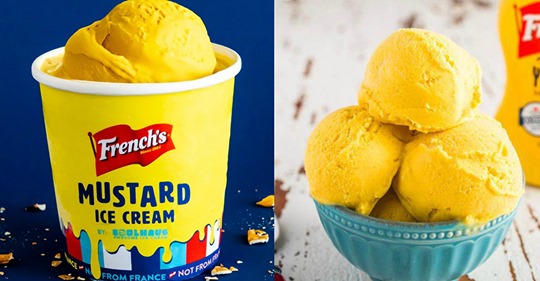 Yes, you read that title correctly. The producer of condiments, French, is now making mustard ice cream. We have all seen our fair share of interesting ice cream flavors, such as wasabi and whatnot, and this is another new one.
Mustard Ice Cream
French's wanted a new interesting snack of National Mustard Day, which falls on August 3rd. So, they involved an ice cream and sandwich company, Coolhaus, to help with their plan.
After 115 years of simply using mustard to add flavor to things, they wanted to change things up. The company thought, why not ice cream?
Coolhaus CEO Natasha Case shared her experience with helping their new ice cream. It was a challenge because they wanted to incorporate the brand and taste of the mustard while making a delicious treat as well.
They use real French mustard in the ice cream and then incorporate cake batter to create a delicious snack.
HOW IT TASTES
CLICK NEXT PAGE BELOW TO CONTINUE READING …