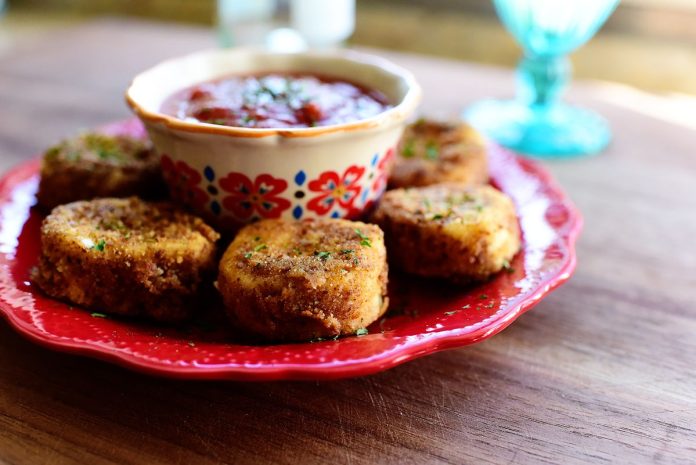 How to make.
1 – In a food processor or blender, press the pretzels into small pieces. Place in a bowl. In a separate bowl, add the eggs and 2 tablespoons of water and mix well. Place the flour in a third bowl.
2 – Cut two packages of goat cheese in half, then cut into quarters for a total of eight thick slices of goat cheese (if cheese is too soft, place in the refrigerator for 20 minutes before slicing). Take a handful of cheese slices, sprinkle them with flour and shake off the excess. Dip them into the egg wash and return a few times to make sure the flour sticks to them. Finally, dust the pretzels and turn them over to coat them. Use the same method for the remaining slices.
3 – Heat 1/2 inch of olive oil in a pan over medium heat, place 4 slices in the pan and sauté for about 45 seconds on each side or until golden brown. (The bread crumbs should ring gently). (If they rattle too much or fry too quickly, lower the heat.) Turn over and fry on the other side for 30-45 seconds until golden brown. Transfer to a plate lined with paper towels. Fry the remaining four pieces in the same way.
4 – Serve with spaghetti sauce and sprinkle with parsley.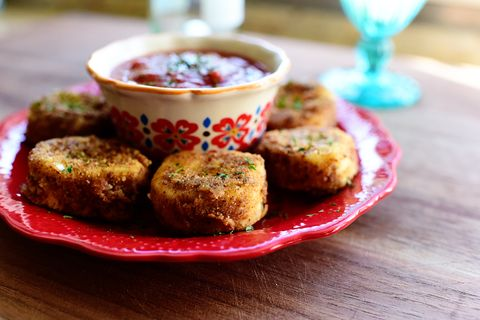 Once upon a time I wanted to make fried goat cheese. As an appetizer, as a snack on a salad (you heard me!) . ), as a tasty snack, I've made it a few times before. I just love this cheese.
But then I realized I didn't have any breadcrumbs, so I went to buy some.
I cried.
And then I cried again.
And then … I glanced at another shelf in the pantry and saw a bag of pretzels. My day got a little brighter.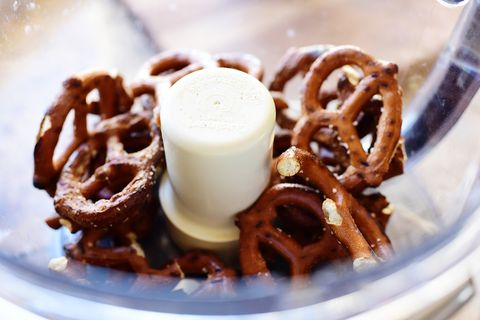 Putting the pretzels into the food processor.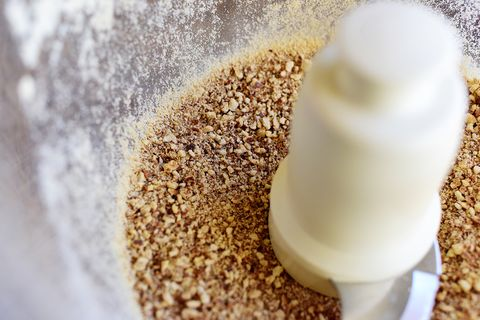 Grind until super fine.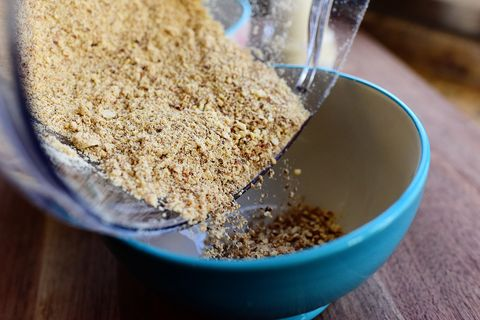 Place the crumbs in a bowl and set aside. Swear never to buy breadcrumbs again.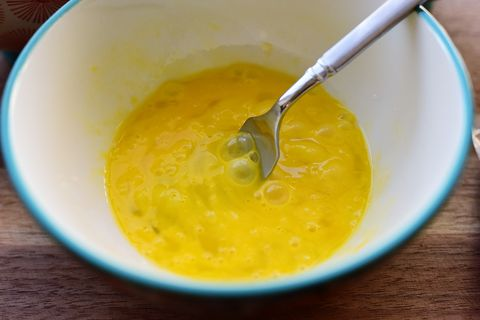 In a separate bowl, mix 2 eggs and 2 tablespoons of water.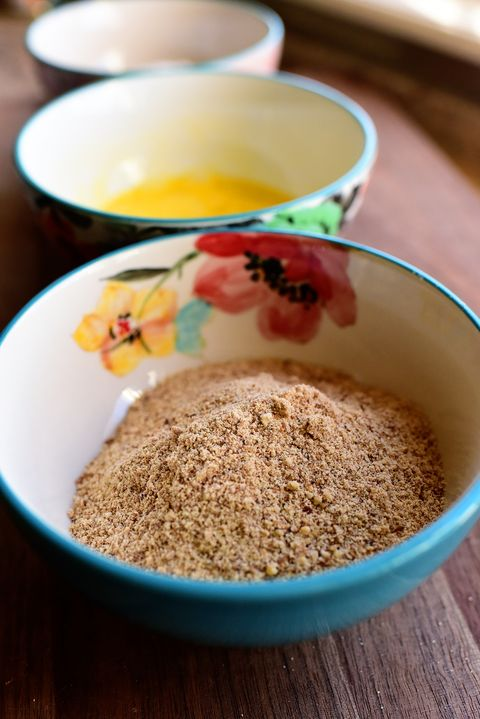 Then place the pretzel crumbs and egg mixture into the bowl with the all-purpose flour. This is your assembly line.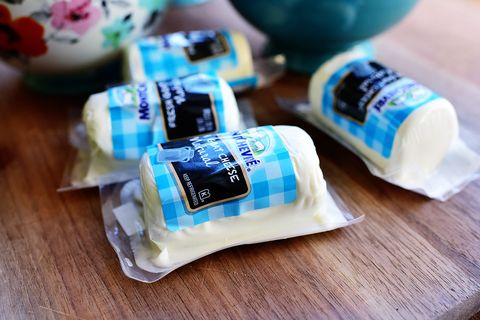 Next, you'll need goat cheese. Luckily, my sister Betsy had a few packages in the fridge when she came to visit. This is a great way to bond with your sisters. Chill the cheese in the fridge for 20 minutes to make it more flavorful. Make the cheese hard so that it is easier to cut.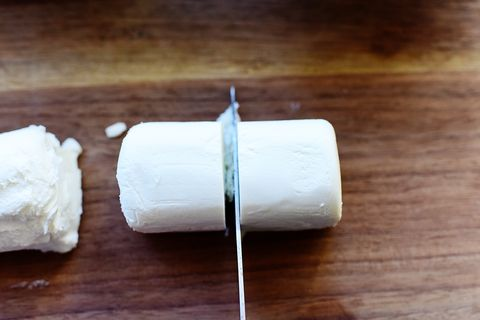 Speaking of slicing, here's how you do it. First, cut it in half…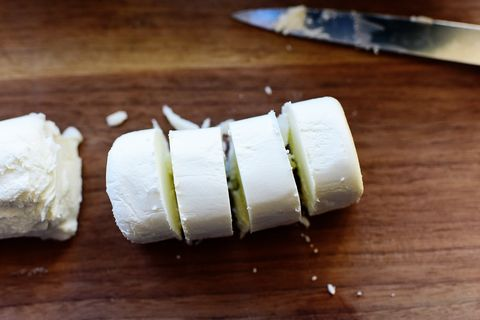 Then cut the four halves into thicker slices. The goat cheese is quite large, so if you want it thinner, you can make five equally spaced slices.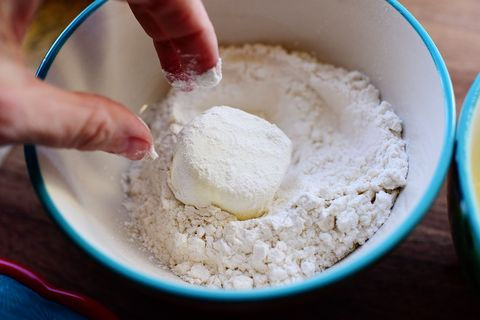 Drop a slice of flour into…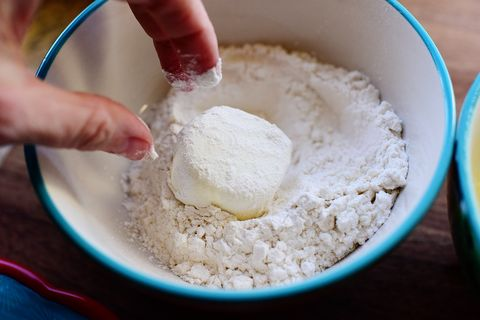 Turn over and spread.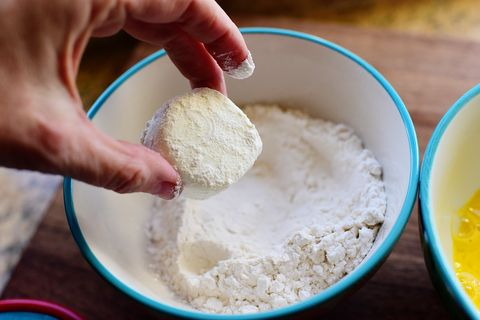 Shake off any excess flour and ignore what my hands look like in this photo.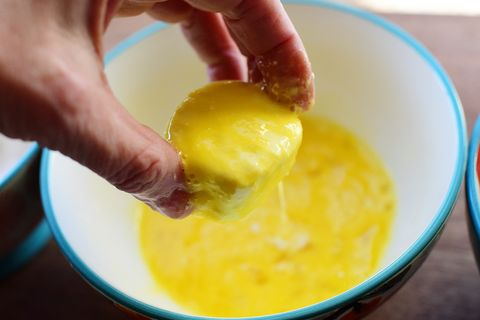 Quickly dip into the egg wash (you may need to flip a few times)…
(You can also ignore my hands in this photo. Thanks for your cooperation)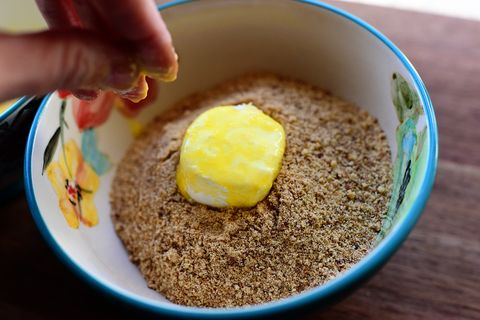 Then dip them into the pretzel crumbs…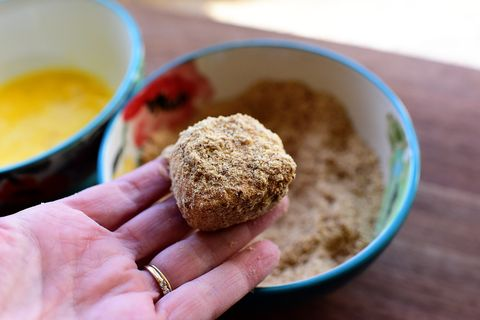 Flip them over so they are completely covered.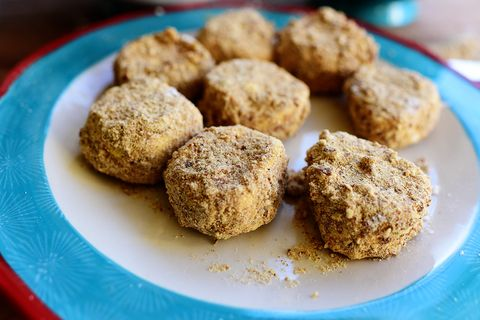 Continue until all the crumbs are coated.
In other words, pretzels.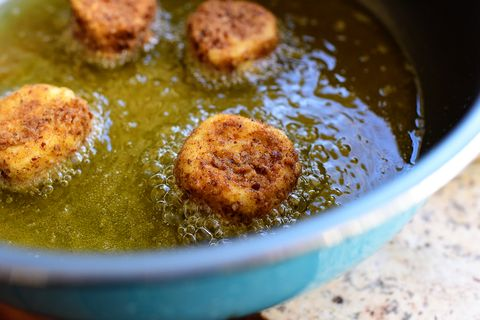 Heat ½ inch of olive oil in a pan over medium heat (do not over heat!) . Using a spatula, arrange the four slices of goat cheese on the bottom of the pan. At this point, do you hear a sizzling sound around the cheese? That's what you want. If it makes a violent sizzling sound when you put it in the pan, it will turn brown quickly.
Cook on one side for 45 seconds to 1 minute, until golden brown. Then carefully turn to the other side with a spatula and cook for another 30 to 45 seconds (or longer if necessary).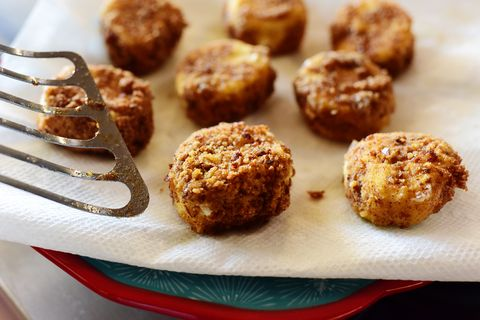 Remove to a paper towel and fry the remaining 4 slices! I like to fry in small batches to control browning. Once browned, frying four slices is faster than frying eight slices.
It only took me 47 years to understand these things.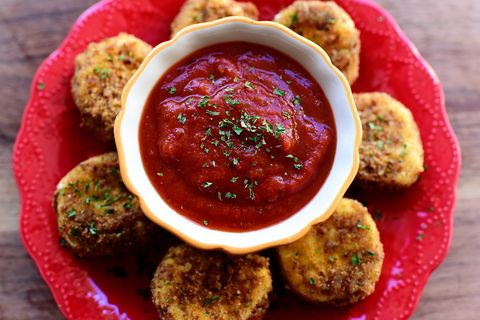 If you serve the slices relatively quickly, the cheese warms up and becomes soft and flavorful on the inside. I like to serve it with hot pasta. Of course, you can also serve it on a gorgeous salad of arugula and spinach. (And, of course, it's delicious on an arugula or spinach salad!) . () This recipe will be featured on the Food Network. Your guests will love it. Yummy!)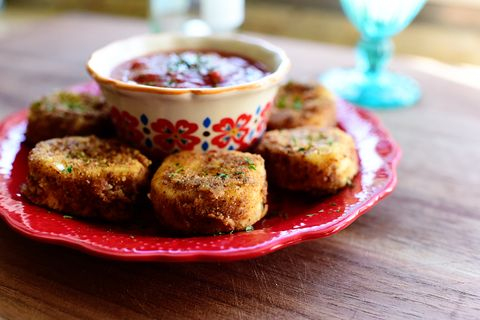 And the pretzel crust is perfect! (Laughter.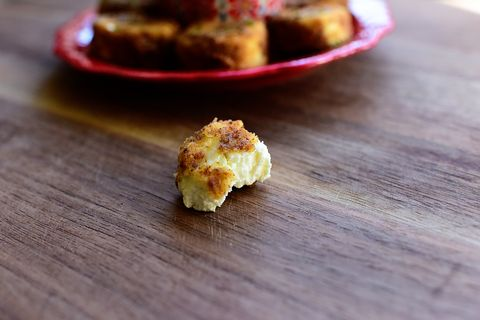 Fried goat cheese. If you haven't tried it yet, you should.
Unless you don't like goat cheese. And it may not be to your taste.
I hate tea myself. But I love goat cheese.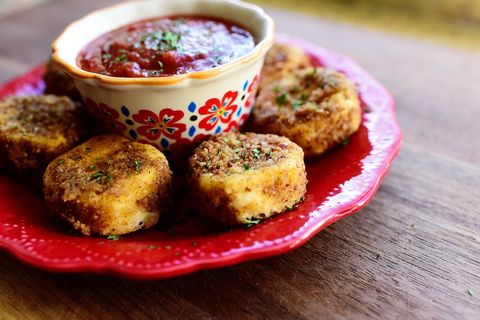 What else is there not to like?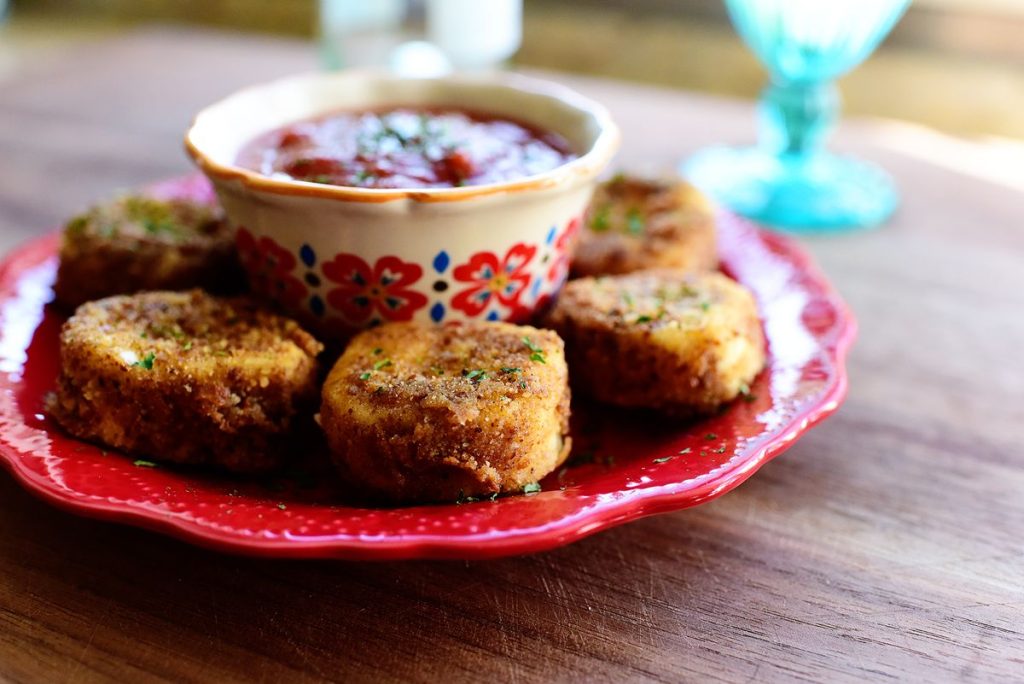 Yields: 4 serving(s)
Prep Time: 10 mins
Cook Time: 5 mins
Total Time: 15 mins
Ingredients
2 c. pretzels
1/2 c. flour
2 whole eggs
2 packages goat cheese (chevre)
Olive oil, for frying
Marinara sauce, for dipping
Minced parsley, for sprinkling