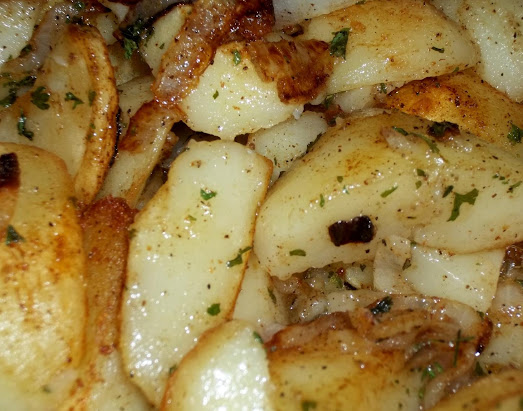 SERVES : 4
PREP TIME : 30 Min
COOK TIME : 20 Min
METHOD : Stove Top
6 – 8 mdpotatoes, peeled, quartered and boiled in salt water till fork tender
1 mdonion, cut in half and sliced
1 stickbutter
salt and pepper to taste
1 tspcajun seasoning
1 1/2 tspgarlic salt w/ parsley
1/4 cbacon grease ( optional ) or oil – more if necessary
1 – 2 Tbspparsley
How To Make Fried Parsley Buttered Potatoes & Onions – Cassies
1– Peel, quarter and place potatoes in salted water, enough to cover potatoes. Boil till fork tender, drain.
2– In a large skillet, add the bacon grease or oil. Heat the grease till a drop of water sizzles.

Add the potatoes wedges, in a single layer if possible, to brown evenly. Season. Turning occasionally. Continue frying till most of the potatoes are getting a nice golden color.
3– In a sauce pan, add the butter and onion, simmer till onion is tender ,but not browned.

Add the butter and onions to the potatoes.
4– ontinue frying until onions begin to brown. Now is when I add the Cajun spice. Stir to blend seasoning in.
5– Add the parsley, stir evenly and serve.