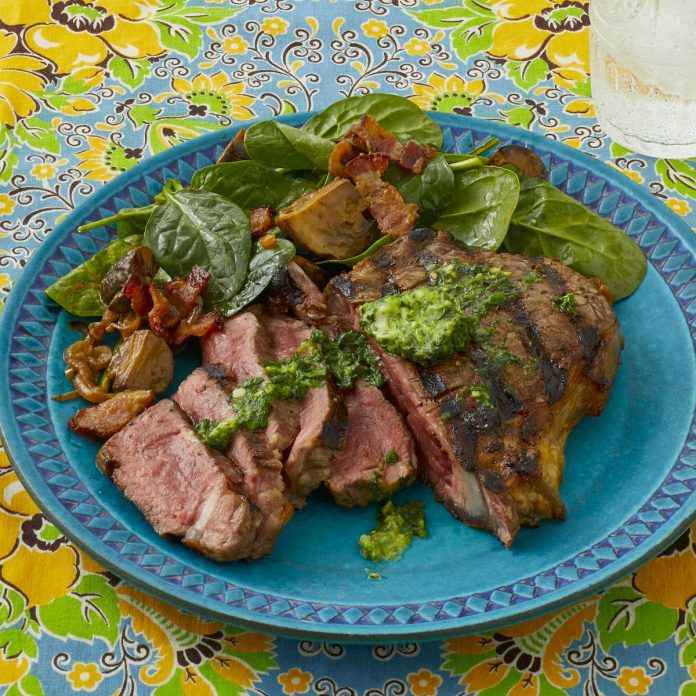 A well-done steak dinner is perfect when you want to serve a delicious meal to cowboys. But when you want to serve Marlboro Man something fancy, such as a dinner for dad on Father's Day or a special dinner for two idea, this garlic butter steak is just right. Pair it with a warm spinach salad or, as Lee Drummond suggests, go all out." Make enough garlic butter for two and use it on garlic bread!"
Yields: 6
Prep Time : 40 mins
Total Time : 55 mins
Ingredients
1 c. fresh parsley leaves
1/2 c. roughly chopped fresh chives
2 garlic cloves
6 tbsp. salted butter, at room temperature
6 small strip steaks (8 to 10 oz. each)
4 tsp. kosher salt
Black pepper, to taste
1 5-oz. package baby spinach
8 strips bacon, cut into 1/2-inch pieces
10 oz. cremini mushrooms, quartered
2 large shallots, thinly sliced
3 tbsp. olive oil
3 tbsp. red wine vinegar
1 tbsp. Dijon mustard
1 tbsp. sugar
Directions.
1 – Place parsley, chives, and garlic in a food processor and process until fine, scraping down the sides of the processor. Add butter, stirring a few times to combine.
2 – Place butter on cling film or parchment paper and shape into a log. Wrap tightly and freeze until firm, about 15 minutes.
3 – Meanwhile, preheat grill or baking sheet over medium-high heat. Season the steaks on each side with 1/4 teaspoon salt and several grinds of pepper. Grill until steaks come off the grill and a thermometer inserted in the thickest part registers 120°F, 5 to 6 minutes per side for medium rare. Unwrap garlic butter and cut into 6 pieces. Remove steaks from grill and brush 1 slice of garlic butter on each steak. Let rest.
4 – Place spinach in a large bowl. Place bacon in a large skillet and cook over medium heat until crisp, about 7 minutes. Using a slotted spoon, transfer bacon to spinach and set aside until spinach is slightly wilted. Pour off all but 2 tablespoons of the bacon fat from the pan.
5 – Add mushrooms, remaining 1 teaspoon salt, and a few grinds of pepper to pan and cook over medium heat, stirring, until mushrooms are tender, 3 to 4 minutes. Add shallots and cook, stirring, until both mushrooms and shallots are caramelized, 7 to 8 minutes more. Add olive oil, vinegar, mustard, and sugar; cook, stirring, until sugar dissolves, about 2 minutes.
6 – Pour contents of pan over spinach and stir to combine. Serve with steak.
Nutrition Info (per serve)
Calories 445cal
Kilojoules 1860kJ
Protein 47g
Total fat 20g
–Saturated fat 7g
Carbohydrates 15g
–Sugars 5g
Dietary fibre 8g
Sodium 510mg
Calcium 180mg
Iron 7.5mg