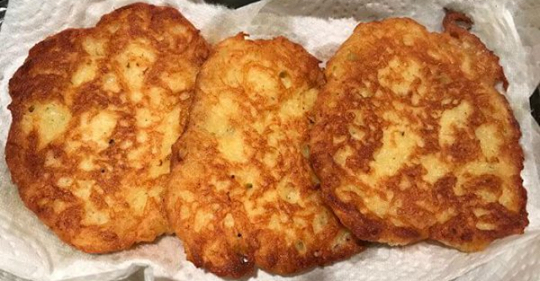 These are a nice change from regular pancakes. They make a great dinner meal when served with bratwurst sausage. I spread mine with cranberry sauce and top with maple syrup.
Kartoffelpuffer (GERMAN POTATO PANCAKES), on the other hand, are made from potatoes that are grated raw and grated finely (allowing them to cook quickly and evenly).  The shredded potatoes are wrung out in a clean dish towel and then mixed with egg, finely grated onion and flour and then fried to light golden.  The end result is a crispy exterior and soft interior.
Kartoffelpuffer can be served sweet or savory.  Most commonly they're served with apple sauce or other fruit compote, and/or dusted with powdered sugar, but are also served savory-style with a yogurt-herb sauce or with meat as part of a meal.
In a word, they're simply DELICIOUS!
How to make it?
Click Next Below To See More