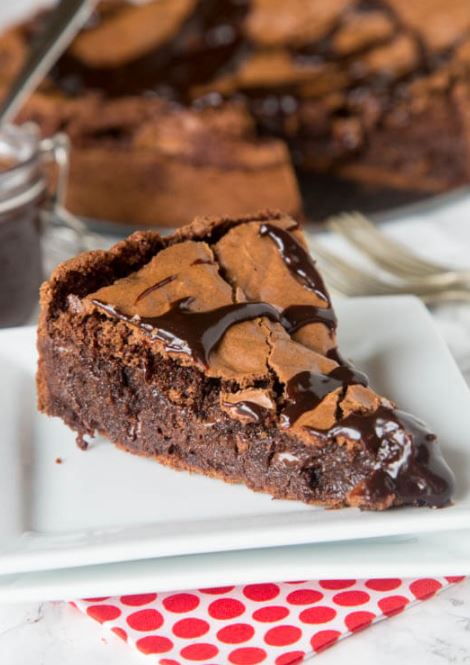 Gooey Brownie Pie – a gooey chocolate brownie with a crackly top baked into a pie and topped with hot fudge. A delicious and easy dessert for any chocolate lover.
PREP TIME : 10 minutes
COOK TIME : 40 minutes
TOTAL TIME : 50 minutes
INGREDIENTS
6 Tbsp butter
3 cups semi-sweet chocolate chips, divided
3 eggs
1 cup sugar
1 tsp vanilla extract
1/2 cup flour
1/4 tsp baking powder
1/4 tsp salt
INSTRUCTIONS
Preheat oven to 350 degrees. Grease a pie plate or 9 inch spring form pan.
In a heat safe bowl melt together butter and 2 cups of chocolate chips until smooth. You can use a double boiler or microwave at 50% power in 30 second intervals. Let cool.
In an electric mixer beat eggs, sugar, and vanilla on medium high speed until light and fluffy, about 3 minutes.
Mix in the cooled chocolate.
CLICK NEXT PAGE BELOW TO CONTINUE READING …