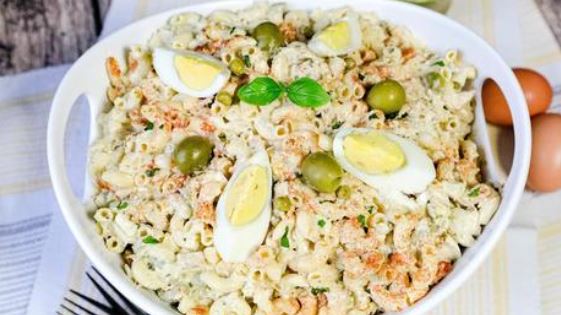 Our family gatherings would never be the same without a giant bowl of my Grandma's tuna salad! My favorite part is the green olives! MMMMM
Blue Ribbon Recipe
Add this tuna pasta salad to your cookouts this summer. It's a combination of tuna, egg, and pasta salad all in one. Sweet, savory, and creamy, it's a delicious side dish. We love the fact it's chilled. We thought it tasted better after it sat for a bit and cold out of the fridge.
Ingredients
  1 lbbox elbow macaroni pasta
  3 can(s)packed tuna, drained (5 oz each)
  3hard boiled eggs, chopped
  1 can(s)sweet peas, drained (small can)
  5 ozjar green olives, halved
  2 cMiracle Whip (plus more to taste)
  2 tspeach – dried oregano, parsley, basil
 garlic and onion powder, to taste
 salt and pepper, to taste
 sprinkle of paprika
How To Make
1Cook noodles as directed on package. Drain completely. Cool.
2Mix all ingredients (except paprika) together until well incorporated.
3Sprinkle paprika on top.
4Cover and chill until ready to serve.
5**Depending on how wet or dry you like it you may want to add extra Miracle Whip after it has chilled.