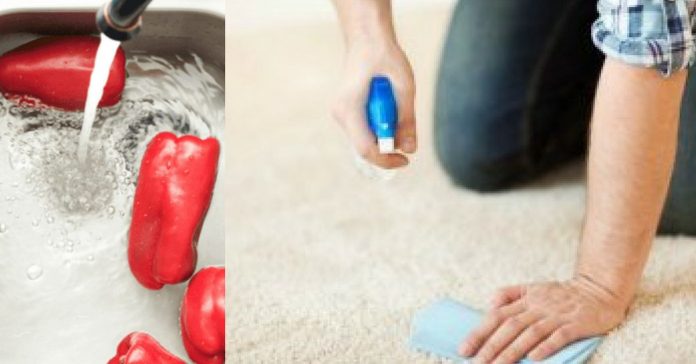 1. Disinfect your countertops

Hydrogen peroxide is an excellent disinfectant. You can use it on your hard surfaces by mixing it in equal parts with water. Just give the surface a spray, let it work its magic for a few minutes, and wipe with a clean sponge. Your counters and sinks will be clean, disinfected, and scent free.

2. No scrub carpet cleaner

This easy stain removal method uses the power of baking soda, hydrogen peroxide, and concentrated dish soap to power through the toughest carpet stains. Just mix according to the recipe and spray on your carpet. Allow to dry, then vacuum. No scrubbing necessary.

3. Brighten your whites

Many households prefer not to use bleach for a variety of reasons. The struggle becomes how to keep whites white. Adding two cups of hydrogen peroxide to your load of whites helps you maintain bright whites.

4. Whiten your teeth

You can safely whiten your teeth and increase your gum health by including hydrogen peroxide as part of your dental hygiene routine. The key is to accurately dilute the hydrogen peroxide with a 1 part Listerine and 1 part water to 1 part of peroxide.

5. Disinfect your cutting board

Do you ever feel like your cutting board is harboring harmful bacteria? You can quickly and efficiently disinfect it by pouring hydrogen peroxide over the clean board. Let it fizz for a few minutes, then wipe off. It is a food-safe disinfectant, so no worries about harmful chemicals.

6. Make a homemade produce wash

Don't spend your money on expensive produce washes. Hydrogen peroxide works well to remove waxes, chemicals, and dirt from your fruits and veggies. Add 1/4 cup of peroxide to a sink of cold water. Soak the produce for a few minutes, then shake off and let dry.

7. Get a streak-free shine

Your windows and mirrors will sparkle like brand new with just one inexpensive spray – hydrogen peroxide. Just spray it on and wipe clean with a lint-free cloth, such as microfiber, a coffee filter, or newspaper.