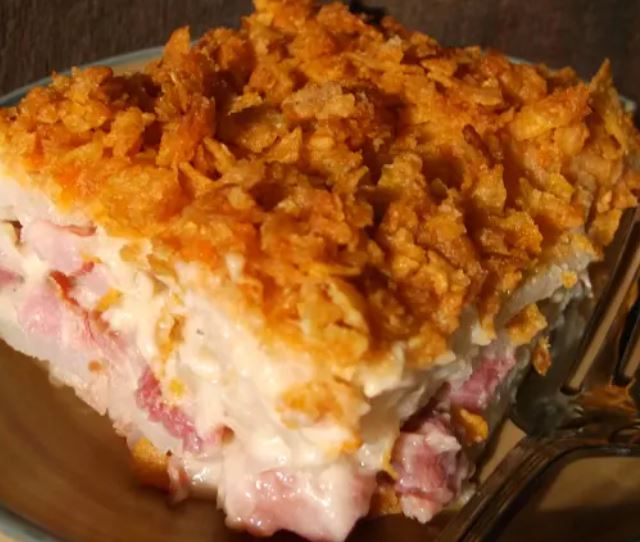 This is one of my favorite casseroles that I've created over the years. It's a delicious, creamy, cheesy ham and potato casserole with a crunchy, buttered cornflake topping. It's a great recipe for making the most of your leftover Easter ham! We love it and I'm confident that you will too.
Ingredients :
1 can(s)cream of chicken soup
1 can(s)cream of mushroom soup
1 can(s)milk (whole or 2% measured in a soup can)
1/4 tspseasoned salt
1/8 tspground black pepper
6 mediumpotatoes, raw idaho, russet, yukon gold etc…
3-4 cchopped smoked ham
1/4 cfinely chopped onion (optional)
1 cshredded extra-sharp white cheddar cheese
1 cshredded sharp cheddar cheese (yellow)
2 1/2 ccrushed cornflakes
4 Tbspsalted butter, melted
How to Make HAM AND POTATO CASSEROLE
Prep and assemble all ingredients.
Add seasoned salt and pepper; mix well; set aside.
Peel potatoes and slice four of them thin in food processor or on mandoline; immediately add to soup mixture and mix well.
Change blade, on food processor, to grater/shredder (or use box grater); shred remaining two potatoes; immediately add to soup mixture and mix well.
Place oven rack in middle position and preheat oven to 350º F.
Bake at 350º F for 1 1/2 hours, turning dish once after 45 minutes.