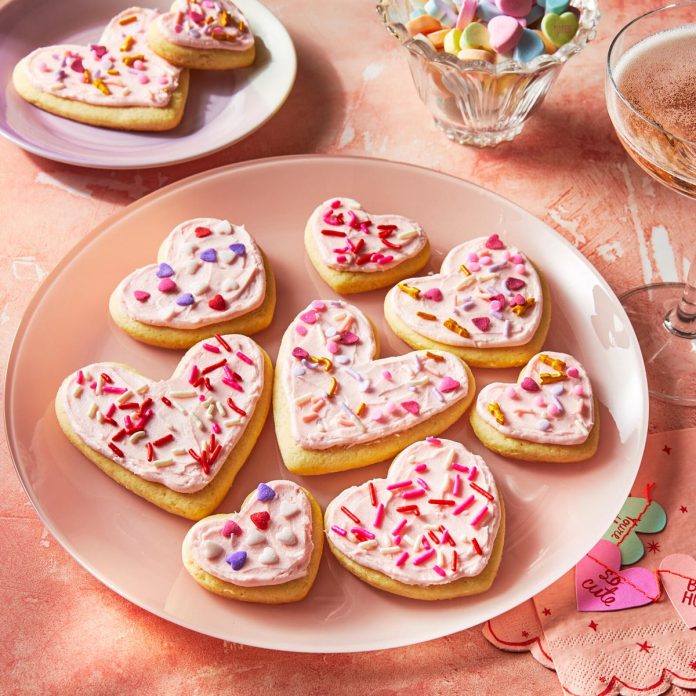 Want to show your love with Valentine's Day cookies? This recipe for Iced Heart Biscuits is sure to impress your loved one. Otherwise, prepare a dozen as a DIY Valentine's Day gift for your co-workers or as a sweet treat for a romantic dinner for two (hello, steak dinner).
What makes them different from regular sugar cookies?
Inspired by the popular grocery store snack, Love House Biscuits, these cookies are made with two unexpected ingredients: sour cream and cornstarch. The sour cream increases the moisture content and makes the crumbs soft, while the cornstarch makes them more pliable. The result is a cookie with a super soft texture that retains its shape during baking. Don't have sour cream in the fridge? There are many alternatives to this creamy condiment.
Need to chill the dough before rolling it?
Chilling the dough before rolling it is helpful in several ways. First, allowing time for the dough to set allows the flour to absorb the liquid more easily, making the crumb more stable when the cookies are baked. It also helps the dough to firm up, making it easier to roll out. For these cookies, it is recommended to chill the dough for about an hour before rolling.
Can I make these cookies the day before?
Yes, you can make these cookies a day in advance and chill the dough overnight. If the dough feels a little too stiff when you roll it, you can leave it on the counter for 10 minutes. Poke the dough a little to see how it is done. If your fingers dimple nicely without too much effort, the roll is done!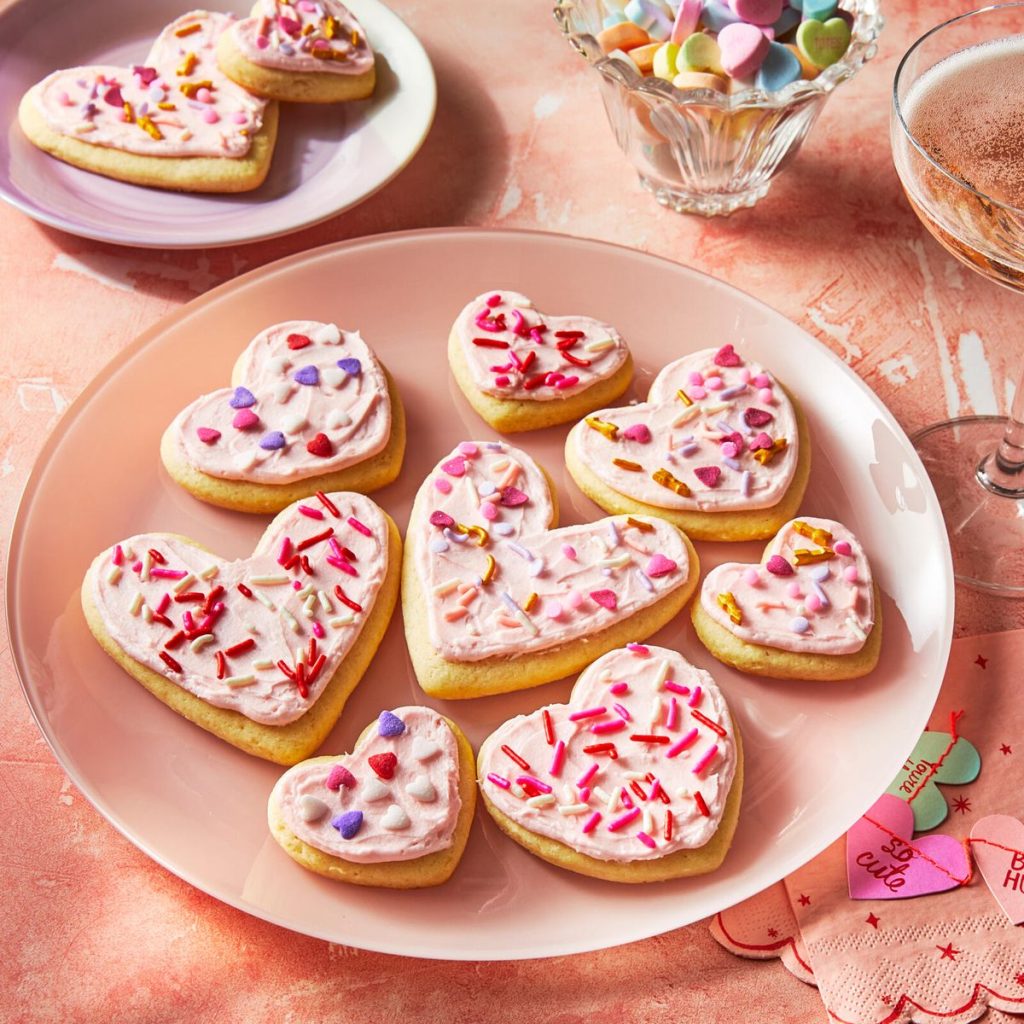 Yield : For 20 times
Preparation time : 15 minutes
Total time : 1 hr. 30 min.
Calories/service : 262
Ingredients
For the Cookies:
2 1/3 c. all-purpose flour 
2 tsp. cornstarch
1 tsp. kosher salt
1/2 tsp. baking powder
1/4 tsp. baking soda
1/2 c. unsalted butter, softened
1 c. granulated sugar
1 large egg, room temperature
2 tsp. vanilla extract
1/2 c. sour cream, room temperature
For the Frosting:
1/2 c. unsalted butter, softened
3 c. powdered sugar
2 tbsp. milk
1 tsp. vanilla extract
1/2 tsp. kosher salt
Liquid red food coloring
Rainbow sprinkles, to decorate
Directions.
1. – Stir together flour, cornstarch, salt, baking powder, and baking soda in a medium bowl.
2. – Place butter and sugar in the bowl of a stand mixer fitted with the paddle attachment and mix on medium speed until light and fluffy, 2 to 3 minutes. Add the eggs and vanilla and mix until well combined. Add sour cream and beat until thoroughly combined, scraping bowl as needed. Slowly add dry ingredients and mix until well combined.
3. – Turn dough out onto a lightly floured table and form into a disk. Wrap in plastic wrap and refrigerate for 1 hour.
4. – Preheat oven to 375 degrees and line two or three large baking sheets with parchment paper.
5. – On a lightly floured surface, roll out the chilled dough to 1/4-inch thickness. Using a 2 1/2-inch heart-shaped cookie cutter, cut dough into heart shapes, rerolling scraps only once. Place cookies on prepared baking sheet, spacing about
6. – Bake 69 to 10 minutes or until surface is dry. Cool on the baking sheet for 5 minutes, then transfer to a cooling rack to cool completely.
7. – Icing. Place butter in the bowl of a mixer fitted with the paddle attachment and beat on medium speed until creamy, about 2 minutes. Slowly add icing sugar, milk, vanilla, and salt on low speed, beating until thoroughly combined. Reduce mixer speed to medium-high and beat until light and creamy, about 2 minutes more. Add 3 to 4 drops of red food coloring and mix until pale pink.
8. – Decorating. Using a small spatula, spread icing on cooled cookies. Decorate with rainbow sprinkles, if desired.