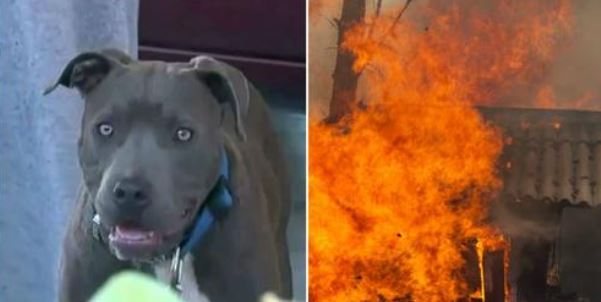 Whether you're afraid of pit bulls or you love them, this story about an extraordinary pit bull named Sasha will have you falling in love with the breed.
source – Yahoo
Before I share Sasha's story, I thought I'd first share a couple of dog-themed snacks on the blog. I figure every dog lover needs some food that's shaped like a dog! We have doggie cupcakes, doggie candy bars, and doggie bento box meals. Enjoy!
I hope if you have stories about a dog who has done something you're proud of that you'll share. They are such wonderful, special animals.
"The only creatures that are evolved enough to convey pure love are dogs and infants." — Johnny Depp
The Pit Bull Firefighter
Sasha the pit bull was born and raised with her little human named Masailah. They took naps together and even played in the tub together from time to time.
According to ABC13, late one night Sasha woke up her owners by banging on the back door and barking loudly. She was making as much noise as she could to alert her family that a fire was blazing next door.
Her mom, Latana Chai, rushed to see what was going on. When the mom saw the flames she instinctively ran to pull her 7-month-old Masailah from her crib to get her to safety.
She was surprised to see that Sasha had already grabbed her sister by the diaper and pulled her from the crib!
That's amazing to me. Sasha was doing everything she could possibly do to save that baby. I want to hug that dog so hard!
Thankfully, because of a little pit bull who loved her family, they were all safe. Their apartment was destroyed by the fire, which is heartbreaking. But things can be replaced, right?
SASHA THE PIT BULL ISN'T THE ONLY DOG WHO HAS SAVED SOMEONE.
The internet is rich in stories about dogs who prove every day why we call them man's best friend. I wish I could share them all. Here are two of my faves.
Toby, the Golden Retriever did the Heimlich on his owner in Calvert, Maryland.  Debbie Parkhurst was choking on an apple and couldn't get it out when she tried to do the Heimlich on herself. She was pounding on her chest when Toby flew into action.
"The next thing I know, Toby's up on his hind feet and he's got his front paws on my shoulders," she told NBC News. "He pushed me to the ground, and once I was on my back, he began jumping up and down on my chest."
The fruit came out and she was saved. She still had red paw prints from the 2-year-old Toby all over her chest.
"The doctor said I probably wouldn't be here without Toby," she said. "I keep looking at him and saying, 'You're amazing."
Axel the rescue dog saved his elderly owner from a robber's attack. In England, an 86-year-old woman was being attacked during an attempted robbery.
CLICK NEXT PAGE BELOW TO CONTINUE READING …