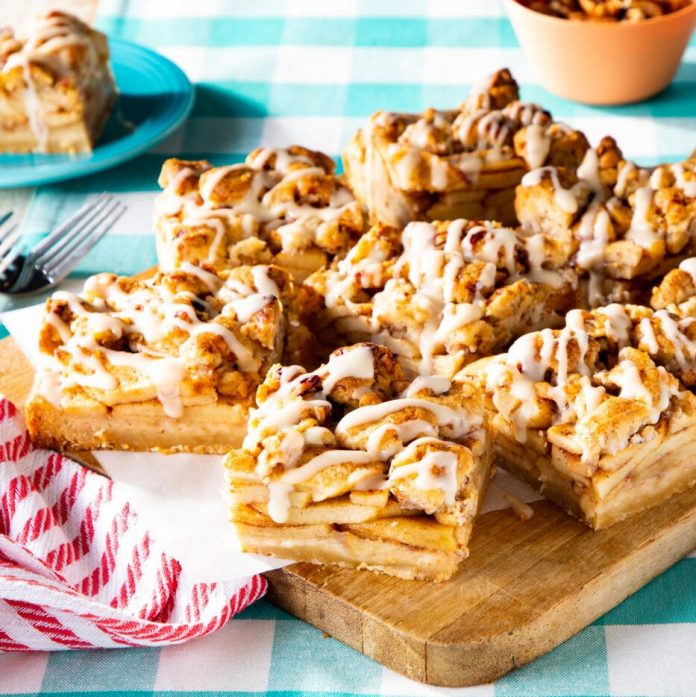 If you're looking for the perfect, portable dessert for any autumn occasion, the search ends here. These apple pie bars are made with an ultra-buttery shortbread dough that's used to form both the press-in base crust and the streusel topping. Fair warning: You might just enjoy the bars even more than a traditional slice of apple pie. (And if you love these, be sure to check out some of our other must-make fall dessert recipes.)

What are the best apples to use in apple pie bars?
No surprise here, but it's the same apple varieties that work best in apple pie. The most important factor when it comes to selecting apples for pie or pie bars is how well they stand up to the heat of an oven. In other words, you want apples that maintain their structure during baking rather than turning to complete mush. The two types of apples used in this recipe (Granny Smith and Honey Crisp) not only hold up remarkably well in baking, but the combination provides a perfect balance of tart and sweet flavors. Other apples you could consider substituting include: Gala, Pink Lady, Jonagold, and Braeburn. 
What is in apple pie spice?
Even if you don't already have apple pie spice in your cabinet, chances are, you have most (if not all) of the individual spices that make up the iconic blend: cinnamon, nutmeg, allspice, and cardamom.
Do apple pie bars need to be refrigerated?
Like a classic apple pie, the apple pie bars below can be stored at room temperature for up to 2 days if they are unfrosted. Apple pie bars that are already drizzled with a cream cheese-based glaze are best kept in the refrigerator from day one.
YIELDS: 12 – 16 servings
PREP TIME: 0 hours 40 mins
TOTAL TIME: 2 hours 40 mins
Ingredients :
FOR THE CRUST AND TOPPING:
Nonstick cooking spray4
sticks unsalted butter3/4 c.
granulated sugar3/4 c.
light brown sugar1 1/2 tsp.
vanilla extract4 c.
all-purpose flour1 tsp.
salt1 c.
chopped pecans3
large Granny Smith apples, peeled and thinly sliced3
large Honey Crisp apples, peeled and thinly sliced1 tbsp.
apple cider vinegar1/4 c.
light brown sugar 1 tbsp.
cornstarch1 1/2 tsp.
apple pie spice
Pinch of salt FOR THE GLAZE:3 tbsp.
pure maple syrup1 tbsp.
unsalted butter1 oz.
cream cheese, softened3/4 c.
powdered sugar, sifted1 tbsp.
milk or heavy cream
Directions :
For the crust and topping: Preheat the oven to 350˚. Spray a 9 x 13 inch baking pan with cooking spray. Line the pan with parchment paper. (This will make it easier to lift the pie bars out of the pan after baking.) 
Beat the butter, sugars, and vanilla in a large bowl with an electric mixer for 4-5 minutes, until combined and airy. Scrape down the sides and bottom of the bowl. Add the flour and salt to the bowl and mix at low speed until combined. 
CLICK NEXT PAGE BELOW TO CONTINUE READING …