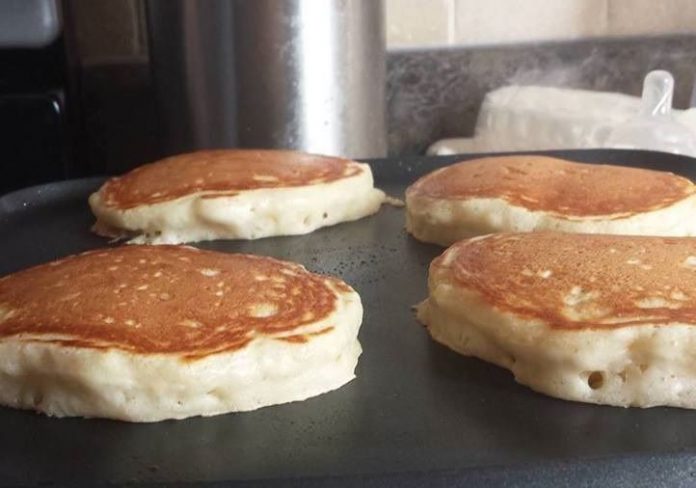 "Pancakes don't make the world go 'round. Pancakes are what makes the ride worthwhile." – Frankfurterlin P. Jones
You can't just see the word "Pancakes" and continue your day without feeling the need to eat some! That's a fact Ladies!
Fluffy homemade recipe gives birth to soft fluffy delicious pancakes gently cooked on both sides and served along with fresh fruits and cream, you'll savor the taste of a dream in the middle of the day. WHAT ARE YOU WAITING FOR? Wear you apron and join me to discover a new breakfast recipe to get your kids excited for a new day to begin.
"No matter how flat you make your pancakes; it still has two sides." –Daniel Tosh
How to section : 
Folks, I have good news for you. Cooking homemade pancakes only require few ingredients that can be found in any kitchen (no need to buy groceries); look in your kitchen for:
Eggs
All-purpose flour
Sugar
Baking Powder
Salt
Milk
Butter
Vanilla
And that's it! Crazy right?
Simple Steps:
Combine all wet ingredients in a bowl, and all dry ingredients in an other bowl.
Mix both the mixtures, and try not to over whisk.
Heat your pan while cooling the mixture for about 10 minutes.
Stir and start cooking your pancakes.
Serve and top with syrup.
Ingredients
Pancakes:
2 cups of all-purpose flour
4 tablespoons of baking powder
4 tablespoons of sugar
1 large egg
½ tablespoon of salt
2 tablespoons of vanilla extract
360 ml of milk
4 tablespoons of melted butter
Homemade syrup:
2 cups of brown sugar
1 cup of water
¼ tablespoon of vanilla extract
½ cup of butter
FLUFFY HOMEMADE PANCAKES
Prep time: 5 minutes
Cooking time: 20 minutes
Total time: 25 minutes
Servings: 25-30 pancakes
Category: Breakfast
Cuisine: American
Enjoyed your pancakes? I'm quite sure you have!
Leave us a comment down below and share with us how the journey went for you.
Important notes:
Know when to flip you pancakes, do it right after you see bubbles coming through the surface
You can add some chocolate or fruit sprinkles to the pancakes mixture, they give extra flavor
Don't over mix your ingredients
Avoid making your pancakes too large or too thin
Cook on a flat surface for a better nice looking pancakes
Serving Ideas : 
These crispy cookies go well with fresh fruits slices, melted chocolate and jelly. As for drinks, a cup of milk with an addition flavor like lime or strawberries would be perfect!
These are some facultative ideas:
Drinks:
Black Tea
Hot Cider
Hot Chocolate
Extras:
Tiramisu dip
Caramel Apple dip
Sprinkles
CAN PANCAKES FREEZE?
Absolutely YES! You can cook a big bunch of pancakes and keep them in the freezer (they last for more than a month), that's a great hack if your mornings are rush and you got no time to mix and bake!
Layer parchment paper between each pancake and freeze, don't worry; it's totally safe.
As for re-heating, the microwave will do the work; pop them onto the microwave for 20 seconds and serve!
HOW TO MAKE BROW SUGAR HOMEMADE SYRUP!
Pancakes need syrup, and good syrup need to be made with love and carefulness.
In a saucepan, broil sugar and water until sugar has dissolved.
Boil for an extra 3 minutes before adding butter; stir for an other 4 minutes and add your desired extract (I use vanilla).
And you're all done.
HOW TO MAKE IT :  
CLICK NEXT PAGE BELOW TO CONTINUE READING …