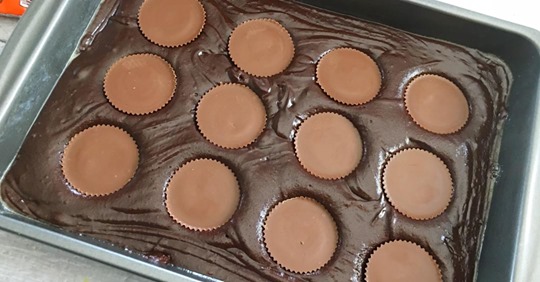 These Homemade Reeses Peanut Butter Cup Brownies are a show stopping recipe that will have everyone fighting over them!
WHEN I MAKE THESE YOU BETTER HIDE THE MILK,
BECAUSE I'M GOING TO GO TO TOWN ON THESE BABIES! LOL

THIS DESSERT NOT ONLY IS EXTREMELY EASY TO BAKE, BUT ITS ALSO FUN TO MAKE WITH THE KIDS!
THEY LOVE TO PRESS THE REESES CUPS DOWN!

THESE ARE PERFECT FOR ANY GET TOGETHERS, HOLIDAYS, DESSERT POTLUCKS
OR JUST FOR AN AMAZING DESSERT THE ENTIRE FAMILY WILL THANK YOU FOR!

HOMEMADE BROWNIES THEMSELVES ARE THE WORLDS BEST BROWNIE AS IS- BUT ADD REESES CUPS?
AND YOU HAVE ONE DANGEROUSLY DELICIOUS BROWNIE!

OOEY GOOEY CHOCOLATEY BROWNIES WITH THE PERFECT CONSISTENCY STUFFED WITH PEANUT BUTTER CUPS!
THESE ARE SO ULTRA FUDGEY AND BAKED UP TO PERFECTION!

THESE PAIR PERFECTLY WITH A HUGE COLD GLASS OF MILK!
THE TOP SLIGHTLY CRACKS AND THE CENTER IS A DENSE, DELICIOUS COMBINATION
OF PEANUT BUTTER CUP AND CHOCOLATE – HEAVENLY!
Ingredients
1 1/4 cups salted butter
1 1/2 cups unsweetened cocoa powder
2 1/2 cups granulated sugar
Pinch salt
1 tablespoon milk or water
1 tablespoons vanilla extract
4 large eggs
1 cup all purpose flour
12 Reese's Peanut Butter Cups
9×13″ baking pan
Non-stick cooking spray
Instructions :
CLICK NEXT PAGE BELOW TO CONTINUE READING …