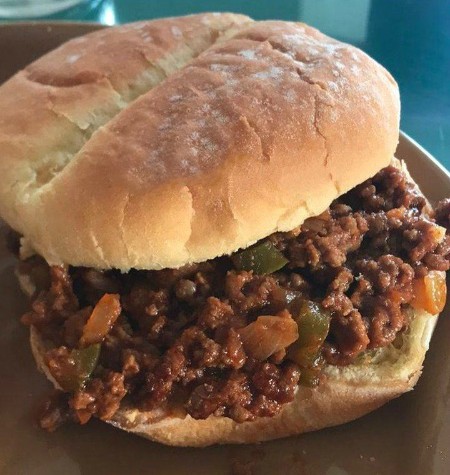 I've made a LOT of sloppy joe recipes lately, trying to come up with the perfect one. Some were too sweet, others too spicy. Well guys, I finally got it. The perfect balance. This sloppy joe recipe is sweet, tangy, zesty and savory, with the perfect texture and consistency.
HOW TO MAKE HOMEMADE SLOPPY JOES
Homemade sloppy joes are incredibly easy to make, and come together in one skillet in about 20 minutes or so. Browned beef is mixed with onion and green pepper and simmered in a sweetened tomato/ketchup sauce. The secret is in finding the right seasoning for the sauce!
INGREDIENTS:
1 Tbsp butter
1 tsp olive oil
1 lb. ground beef
1/3 green bell pepper, minced
1/2 large yellow onion, minced
3 cloves garlic, minced
1 Tbsp tomato paste
2/3 cup ketchup
1/3 cup water
1 Tbsp brown sugar
1 tsp yellow mustard
3/4 tsp chili powder
1/2 tsp Worcestershire sauce
1/2 tsp kosher salt
1/4 tsp red pepper flakes (optional)
1/4 tsp black pepper
dash of hot sauce (optional)
INSTRUCTIONS  :
CLICK NEXT PAGE BELOW TO CONTINUE READING …