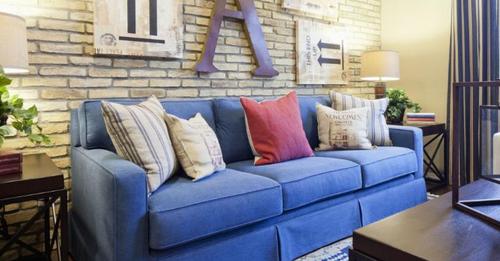 Whatever your family calls it – sofa, couch, davenport – it's a major investment. To get the most bang for your buck, follow these five steps: They take the "ouch" out of the sofa.
Check the frame
A sturdy frame means a long-lasting sofa. Soft wood, such as pine, is inexpensive, but it may warp or wobble after five years. More expensive hardwoods (such as kiln-dried oak, ash or beech) are more durable. Avoid particleboard, plastic or metal frames; they can warp and crack. Legs should be part of the frame or held in place with screws or dowels (plugs), not glue alone.
Tip: To test the strength of the frame, lift a front corner or leg of the sofa off the floor. Once you have lifted it 15 cm, the other front leg should have lifted as well. If it is still touching the floor, the frame is too soft, it is weak.
Joinery Questions
A frame with joints connected by any of the following is solidly constructed: wooden dowels, double wooden dowels, wooden corner blocks (the label may say glued and screwed corner blocks), or metal screws and brackets. Staples or nails can be used to reinforce the structure, but never buy a sofa that is held together by staples, nails or glue alone.
Tip: Ask your salesperson for written manufacturer information on frame joinery.
Test the springs
Most sofas have coil springs, also called coils, which are pre-assembled units of serpentine wire. They provide good support, but they can press on the frame or sag over time if the metal is not heavy. High-end sofas are often equipped with "eight-way springs." They are comfortable but expensive; some experts feel they are no better than coils. Feel the springs through the upholstery: they should be close together and firm. Sofas that have no springs, only straps or mesh, are uncomfortable and fragile.
Tip: Sit firmly on a corner or outer edge of the sofa you are considering. Squeaks and creaks indicate that the springs are in the wrong place or are hitting the frame.
Feel your upholstery
Polyurethane foam is an inexpensive and easy-to-care-for cushion filling. But the more durable high-density foam can feel hard, and the softer low-density foam deteriorates more quickly with constant use. High-resiliency (HR) foam is slightly more expensive but more comfortable and durable. Polyester fiber is also inexpensive, but flattens out quickly. Goose and duck feather fillings are comfortable, but they can clump. High end: goose down (soft undercoat of the bird) mixed with feathers. This blend is delightfully plump, expensive (about twice the price of foam) and high maintenance; the cushions must be inflated frequently. A blend of down and polyfiber is less expensive, but flattens out quickly.
Tip: Two good, comfortable and reasonably priced options: HR foam in a down layer and conventional foam wrapped in a polyester batting.
Finding durable textiles
Sofas intended for everyday use need a durable fabric. Cotton and linen are best (but beware of loose weaves that can snag). Another asset is synthetic microfiber, which can mimic most fabrics and is stain resistant. Cotton and linen can be treated to resist stains, but even then they're not as easy to clean or as durable, says Kathleen Huddy, director of textiles, paper and plastics at the GH Research Institute. Natural and synthetic fiber blends tend to settle after a year. Wool and leather are beautiful and strong, but expensive. Silk is elegant but fragile. Fabrics with woven patterns tend to wear better than those with printed patterns.
Tip: Ask the store for a larger piece of fabric than the usual sample. Place it where the sofa will be placed. Look at it in natural and artificial light and see if you still like it as much after a few days.